Bay Area woman with disabilities avoids deportation for now
CONCORD, Calif. - A Concord woman who has a life-threatening disability will be allowed to stay in the United States to receive critical treatments for at least two more years, giving her family a temporary reprieve. 
When Isabel Bueso, 24, received the news, she told KTVU shge felt a sense of relief. But she is not exactly home free. While she won't face immediate deportation as her "deferred action" status was approved, she will have to reapply in a few years. 
"That's my fear," she said. "What is going to happen in the next two years. Will it be like this again? You never know."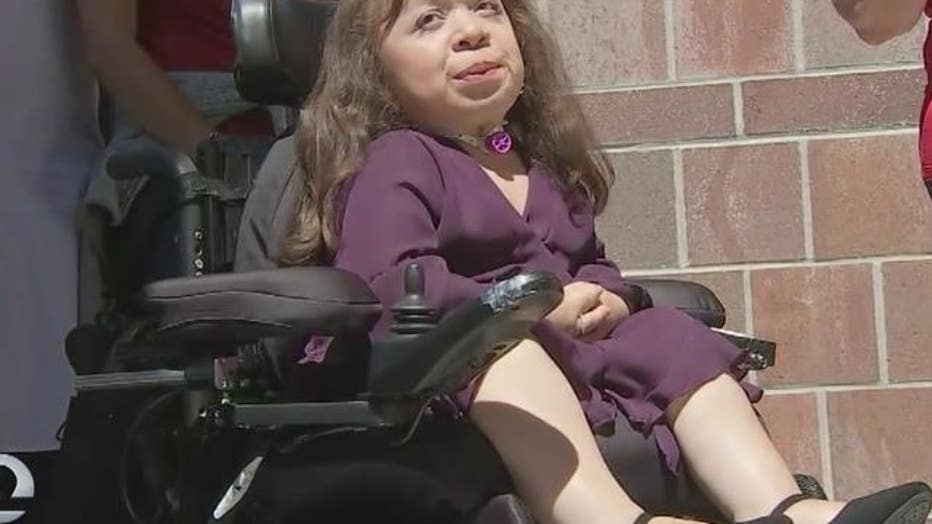 Isabel Bueso, 24, of Concord.
Bueso is a native of Guatemala. She suffers from mucopolysaccharidoses, a rare, deadly genetic disorder that has affected her growth, spinal cord and her ability to breath. At the invitation of her doctors, Bueso has been participating in a clinical study and receiving weekly infusions, which are covered by private medical insurance.
But on Aug. 31 she received a letter from the U.S. Citizenship and Immigration Services saying her authorization to live here had expired and wouldn't be extended, as it had been many times before.
Her doctors said she would die in her home country of Guatemala because the enzyme treatment she gets at UCSF Children's Benioff in Oakland is not available there.
"The first reaction is like your whole life just stops, and shock," Bueso said. "Obviously, didn't see it coming." 
She had 33 days to leave the country, which would have been a death sentence, but she decided to fight with her voice. About 400 others on medical deferred action also received letters, though their fates aren't publicly known. 
Her attorney went to the media to shed light on her situation. Rallies were held for her. And she was invited to testify before Congress about what she and others are going through. 
"I have to speak up and say this is not right," she said. "This can't be happening and someone needs to hear this." 
Representative Mark DeSaulnier introduced a bill in Septemeber that would allow the Bueso family to remain in the U.S.
"I can think of nobody more deserving than Isabel Bueso and her family to stay in our community and receive life-saving treatment,"  DeSaulnier posted on Facebook on Monday. "While we celebrate today, we remain committed to finding a long-term solution for Isabel and the hundreds of others whose lives were upended," he added. 
Bueso said she hopes Congress will pass laws to help others in similar situations.