Caldor Fire advances on Lake Tahoe, new evacuations near Basin area
LAKE TAHOE, Calif. - People living above the ridge of the Lake Tahoe Basin are being forced to evacuate due to the advancing Caldor Fire on Thursday. 
Evacuation orders were extended for the area between Twin Bridges and Echo Summit. The initial evacuation warnings were for the Tahoe Basin itself. Many more are preparing for more possible mandatory evacuation orders. 
The 139,510-acre fire in El Dorado County has already forced more than 24,000 people from their homes and is in its 12th day of burning. The fire has produced some of the nation's worst air quality and is 12% contained. 
As many as 640 homes and other businesses and structures were destroyed as the fire ripped through Grizzly Flats when it first began. Highway 50 in the area remains shut down.
In the latest development, officials with the Lake Tahoe Unified School District said on Thursday that the start of the school year would be postponed a week due to the massive wildfire. 
Earlier in the week, tourists from out-of-state reported that ash rained from above onto their food as they ate. But one day later, the situation became more serious with Kirkwood Mountain Resort tweeting that they were closing as of Aug. 26 due to an evacuation warning from the California Department of Forestry and Fire Protection. 
"Lodging properties are continuing to get cancellations or reschedules and I think that's what we're going to continue to see," said Carol Chaplin, President, and CEO of the Lake Tahoe Visitors Board.
Many of the mom and pop businesses rely on the tourists for their livelihood, but those tourists are now being discouraged from vacationing in Tahoe.
With fire activity reportedly damaging fiber lines linked to cell phone towers, which has rendered service weak or non-existent west of Strawberry, those planning to visit South Lake Tahoe are being advised to take a closer look at their plans.
"We have a front where we do live music Thursday through Sunday and all of that has been canceled for this week," said Robin Bender, owner of Revive Coffee & Wine. "We're affected by the smoke and obviously the downside of business, but our hearts and prayers are really with those who have already lost so much."
One group had to shift their wedding plans several hours away to the San Francisco Bay Area where the air quality has been considerably better.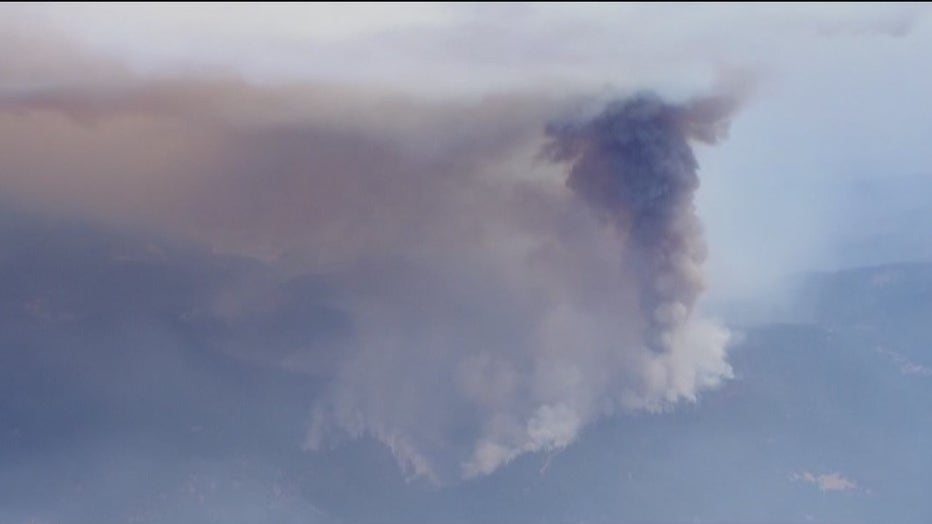 The weather forecast does not bode well for improvement. It calls for shifting winds and rising temperatures. Forecasters on Thursday said winds that have been blowing from the west and southwest are changing to north and northeast, and new fire weather watches will take effect. 
The Caldor Fire remains the top wildfire priority in the nation. Nearly 2,900 firefighters are on the lines. One fire official made a grim assessment when they said, "the fire has simply outpaced us." 
President Joe Biden declared California a major disaster on Tuesday, making federal funds available to help fight the fires during this increasingly drought-stricken wildfire season. 
Flames from the Caldor Fire are still about 13 miles away from Lake Tahoe as firefighters work to keep the flames from spreading east.
Evacuations:
An Evacuation Warning went into effect Thursday for Christmas Valley from Highway 89 west to Echo Summit and Highway 89 due west to Watershed Ridge and south to the Amador/El Dorado County line.
An Evacuation Order was put into effect in more areas of El Dorado County Thursday:
From Twin Bridges east to the Echo Summit
From Highway 50 south to the Amador and Alpine County lines
From Highway 50 north to Flagpole Peak
Associated Press contributed to this report.