California weather: 'Relentless parade' of rain prompts Biden to declare emergency
OAKLAND, Calif. - Since the day after Christmas, the Bay Area has been inundated with rain, albeit with a few brief respites, and Monday was no different.
The rain that began in earnest on Sunday night continued through the early morning Monday commute, making driving a treacherous feat, with flooding on the roadways. 
Over the weekend, the National Weather Service warned that a "relentless parade of atmospheric rivers" would drop a staggering amount of rain and snow.
The NWS also issued flood warnings and advisories about mudslides and high winds up to 60 mph.
Power outages were a side effect of the storm. PG&E said that it had nearly 16,000 customers without electricity in the Bay Area early Monday night. The day saw wild fluctuations in outages and restorations. 
In Santa Cruz County, authorities ordered evacuations near the San Lorenzo River, which was flooding. 
Several highways were shut, at least partially, due to deep water, landslides or other obstacles blocking the lanes. Highway 17 was shut in the southbound direction through the Santa Cruz mountains due to debris that slid into a lane while the 101 freeway near Gilroy was underwater.
The weather has been so relentless that President Joe Biden approved an emergency declaration for California late Sunday night while he was visiting Mexico during the North American Leaders' Summit. He ordered federal assistance to supplement local efforts.  
Biden's action authorizes the Department of Homeland Security and the Federal Emergency Management Agency, to coordinate all disaster relief efforts. 
Since Dec. 26, San Francisco received more than 10 inches of rain, while Mammoth Mountain, a popular ski area in the Eastern Sierra, received nearly 10 feet of snow, the National Weather Service reported.
San Francisco Mayor London Breed reassured residents that the city could be eligible for relief funds going back to New Year's Eve when the storm's first wave flooded the city and caused mudslides within the city limits. 
Meteorologists said there would be a break from the rain late Monday morning or early afternoon, and then again on Thursday. Otherwise, the rest of the week is supposed to be wet. 
Wohler Road near River Road is flooded in Forestville. Photo: Sonoma County Sheriff 
East Bay 
Trees were coming down throughout the region as well, including a 70-foot Monterey pine that fell in the southbound lanes of Highway 13 in Oakland near Moraga Avenue and a 150-foot eucalyptus on a Castro Valley home.
Alameda County firefighters said that a tree came down on James Avenue in Castro Valley about 3 a.m, on a house where the homeowner was sleeping in bed. No one was injured, firefighters said.
North Bay
In Napa County, residents are being warned by the county office of emergency services that a dangerous wind event is likely between 1 a.m. to 4 a.m. on Tuesday. Gusts are expected to reach 60 to 70 mph. Stay indoors if possible. Be cautious of windows. Lightning is also possible. 
In Marin County, there was major flooding in pockets along U.S. Highway 101. 
In Petaluma, firefighters rescued a woman whose car partially submerged underwater in a shopping mall parking lot at McDowell Boulevard and Redwood Way. She had been trying to get to the gym. 
Evacuation warnings were in place Sunday night and Monday morning for about 13,000 residents of a flood-prone area of Sonoma County north of San Francisco, where the swollen Russian River was expected to overspill its banks in the coming days.
Peninsula 
Residents in San Mateo said they're still cleaning up after flooding from last week. 
Josue Samayoa has been living on 16th Ave for 10 years and says he's doing all he can to get ready for the next round of storms.   
"I've set up a lot of sandbags throughout my property where I know water was coming," Samayoa said. "All of this is going to be irrelevant if the city doesn't do its job to clear the water in the main drainage holes." 
In San Bruno, there were trees down that had caused power outages. 
South Bay
Further south in Santa Clara County, Ross Creek on Cherry Avenue, the Guadalupe River on Alma Avenue and the Penitencia Creek at Educational Park Drive are also areas of concern for flooding. Some residents along the Guadalupe were warned they may have to evacuate. 
Drivers were forced off the 101 freeway in Gilroy because of flooding. The traffic backup extended for miles and was causing aggravation for commuters. 
Santa Cruz County 
In Santa Cruz County, officials on Monday morning began evacuating residents in Felton Grove and Paradise Park because the San Lorenzo River and Soquel Creek had started to flood. 
In Felton Grove, rescue crews launched a jet ski to rescue stranded people from their homes. Entire neighborhoods were underwater. The water was as high as a stop sign.
Several highways were blocked, too. A mudslide covering Highway 9 near Glen Arbor blocked drivers.  
Highway 17, which provides a crucial route through the Santa Cruz mountains, was closed to southbound traffic due to a landslide near Glenwood Drive, the highway patrol said.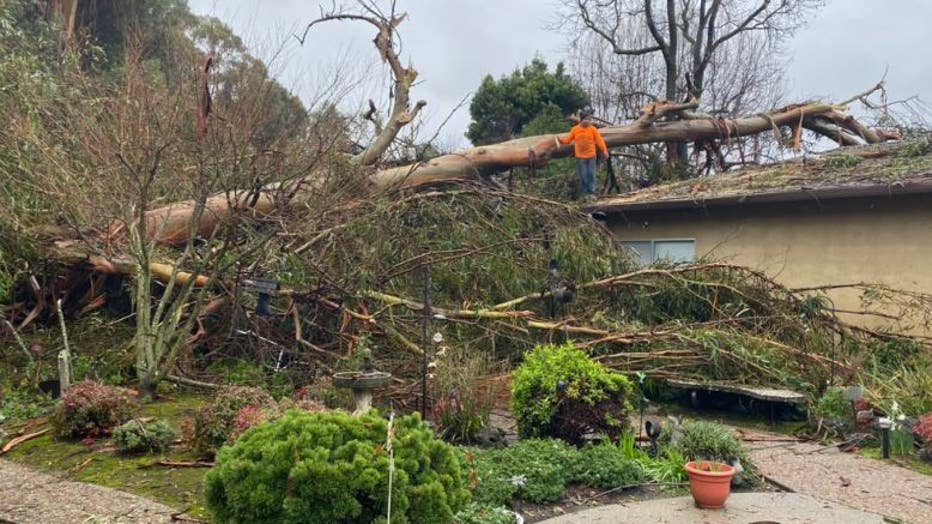 A massive eucalyptus toppled on a Castro Valley home. Jan. 9, 2023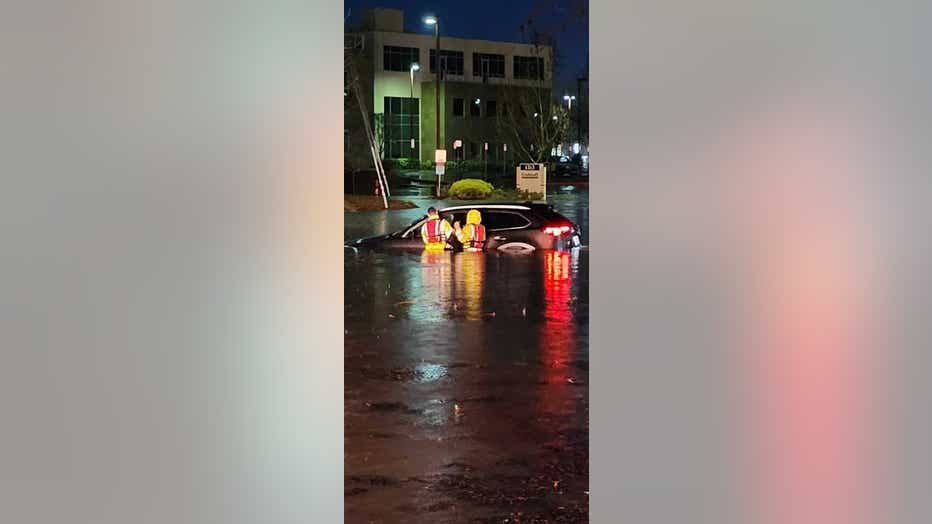 In Petaluma, firefighters rescued a woman whose car partially submerged underwater in a shopping mall parking lot at McDowell Boulevard and Redwood Way. She had been trying to get to the gym. Photo: Petaluma Fire Department Jan. 9, 2023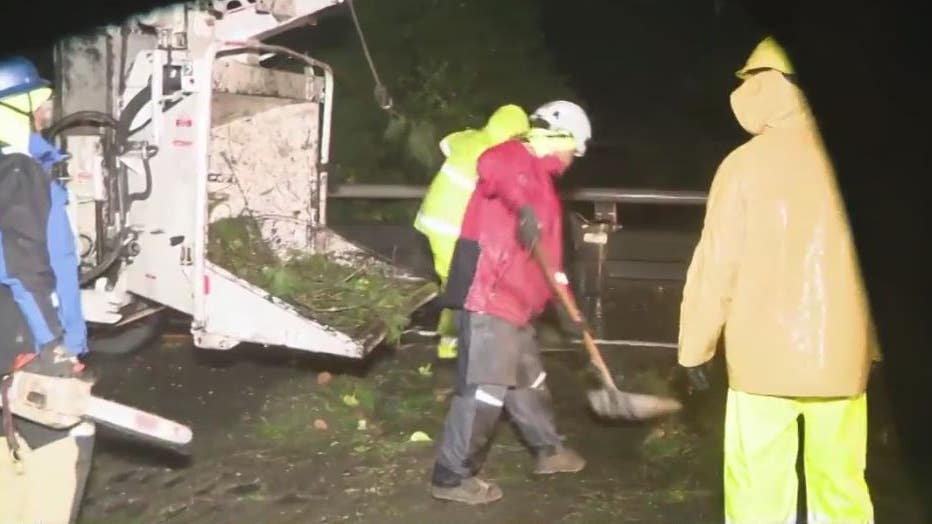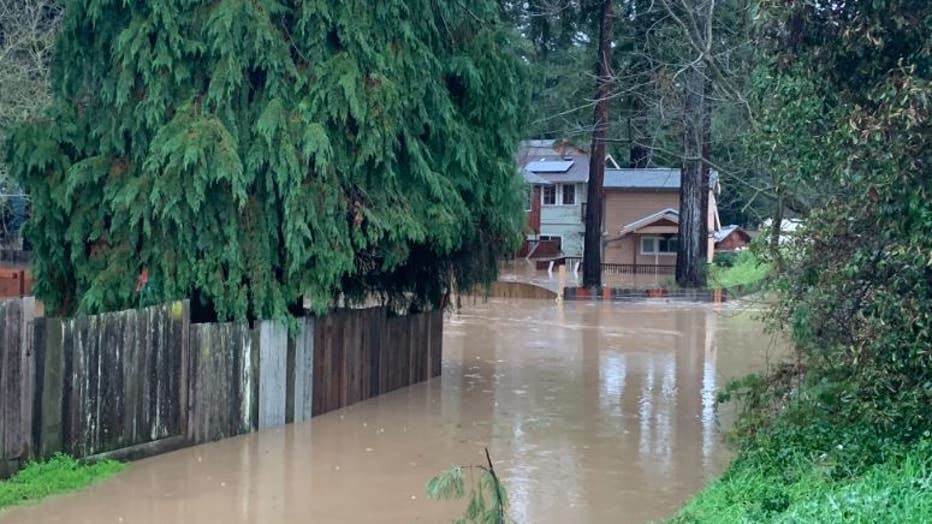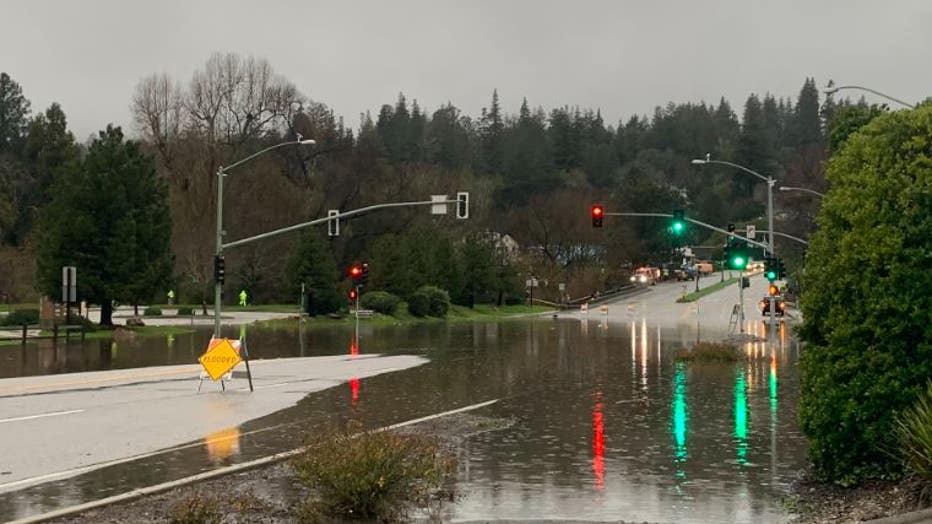 Flooding in Felton Grove, Santa Cruz County. Jan. 9, 2023
KTVU's Brooks Jarosz, Allie Ramus, James Torrez, Greg Lee, Jesse Gary, and Christien Kafton,  contributed to this report.