Car flips on Highway 17 as atmospheric river storm saturates roads
SCOTTS VALLEY, Calif. - The Bay Area is bracing for another round of atmospheric storms that'll impact the entire region.
The rain was pretty light initially, but just before 8 p.m. Thursday, it started to pick up again. 
 "There's potential for localized flooding, culverts getting backed up, and sheeting of water across the highway. So pay attention to the road," said Chris Stubendorff, Scotts Valley Fire District battalion chief.   
As the latest atmospheric river storm slowly rolls into Santa Cruz County, Scotts Valley Fire responded to a car accident on northbound Highway 17 just before the Mount Herman exit.  
RELATED:
"I'm not sure how it actually happened. Luckily it was just a single occupant, and nobody was hurt…with all the rain that we have coming right now and the rain that's expected to come, the roadways are going to be slick. They're going to be wet. Take your time, slow down," said Stubendorff.
Stubendorff says in rainy weather, drivers should reduce their speed by 10 mph below the speed limit to make driving safer. He also warns that people should not drive if they don't have to.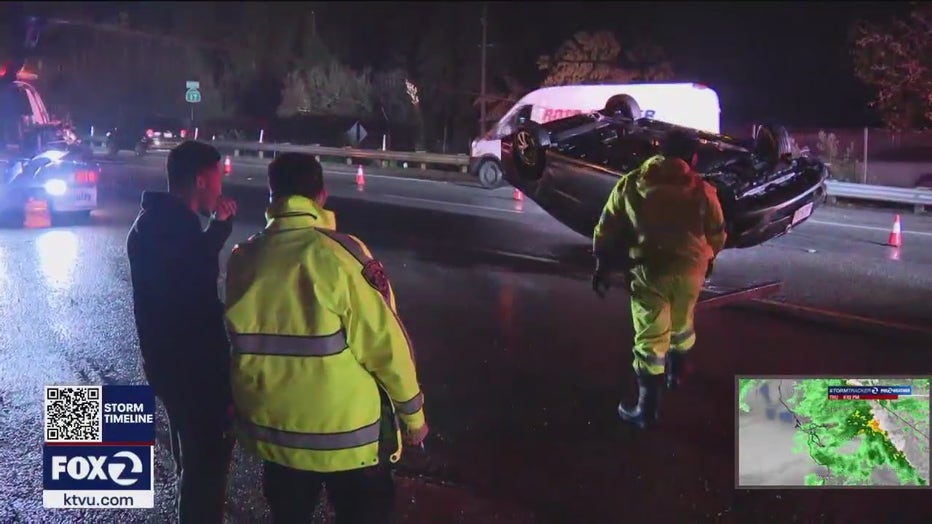 Car flipped in Santa Cruz County after severe weather
"Trees are weakened through storms, the ground is saturated. There's a potential for wind also this evening. So if you don't have to go out, just stay at home. It's not worth it to go out," Stubendorff said.   
The Santa Cruz County Emergency Operations Center opened two shelters for residents who may need to evacuate in Watsonville and Aptos. With 6 to 8 inches of rain expected to fall in the region over the next few days, residents say they're preparing for flooding and possible power outages.  
"Our landlords have a generator. So basically, all the three different units are on a generator powered by propane. So, if power outages do happen, landlords do give us generators. Basically, everyone in the community should have a generator here at this point," Dao said.   
This storm is expected to hit Santa Cruz County sometime after midnight. We were also told the San Lorenzo River may rise four or five feet above its banks this weekend causing major flooding in this area.