Contra Costa County encourages 'Testing Before Turkey' amid rising coronavirus cases
CONCORD, Calif. - Contra Costa County is ramping up its free coronavirus testing efforts to encourage families to visit a drive-through site before Thanksgiving, as health officials are concerned that families will ignore warnings for gathering on the holiday. 
The "Testing Before Turkey" push is in response to rising virus cases in the county and throughout the state. Governor Gavin Newsom moved much of California back to the most-restrictive purple tier on Monday, including Contra Costa.
On Tuesday morning, a caravan of families lined up to have their noses swabbed from their car window at the North Concord testing site. One Pittsburg resident who lost her grandfather to the virus three months ago was tested with her family. She said they plan to celebrate Thanksgiving with two households and a maximum of 10 people.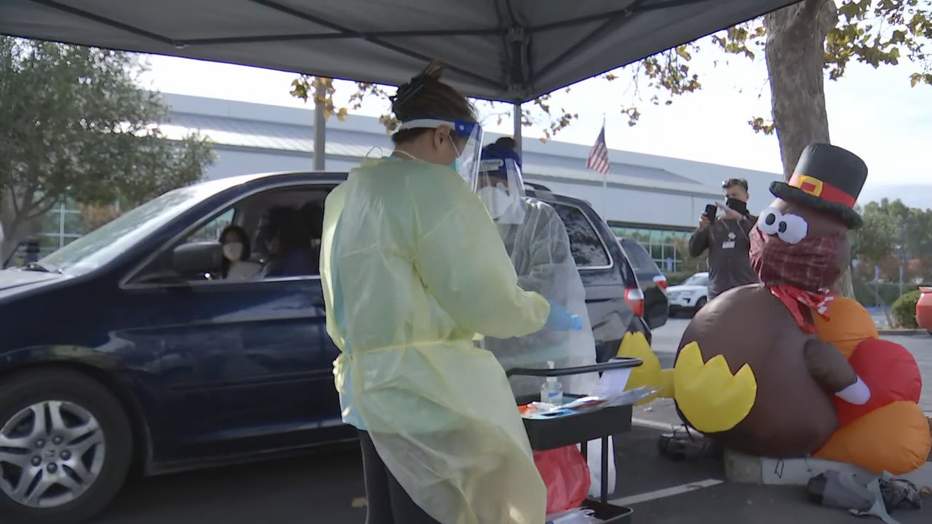 A person waits in their car to be tested for COVID-19 at a North Concord testing site.
"We choose to come and test ourselves because we just want to be safe," said Valeria Archunvia. "It's a great comfort to all of us."
MORE: Newsom considering statewide curfew as COVID-19 cases surge in California
Health officials advised residents that the county is heading into a period of "heightened danger" as the holidays traditionally bring people together and the colder weather brings folks inside. Plus, the state just saw its fastest increase yet, with Newsom announcing Monday that virus cases doubled over the last 10 days. 
Contra Costa's average daily number of cases grew from 4.3 per 100,000 people on Oct. 16 to 9.2 on Nov. 16, while the testing positivity rate grew almost 2%. Health Officer Dr. Chris Farnitano said the most concerning figure is the number of people hospitalized due to the virus, which jumped from 21 to 63 people during the same time period. 
Officials said they launched the campaign knowing that some families will choose to ignore warnings and risk their safety. The campaign aims to make these potential gatherings as safe as possible, though the county's main message is to avoid assembling with additional households altogether. 
"We know this is hard news to hear right before the holidays, we're all tired of fighting this virus, but now is not the time to let down our guard," Farnitano said. "The truth is, coming together to celebrate this year is a choice that involves more risk than usual." 
MORE: Coping through COVID-19: Mental health and the pandemic
Though testing before turkey day is encouraged, it does not replace the need to socially distance, wear a mask, and stay home if you feel sick, officials stressed. Testing only identifies where you're at on that day, meaning you're at risk of virus exposure during the time leading up to a gathering.
Those who are visit one of 13 drive-through locations should expect their results within 1-3 days. The county's website states the current average is two days. 
California has released holiday gathering guidelines, which include limiting events to two households, protecting those at higher risk and keeping gatherings short. For more related tips, visit the state's website. 
To take a test in Contra Costa County, schedule an appointment online, or call 844-421-0804. No insurance or payment is required. 
Keep up with the news by downloading KTVU's news app and subscribing to our newsletter