Controversial Oakland police commission chair out; sues selection panel
OAKLAND, Calif. - Dramatic infighting of the Oakland Police Commission came to a head this week when the body's chair, Tyfahra Milele, lost her bid to keep her spot for a second term and announced she's suing the attorney who heads up the panel that selects the new round of commissioners. 
In a verbal attack Wednesday during what was supposed to be a job interview for a second term on the Oakland Police Commission, Milele said that civil rights attorney Jim Chanin, who chairs the Selection Panel Committee, is in it for personal gain. 
"For years, the selection panel has been led by a man who has two conflicts of interest," she said. "When the case is over, his payday is over."
She continued: "That is why I object to this interview because there is no legitimate process if Mr. Chanin is a member and chair." 
Milele ended up receiving zero votes from the Selection Panel Committee which instead, selected five other police commission candidates, which will eventually be whittled down to two. 
The drama comes amid weeks of KTVU's reporting of public infighting among committee members, protests from the community, calls for Milele to resign, and the ouster of one of her fiercest allies, Judge Barbara Harbin-Forte. 
Milele did not immediately respond for comment on Friday. 
But she did speak Wednesday night at a public forum before the Selection Panel Committee. 
During her interview with the panel, Milele announced that she filed suit against Chanin in Alameda County Superior Court. 
Her suit alleges that the selection panel has been "carried out for years in an arbitrary and capricious manner, with repeated violations of due process on account of profound legal and financial conflicts of interests."
Specifically, the suit accuses Chanin of having a conflict of interest, as he, along with civil rights attorney John Burris, sued Oakland 20 years ago to ensure police reforms, while simultaneously showing "profound" bias against current and former members of the Oakland Police Commission. 
The suit, filed by attorney Ann Kariuki, alleges that Chanin has a vested interest in keeping federal oversight of the police department because he earns between $80,000 to $100,000 in legal fees.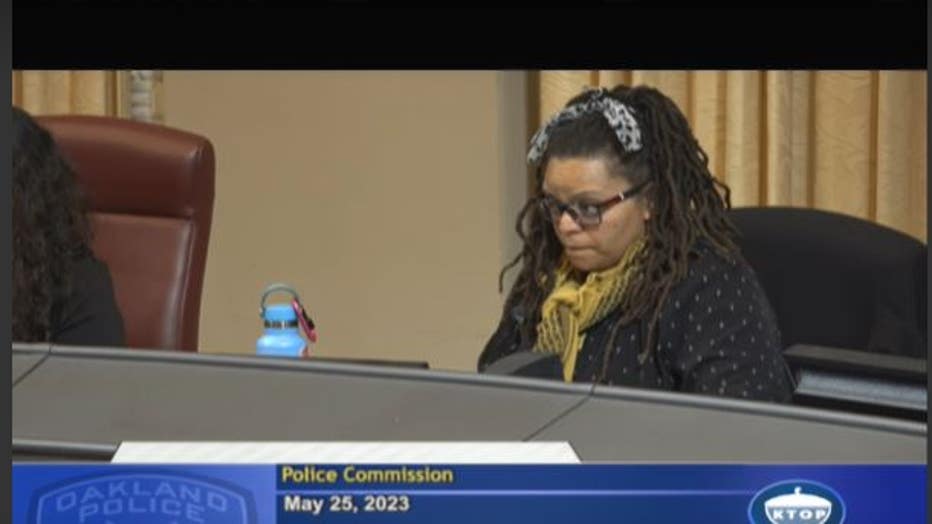 Oakland Police Commision Chair Tyfahra Milele. May 25, 2023 
On three prior occasions, the suit notes, the Oakland Police Department has come close to ending its federal court monitoring, which has been "met with resistance in that goal by Chanin." 
Milele's co-plaintiffs include David Jordan, vice president of the Oakland Police Commission and former Police Commissioner Ginale Harris. In addition to Chanin, they are also suing the entire selection committee and Councilwoman Nikki Fortunato Bas.  
In an interview, Chanin told KTVU that he is "perplexed" at this lawsuit because he voted for all the commissioners now suing him, although he did not vote for Milele for a second term. 
He also said that he is not the one to decide if federal oversight should continue over the Oakland Police Department, as a result of his lawsuit. That decision is always made by the independent monitor, in this case, Robert Warshaw. 
And he has repeatedly told KTVU that he would love the federal oversight to end, but that he can't ethically let that happen as long as he feels the reforms the Oakland Police Department promised to make are actually being practiced in real life. 
Milele first came under public scrutiny in June, when Oakland Mayor Sheng Thao said the Oakland Police Commission, under her leadership, couldn't agree on hiring a firm to start searching for a new police chief, whom she fired in February. 
Several community groups had blamed Milele, and Harbin-Forte, for the lack of progress. 
In a letter to the mayor, the Coalition for Police Accountability said that both Milele and Harbin-Forte violate Commission rules and alienate those "who are the most sincere advocates" for the effective oversight over OPD. The group also accused both women of making personal attacks against members of the media, community activists and city councilmembers. 
Thao removed Harbin-Forte from her role at the end of June. 
At the time, Harbin-Forte said she sees her removal from the commission as a "badge of honor."
"It means that somebody was scared about what we were doing," she told KTVU. "The mayor has been helping to ensure that the control of the Oakland Police Department will stay in the hands of the federal monitor."
The Oakland Police Commission ended up hiring a police chief consultant on Tuesday. 
The five people who are now being considered to sit on the Oakland Police Commission are: Angela Jackson Chastain. Karley Ordaz, Omar Farmer, Wilson Riles, and Ricardo Garcia-Acosta. 
The City Council ultimately will vote on who should fil those vacancies this fall. 
Lisa Fernandez is a reporter for KTVU. Email Lisa at lisa.fernandez@fox.com or call her at 510-874-0139. Or follow her on Twitter @ljfernandez.