CPUC orders PG&E to implement 60 safety improvement recommendations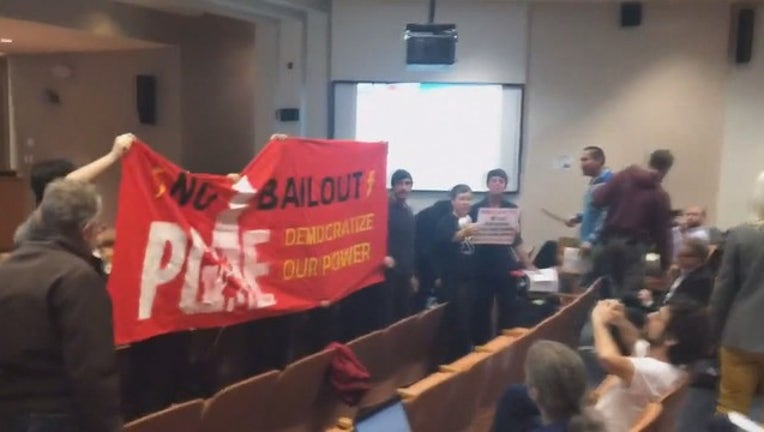 article
SAN FRANCISCO (BCN) The California Public Utilities Commission at a meeting in San Francisco today ordered PG&E Co. to implement 60 safety recommendations outlined by an outside consulting firm.
The recommendations for management, field operations, budgeting and training were prepared in connection with a commission investigation of whether the utility's organizational culture prioritizes safety in its electricity and natural gas operations. 
That investigation, begun in 2015, stemmed from the 2010 rupture and explosion of a PG&E natural gas transmission line in San Bruno that killed eight people and injured 66 others. The pipe was found to have been defectively welded, incorrectly listed as seamless in PG&E records and not properly inspected and repaired. 
The report by NorthStar Consulting Group said while PG&E has made efforts to reduce damaging events and increase its focus on safety, it still has a need for a "comprehensive enterprise-wide approach to addressing safety." 
"PG&E moved quickly to address the issues with its gas system surfaced by San Bruno, but was slower in addressing its safety culture," the consultant's report said.
Commission President Michael Picker said the safety-culture probe will now move to a second phase of examining PG&E's organization and structure "to determine the best path forward for Northern California to receive safe electrical and natural gas service."
"As I reviewed the Northstar report, I found myself asking how Northern California can be served better and whether there is a different model to ensure safe and reliable electric and natural gas service," Picker said in a statement.
San Francisco-based PG&E provides electricity and natural gas to 16 million people in Northern and Central California.
It said in a statement, "We value and agree with all of NorthStar's recommendations. We've implemented the majority of their recommendations already, and are on track to implement many more within the next year, along with other ongoing activities to improve public, employee and contractor safety.
"We believe we have made significant progress, but we also recognize there's always more work to do to achieve our mission to provide safe, reliable, affordable and clean energy," company officials said.
While the CPUC safety investigation grew out of PG&E's natural gas operations, the utility is now under scrutiny for its electricity operations in connection with the Butte County Camp Fire disaster, which has killed at least 88 people and burned 153,336 acres.
The CPUC staff is undertaking a preliminary investigation as to whether the utility complied with rules and regulations. 
On Tuesday, U.S. District Judge William Alsup ordered the utility to provide by Dec. 31 "an accurate and complete statement of the role, if any, of PG&E" in causing the Nov. 8 Butte County fire and other recent wildfires. Alsup is overseeing PG&E's probation in a criminal pipeline safety violation case.
A number of Camp Fire victims have sued PG&E, alleging that negligence in the maintenance of power lines caused the blaze. Cal Fire, the agency in charge of determining wildfire origins, has not announced the cause of the Camp Fire.