Dublin prison warden convicted of sex abuse seeks new trial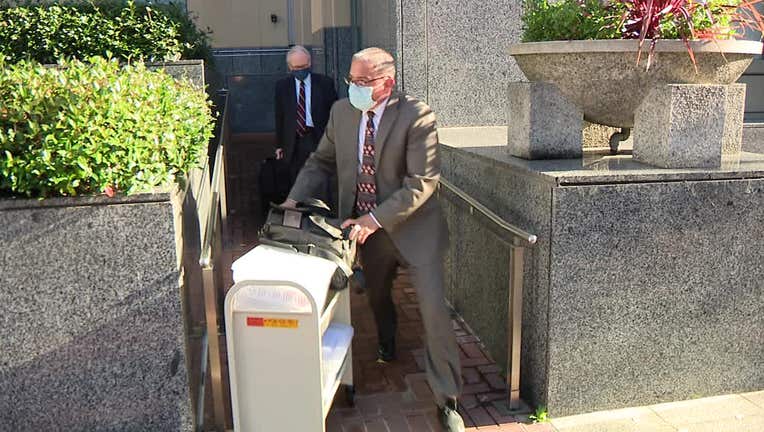 article
OAKLAND, Calif. - A warden convicted of eight counts of sexual abuse during his tenure at the Federal Correctional Institute in Dublin is seeking a new trial. 
Ray Garcia's new Fresno-based attorney, Kevin Little, filed a motion last week to U.S. District Court Judge Yvonne Gonzalez Rogers, asking that his client get retried, alleging there was juror misconduct during deliberations and Garcia's first attorney was "impaired" by his financial interests. 
Little also alleged that the judge herself acted with "microagressions" against his client, and he was not afforded a fair trial.
The trial Little is referring to ended on Dec. 8, where a jury of 10 men and 2 women  found Garcia guilty of three counts of having sexual contact with an incarcerated person, four counts of abusive sexual contact and one count of lying to the FBI. 
Garcia's guilty verdict vindicated the stories of three women – Melissa, Maria and Rachel – who testified that Garcia fondled and groped them, told them to undress, had them stroke him and sometimes took naked photos of them from 2019 to 2021. In the past year, nearly 40 other women have told KTVU that sexual abuse at FCI Dublin is real – whether it be at the hands of the warden, or another officer. 
Garcia is the highest ranking federal prison official to be convicted of such crimes.
"This is pretty standard but it sounds like a Hail Mary," said Jeffrey Bornstein, an attorney who represents some of the women that Garcia abused, referring to a term known as a last-ditch effort. 
"What a joke and a waste of taxpayer's money," added Tess Korth, a former correctional officer at the prison who used to work with Garcia and watched every day of his trial. 
During the trial, Garcia testified on his own behalf, denying all the criminal allegations.
Four days after he was found guilty, Garcia hired a new lawyer.
In his first formal motion before the court, Little began laying the groundwork for a new trial based on what Simeon Meyer, the jury foreman, told KTVU in an interview. 
When asked a question about the predominantly male panel, Meyer told KTVU was glad to have the two women on the jury as he was "moved by [the female jurors'] stories as mothers and daughters." Meyer also said in that interview that "an elderly female juror brought her own personal stories as 'touching examples of humanity.'"
Little told the judge that a "new trial is required where, as here, a reasonable possibility that the extrinsic material could have affected the verdict," meaning that juries may only deliberate on evidence presented at trial and nothing else. 
Attorneys have told KTVU that it would be a stretch to declare a mistrial because a woman talked about what it is like to be a female in jury deliberations. 
Next, Little accused Garcia's first attorney, James Reilly, of being motivated only by money, since he was paid with a flat retainer fee.
"There was a clear explanation for trial counsel's inaction and lack of preparation: the less he did, the more he and his firm made," Little wrote. "Defense counsel's flat fee trial retainer provided for the same pay no matter how hard or not so hard he worked."
Little alleged that Reilly never met with Garcia to prepare him to testify on his own behalf, "instead sending him a hastily composed e-mail in th wee hours of the morning the same day the defendant was scheduled to testify." 
Little said that Garcia had others who would have testified on his behalf, but those allies were never called to the stand.
Reilly did not respond for comment. 
And finally, Little said his client deserves a new trial because of how Judge Gonzalez Rogers behaved toward Garcia. 
"In this case, that recognized dynamic was compounded by subtle, yet perceptible expressions of implicit bias, in the form of perceptible microaggressions against the defendant and his counsel at the outset of the defendant's testimony," Little wrote. 
Little noted that while the judge was "more than pleasant with jurors and prosecution witnesses," she was not that pleasant with the defense. 
He said she wasn't nice to Garcia when asking him to take off his mask while testifying and that she was short with him on not wasting her time. 
Bornstein disagreed with the court's alleged "microaggressions," telling KTVU in an interview that he felt the court "bent over backwards to ensure things were fair." 
U.S. Attorneys Mollie Priedeman and Andrew Paulson have not yet answered Little's motion for a new trial. 
Little asked for a hearing on the matter on March 15. 
Garcia is supposed to be sentenced on March 22. 
Lisa Fernandez is a reporter for KTVU. Email Lisa at lisa.fernandez@fox.com or call her at 510-874-0139. Or follow her on Twitter @ljfernandez