EXPLAINER: Storms put California levees to the test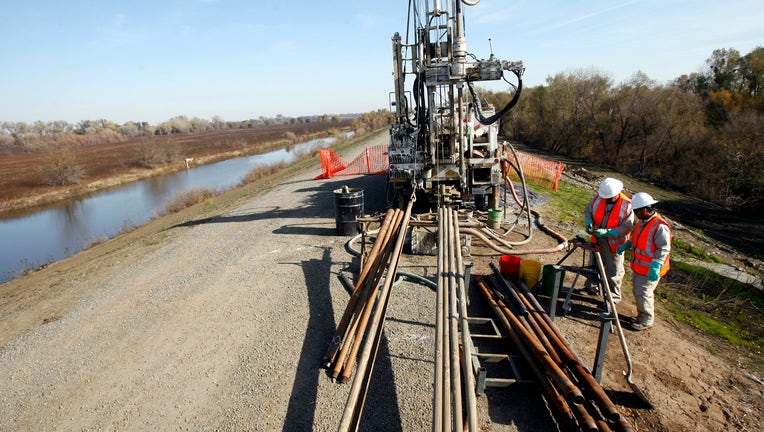 article
SACRAMENTO, Calif. - With multiple powerful storms continuing to bear down on California, state officials have warned that rural areas are the most at risk of flooding because the levees that protect them aren't built to the same standards as others that shield more populated cities.
These rural levees — many of which are owned and maintained by private landowners — mostly protect farmland from flooding and pose minimal risk to most homes. But failures can cause major thoroughfares to flood, as happened on New Year's Eve when a major highway in Sacramento County flooded and one person was killed.
"When we have these kinds of systems, it's very easy for smaller communities to get overwhelmed," Karla Nemeth, director of the California Department of Water Resources, said at an emergency briefing this week.
WHAT'S IN THE FORECAST?
A flood watch will take effect Saturday evening and last through Wednesday across a vast swath of the valley from Redding down to Modesto, said Scott Rowe, lead meteorologist for the National Weather Service in Sacramento. That means flood conditions are possible and people should be on alert.
The most rain is expected on Monday and Tuesday, when forecasters warn the Sacramento River could reach flood stage, meaning it begins to spill over its banks. The river is the state's largest, starting in the far north, passing along the edge of downtown Sacramento and ending in the Delta, which is the heart of the state's water supply system.
The Cosumnes River, where a 200-foot (60.96 meter) section of levee failed earlier this week and contributed to flooding along Highway 99, may also again reach flood stage, Rowe said.
WHY IS CALIFORNIA'S CENTRAL VALLEY PRONE TO FLOODING?
Levees protect major cities like Stockton and Sacramento as well as small communities around the Delta and rural farming areas across the Valley, which is a giant basin surrounded by mountains. Long ago, wild rivers cascaded down from the Sierra Nevada and through the valley on their way to the Pacific Ocean. Spring snowmelt and storms would cause these rivers to flood so much that early European explorers first mistook the Sacramento-San Joaquin River Delta for a giant inland sea.
Beginning in the late 1800s, non-native settlers began building levees to control the rivers so they would not flood as much. At first this was so they could farm the land. But over time, residential and urban development have popped up in these areas that were once frequently flooded.
Many of these levees, which date back to the Gold Rush, were built close to the river banks to create narrow channels where the water would flow faster to flush out mining debris. These swift rivers put a lot of stress on these levees, which would often fail and cause catastrophic flooding — prompting the construction of a complex and fast flood control system throughout the region.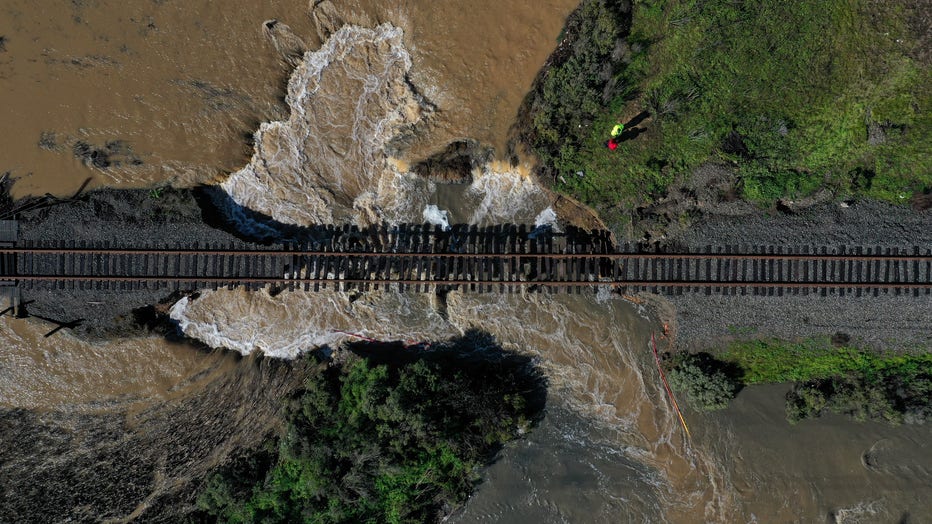 NOVATO, CALIFORNIA - FEBRUARY 14: An aerial view of a levee that was breached during a rain storm on February 14, 2019 in Novato, California. The San Francisco Bay Area is cleaning up from a storm that caused 50 homes in the town of Sausalito to be e
HAVE THE LEVEES FAILED BEFORE?
The worst flooding in recent memory came in the winter of 1996-1997, when a massive storm busted levees, killed eight people and caused billions in damages.
Levees broke along multiple rivers, flooding farmland, closing down highways and devastating towns.
WHO MAINTAINS THE LEVEES?
California has more than 20,000 miles of levees and channels and more than 1,500 dams and reservoirs, according to a 2017 report from the Legislative Analyst's Office. Most of them are maintained and operated by local governments, including lots of reclamation districts.
Other levees are part of a state system and are built to higher standards to protect some of the Central Valley's most populated areas. This system protects about 1.3 million people and $223 billion worth of property.
But a large number of levees are owned and operated by private landowners.
"It is almost unimaginably complicated," said Daniel Swain, a climate scientist with UCLA and the Nature Conservancy of California. "There are literally over 100 entities that are relevant in the context of flood and reservoir and dam and levee management and maintenance in California."
SUGGESTED:
DO CALIFORNIA'S LEVEES HAVE TO MEET SAFETY STANDARDS?
A state law passed in 2007 says levees protecting urban areas must have a 200-year level of protection, meaning those areas will have a 0.5% chance of flooding every year.
Other levees have different standards. In Sacramento County, the 34 miles of levees maintained by Reclamation District 800 provide only a 10-year level of protection, according to reclamation board member Mark Hite. That's where a levee failure led to flooding on New Year's Eve.
WHO PAYS FOR THE LEVEES?
The federal government has spent billions of dollars to build various flood control projects in California, including levees, but largely is not responsible for maintenance.
Some reclamation districts have the power to tax property owners to maintain the levees. The state has formal agreements with some local governments to maintain levees, including inspections.
California's state government has spent an average of $70 million per year during the last decade on flood control operations and maintenance. But the Central Valley Flood Protection Plan says much more is needed — up to $288 million per year.
"We need a lot," said Jane Dolan, chair of the Central Valley Flood Protection Board. "This is a rich state. We've got millions of people and billions of dollars at risk.