Fans get sneak peak of Robin Williams' final performance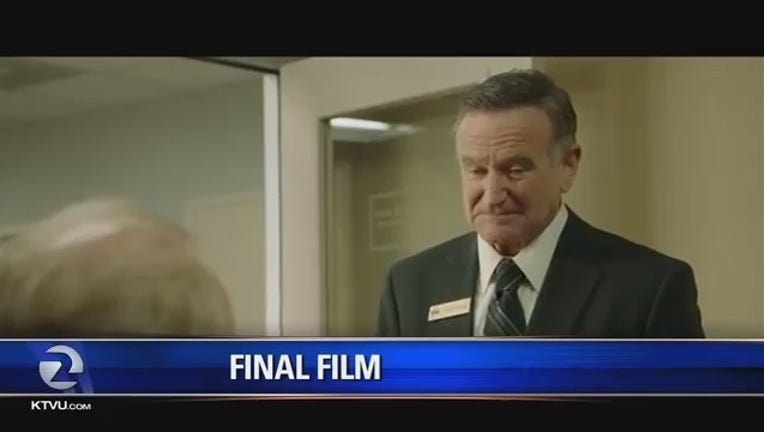 SAN FRANCISCO (KTVU) - Fans of the late Robin Williams will soon get a chance to see his last onscreen performance.
The movie Boulevard is set to be released on Friday, but Tuesday night a San Francisco audience got a sneak preview of the legendary actor's final film.
It was shown at a private theatre operated by Variety Children's Charity of Northern California.
It's a place Williams frequented and a cause he supported, so it was fitting that his final performance was shown at the theatre on Market Street.
Bay Area film reviewer and member of the San Francisco Film Critics Circle, Michael Snyder, was among those who attended the screening.
"I'm looking forward to the film but at the same time I'm feeling the sadness that accompanies a tragedy like this," he said.
The film showcases Williams' dramatic side.
He plays a 60-year-old married man struggling with his sexuality and juggling a secret life after meeting a young male stranger.
Ayesha Williamson is the executive director of Variety Children's Charity of Northern California.
"We are really proud to show it here," she said.  "He used to come in here to do all of his academy voting and he would see the screenings, so we feel like it's a little bit of family here with us tonight."
Williamson said the actor also opened up his heart and wallet for the cause.
"He would help with a donation or do things, but he was not a public person about it. He just wanted to make sure that we were ok," she told KTVU.
An on screen superstar, making one last big screen appearance, Robin Williams, gone but not forgotten.
"We're being cheated of a massive talent," said movie critic Snyder.
Boulevard is set to be released in the Bay Area on July 17th.