Fierce winds wreak havoc across Bay Area
OAKLAND, Calif. - Tuesday's Pacific Gas and Electric power outages peaked at nearly 120,000 customers affected throughout the Bay Area, as trees tumbled over from strong winds from a new storm system that swept into the region.
A wind advisory was issued for much of the Bay Area, and there were wind-related problems from all corners of the region. The advisory is in effect through Wednesday at 1:00 p.m.
A gust of 73 miles per hour was recorded at San Francisco's Ocean Beach.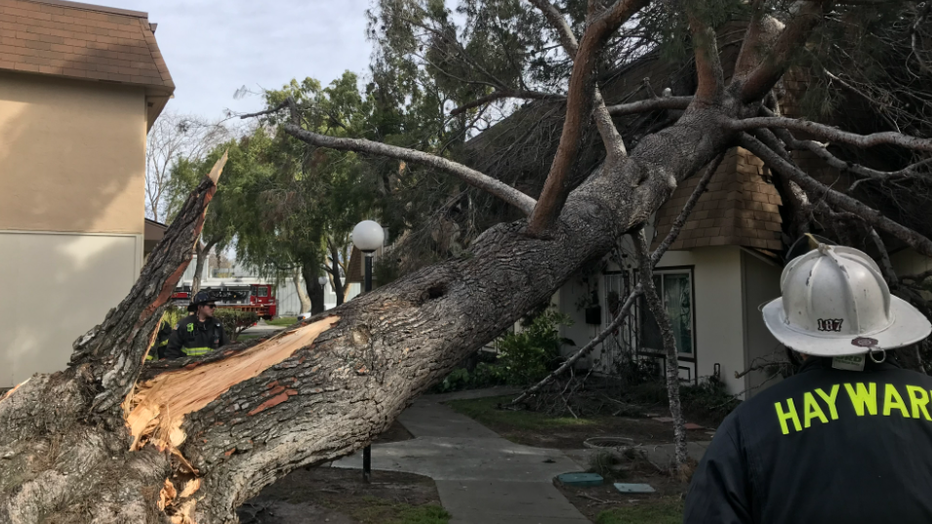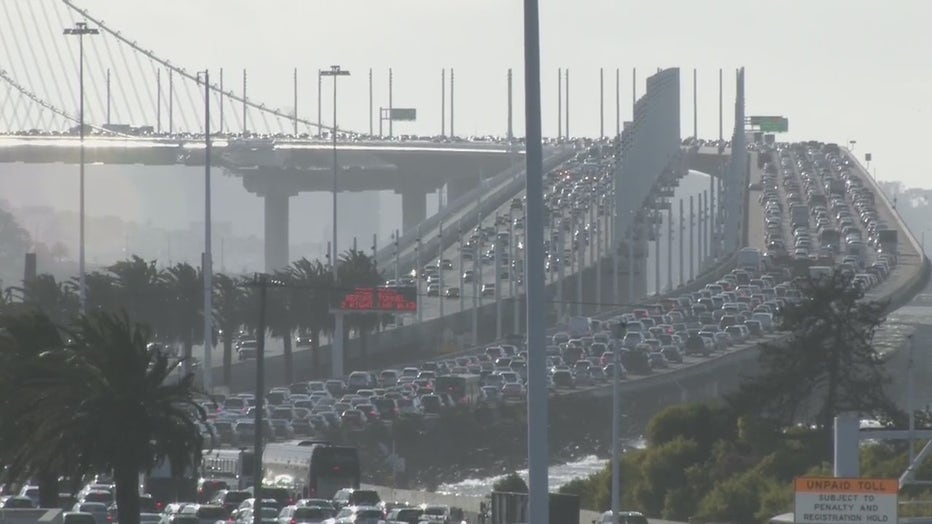 Heavy traffic on the Bay Bridge in the westbound lanes. 
Westbound traffic on the Bay Bridge was at a standstill on Tuesday afternoon because a tree fell and blocked three lanes near the Treasure Island Tunnel. 
As of 5:00 p.m. officials said all but one lane had reopened. California Highway Patrol confirmed the last lane to reopen was at around 8 p.m.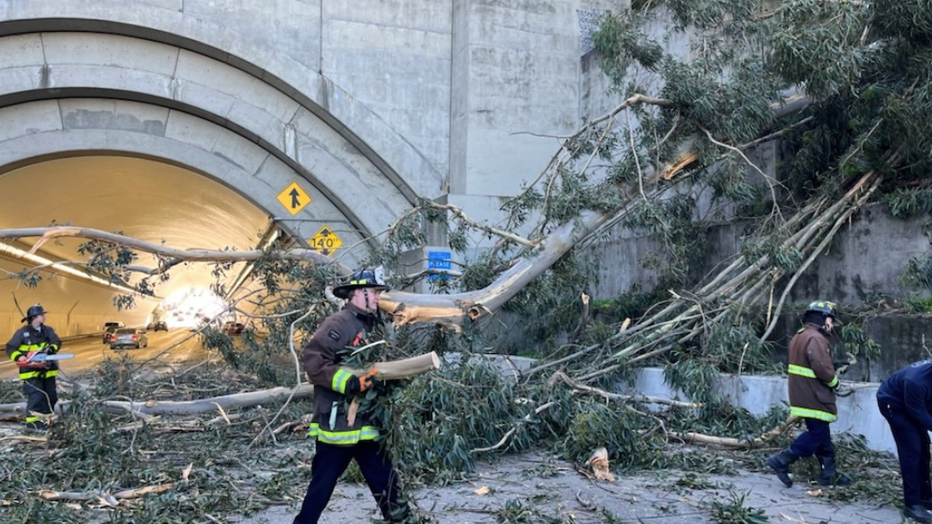 Emergency crews work to clean up after a downed tree blocks three lanes of the Bay Bridge and brings traffic to a halt. 
PG&E is reporting widespread outages from San Francisco to Redwood City. In the utility's update just before 11 p.m., they continued to show signs of improvement after peaking earlier in the evening with nearly 120,000 customers throughout the Bay Area without electricity. Those numbers have dwindled to 94,152. The Peninsula is taking the brunt of the outages with 52,620 customers still without power. 
In a statement to KTVU, PG&E said they are prepared for the storm, but expect more outages. 
"Early this morning, we activated our Emergency Operations Center (EOC) to dedicate all staff and resources to power restoration," PG&E wrote. "We are fully staffed and responding to outages as quickly as possible while mobilizing extra resources from outside the Bay Area to help with restoration efforts here as the weather materializes."
"So not only are we seeing the wind, we might see some snow and the rain. It's a very complicated combination that could result in outage activity for our customers. Today, the main risk is those winds because they do cause a lot of damage. In some areas, winds are expected to exceed 60 miles per hour," Mayra Tostado, a PG&E spokesperson said.  
"This was well forecast. This is a particularly strong example of a cold-front coming in with a lot of wind associated with it," said San Jose State University Climate Scientist Dr. Alison Bridger. She suggested residents go home and charge everything up and not to buy too much from the grocery store in anticipation of power outages. 
Downed trees are also causing problems all around the Bay Area.
In Redwood City, a tree fell onto power lines at Carlos and Orchard avenues, the police department said.
Near Lincoln and Homestead in Santa Clara, a huge tree blocked the street, causing the road to be shut off from traffic. No word from Silicon Valley Power on whether the tree hit a power line, but the area was completely in the dark, leaving some people to try and figure out what to do. 
"It is my first time experiencing a blackout in California. I think it really caught me off guard because I wasn't expecting this to happen today," said Jimmy Sum, of Santa Clara.  
In San Francisco, the strong winds blew the roof off of a building on Russia Street and caused the San Francisco Zoo to close its doors early on Tuesday. A KTVU viewer sent us photos of metal falling onto cars below from the SF Public Utilities Commission building at Golden Gate Avenue and Polk Street. At least two cars had minor damage. One person who witnessed the incident said the metal was floating down like paper.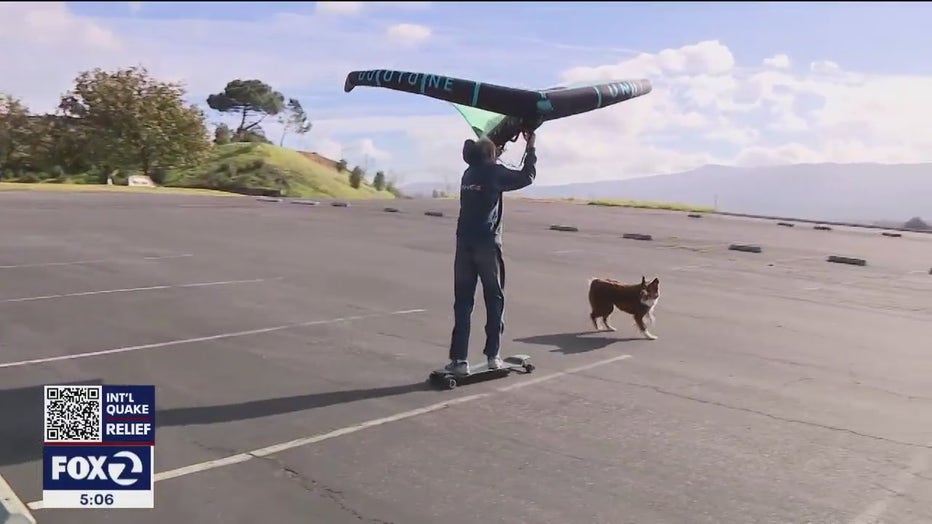 Tony Parsons, a winging skateboarder, takes advantage of the 30 mph gusts in the South Bay. February 21, 2023.
Just before 2 p.m., at 24th street and Potrero Avenue, a tree collapsed on a Muni bus stop, snarling traffic and Muni service. Witnesses said a bus had just picked up passengers who were waiting right where the tree fell. The tree dragged down Muni lines. 
The city's Department of Emergency Management said there was a power outage near Treasure Island. They had also reported obstructions were blocking several city streets on Tuesday afternoon.
At St. Mary and St. Martha Church on South Van Ness in the Mission District, a surveillance camera captured the moment a tree from a neighbor's yard toppled into the church's parking lot, damaging a car. 
Gustavo Esquivel said he was in the parking lot in his van checking his phone when the tree came crashing down. 
"I was checking the mail, when I hear a noise. I check on the side, 'Ohhh!' It's incredible, I said I get outta here, probably there's another coming down. No one was injured, but Ayelen Ledzma's car was badly damaged. She said she was in an office on the church's property. "I heard something bumping really hard. And then when I came down, I saw the tree first and then when I looked to make sure everybody was okay, I saw my car all damaged."
The weather prompted San Francisco Bay Ferry to cancel some service as the waters were too rough for the vessels. 
In Foster City, a massive tree blew over onto a car as it pulled into a Costco parking lot. The driver of the car was uninjured. 
Also in Foster City, a tree fell in a busy intersection blocking traffic in the area. 
In Hayward, a tree landed on top of an apartment building on Oliver Avenue.
There were no immediate reports of injuries from these incidents.