Fire investigators search for clues behind San Francisco home explosion
SAN FRANCISCO - Fire investigators in San Francisco are still trying to figure out exactly what caused a home in the city's Sunset neighborhood to burst into flames Thursday morning, killing one person inside.
Heavy equipment was brought in on Friday to help fire investigators sift through the remains of the home on the 1700 block of 22nd Ave. near Noriega Street. Firefighters removed several large canisters and barrels from the remains of the home.
"It's suspicious," said one neighbor, who didn't want to be named. "There's no way it's a gas leak, not of this kind of magnitude."
The explosion was so powerful that it shook nearby homes, shattered windows, and jammed doors. So far, the SFFD, says it's too early to conclude what caused the fire, but acknowledged that the presence of the canisters was not normal.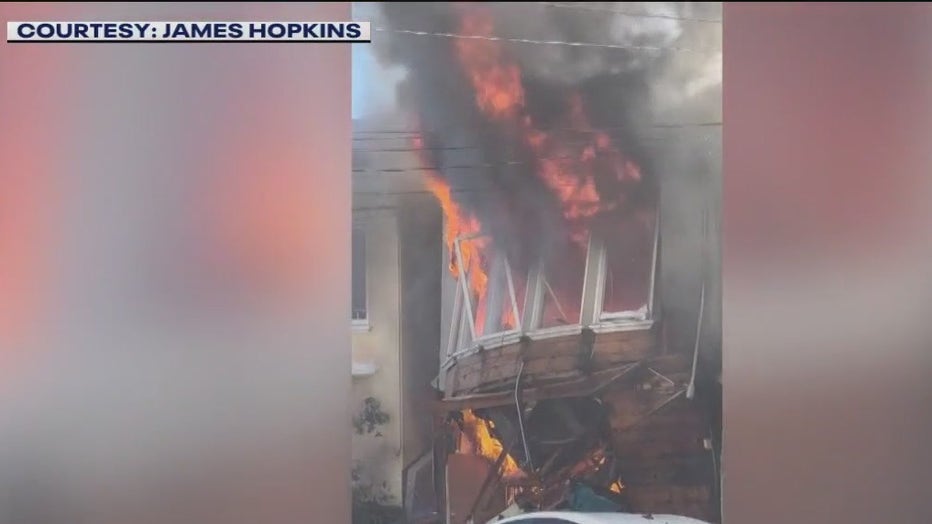 "Everybody saw the tanks. This is definitely something that is unusual to see come out of an actual residential structure fire, or of any fire in any location," said Jonathan Baxter of the San Francisco Fire Dept.
PREVIOUS COVERAGE: San Francisco home explosion leaves 1 dead
Little is still known about the three people who lived inside the home, but neighbors say they were renting the property. The San Francisco Medical Examiner's office has yet to release the identity of the person killed in the fire.
"It's extremely hard on anybody. It's going to be extremely hard on the family, this community, but also the first responders," said Baxter.
Neighbors described seeing another person who lived there, just barely able to make it out.  
"I saw one woman run out, just covered in soot, and her clothes were just shredded. Just completely hanging off of her," said neighbor Charlotte Kwong.
SEE ALSO: $50,000 reward available for info on months-old homicide: SFPD
Firefighters say the woman was severely injured and is still recovering in the hospital. 
For some neighbors, the explosion was an incredibly close call.
"I thought it was a bomb," said Liz Nguyen, who lives next door and was waiting in her car outside at the time. "I just saw that house blow up and my windows shattered. I was waiting for my daughter to walk out, and I was grateful that she took forever."
Several homes in the area have been red-tagged. Fire investigators are planning to wrap up, at least the on-site part of their investigation by Friday evening, but say it could be weeks until they are able to conclude exactly what ignited this blast.