Firefighters battling several blazes in Santa Cruz County
SANTA CRUZ, Calif. - Strong winds fueled more than a dozen wildfires in Santa Cruz and San Mateo counties Tuesday.
Cal Fire says at least 13 fires started between Monday and Tuesday in both regions, including six that were actively burning Tuesday.
12 of the wildfires burned in Santa Cruz County, including two which threatened homes.
The Panther Ridge Fire threatened 20 homes in Boulder Creek, while the Freedom Fire burning off Freedom Boulevard in Watsonville forced the evacuation of 100 homes in the Nunes Road area.
That included the home belonging to the Silver family.
"I was at work and I got a call we were under immediate evacuation," said Joel Silver. "Looks like the fire in on the ridge directly above my house,"
He and others forced from their homes by wildfires in the middle of January were left pondering some big questions.
"What's going to happen next? Are they going to be able to stop it before it gets to my house? It looks like my wife evacuated most of the stuff. The kids are safe," said Silver.
Tuesday, cars and horse trailers packed White Road in the evacuation area where Watsonville borders Aptos.
"It's very unusual to be happening in January," said Cal Fire Battalion Chief Sean Murray. "However with the low total rainfalls that we've received, we're kind of still in fire season mode."
Firefighters say on this dry, windy January day, the gusty conditions were most problematic as they worked to protect the homes nestled amongst the trees.
"It does make it challenging for us to fight because the fire is being pushed or wind-driven," said Murray.
As the winds died down Tuesday evening, the containment numbers went up on most of the fires.
As of Tuesday evening, Cal Fire had not reported any injuries or homes burned.
Cal Fire says while the official cause of each fire is under investigation, the wind event that downed trees and power lines probably had an impact.
A spokeswoman added it's possible the wind blew in the burn area of the CZU Complex Fire and ignited flames, five months after it first sparked.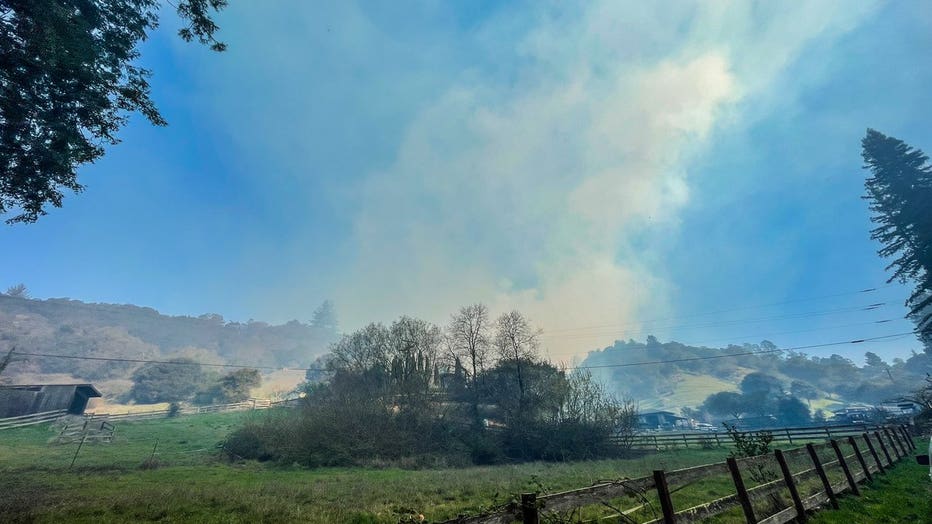 Fire White Road at Freedom and Larkin Valley is closed due to the Nunes Fire. Photo: CHP