Food banks need help: money donations helps the most
CONCORD, Calif. - While food banks typically bring in a bounty to those in need this time of year, demand is once again high in the Bay Area this Thanksgiving. 
As the population ages and the economy becomes more unforgiving, food banks are not just a hedge against inflation. For many people, they're a hedge against malnutrition or worse, and they need your help.
A Hindu service group brought six carloads of foodstuffs to the Food Bank of Contra Costa and Solano in Concord as an act of both kindness to others and a life lesson for their little ones. "We are just trying to contribute to our community and this is the best way we can tell our children how you can contribute and this is a community we are living in and you have to support the people who are in need," said Nitin Bokhriyal, a Hindu Swansewag Sangh volunteer.
In every respect, hunger is a numbers game: a complex equation of numbers of people, numbers of food donations, numbers of dollars, numbers of volunteers, numbers of transportation costs, supply chain issues and, most important, the numbers of the needy. "The demand has increased almost, in some cases, double," said Contra Costa Food Bank Food Sorting Coordinator Willie Mendoza.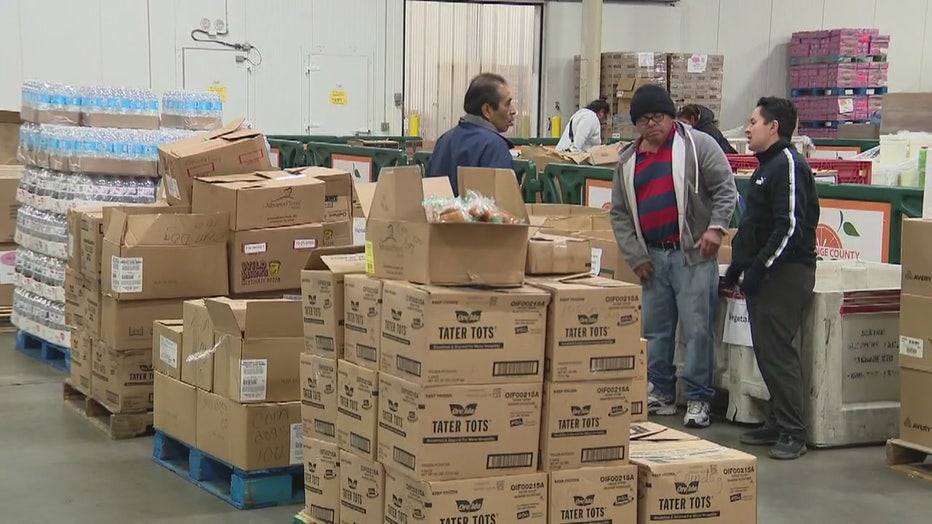 Right now, one in six residents of Contra Costa and Solano County's two million residents rely on their food bank for some level of sustenance. That's at least 333,000 people; likely more. "There's a good chance that some of the numbers we're not capturing, that those people may not be aware of the resources that are available," said Mendoza.
The food bank covers 1,700 square miles, from Richmond in the west to the Yolo County 44 miles to the east. "Bethel Island and Discovery Bay to the east, or you're going as far as Richmond in the west and everywhere in between," said Mendoza. Also, Solano County from Vallejo in the west to Rio Vista and the Yolo County line well to the east.
Upwards of 300 partner organizations make sure every corner of both counties are served. "A huge network of non-profits that help to feed immediately in the community or pantries of kitchens; you name it," said Mendoza.
For food banks, it's all about purchasing power. For example, with your one dollar, the food bank can turn that into two meals. If you or I were to do it on our own, it could be as much as $10. "We don't buy cans or cases. We buy thousands of cases at a time. So that's where the purchasing power comes from," said Mendoza.
Every food bank loves and appreciates actual food donations. But dollars really leverage way more food.