Hahn, A's finish off sweep, send Tigers to 7th straight loss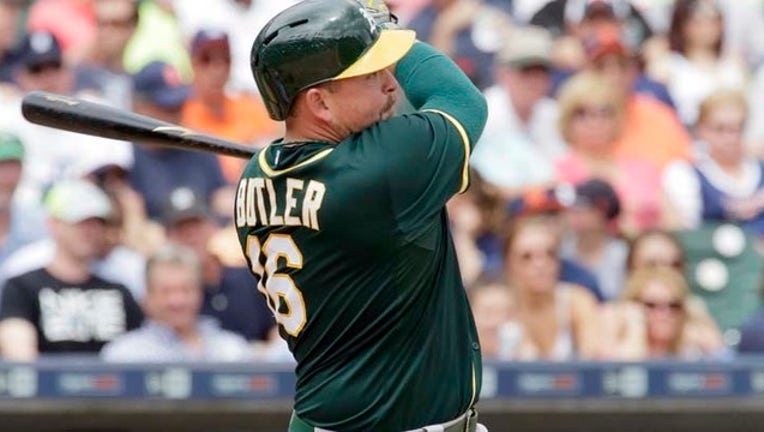 DETROIT (AP) — The Oakland Athletics are finally enjoying a modest winning streak, and manager Bob Melvin isn't about to let the league standings spoil this encouraging stretch.
"We're just trying to play good — win as many games as we can," he said. "We're about trying to climb toward .500, and then worry about where you are in the standings."
Jesse Hahn allowed one run in seven innings and the A's completed a three-game sweep of Detroit on Thursday, winning 7-5 and handing the Tigers their seventh straight loss. Oakland has won a season-high four in a row and six of seven.
Now, the reality check: The A's (23-33) still have the worst record in the American League.
If Oakland is able to make it back to .500, the starting pitching may be the impetus. Over the last 22 games, Oakland starters are 9-8 with a 2.23 ERA.
"We have some good arms in our starting rotation," Hahn said. "It starts with Sonny Gray, and everyone kind of feeds off him."
Hahn (3-5) gave up five hits. He struck out five and walked one.
Detroit scored four times in the ninth, including a three-run homer by Tyler Collins. Tyler Clippard got two outs for his ninth save.
Josh Phegley hit a two-run triple in the second inning for Oakland.
Shane Greene (4-5) allowed six runs — four earned — and eight hits in 4 1-3 innings. He made a throwing error that contributed to Detroit's trouble.
The Tigers have lost seven in a row for the first time since April 26 to May 2, 2011, according to STATS. That was the year they began their current streak of four consecutive AL Central titles.
"Everything is under a microscope when you are losing like this, but there has been no change to our daily routine and no change in the guys' attitudes," second baseman Ian Kinsler said. "We come ready to play but right now the ball is not rolling in our direction."
Detroit has not lost more than seven straight since an eight-game skid in 2005.
Oakland's three-run second inning set the tone Thursday.
With runners on first and third and nobody out, Eric Sogard hit a grounder to the pitcher, and Greene threw wildly to second for an error. A run came home on that play, and Phegley's first career triple made it 3-0.
Billy Butler hit an RBI double in the third and a run-scoring single in the fifth. Left fielder Daniel Fields, who entered in the third for his major league debut, overran the ball for an error on Butler's fifth-inning hit, allowing another run to score.
Detroit managed only one hit in the first five innings before putting together a mild rally in the sixth. Miguel Cabrera's RBI single made it 6-1, but Fields struck out with two on to end the inning.
Fields doubled to right in the ninth for his first hit. He was sent back to the minors after the game. Detroit expects outfielder Rajai Davis to be back from the paternity list in time for Friday's game.