Housing, mental health care key to Newsom's latest strategy to fight homeless crisis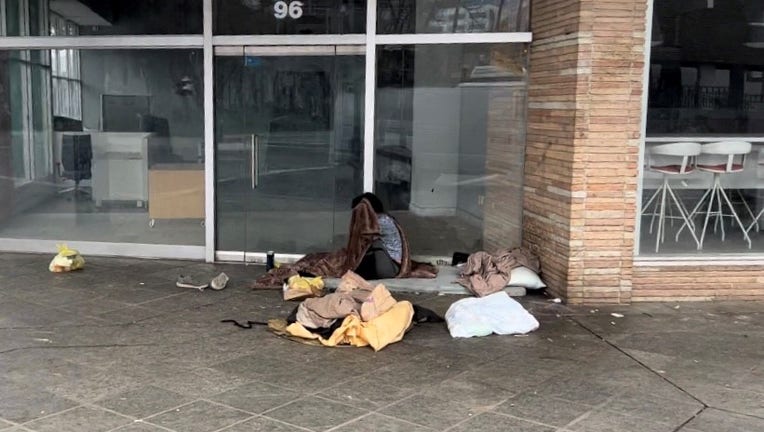 article
SAN JOSE, Calif. - Gov. Gavin Newsom announced Sunday that voters will soon decide if the state will expand housing and mental health care treatment to address the homeless crisis. The announcement was made as a part of his state-wide tour laying out his policy plans.   
Newsom says he wants to build facilities where over 10,000 people a year can live and be treated for mental illness. Newsom's past policies have been heavily criticized for not producing results and this time, he wants California voters to weigh in on his new plan.  
"We're fooling ourselves if we don't address that fundamental need that we can turn this thing around," Newsom said.   
With over 170,000 people unhoused in California last year, Newsom is laying out his latest plan to get people off the street. On Sunday he discussed the initiative in San Diego as a part of his five-day state tour to announce his policy goals. 
He wants to overhaul the state's Mental Health Care Act, passed by voters in 2004, so that there's more accountability over how funds are used.  
"The most acute challenge the state faces…that's the issue of the integration of housing and the supportive services…It stabilizes individuals that are in acute stages of psychosis, people that are self-medicating with drugs and alcohol addictions," Newsom said. 
RELATED: Gov. Newsom unveils plan to make $30 insulin
The measure will allow bonds and funds collected via the Mental Health Care Act tax to help fund the construction of smaller homes and permanent housing residential spaces where mental health care services are also available.  
"We know in the clinical world, it's almost impossible to serve somebody who lives under a bridge, or in a tent or in an encampment. We need to get that housing available and connect it to the services," said Mark Ghaly, secretary of California Health and Human Services.  
This week state Senate Minority Leader Brian Jones criticized Newsom's new strategy, calling it a band-aid on the homeless crisis. He says California has already spent $20 billion in the last five years, but the crisis only worsened. 
SEE MORE: Hundreds of tiny homes headed to San Jose
But Newsom and his supporters believe this time, focusing on housing and mental healthcare for the unhoused is going to make a difference.  
"What we see on our streets, those who are most ill, should not be at the back of the line. We know they are the most difficult to treat, but they should be at the front of the line. These kinds of innovations that we're doing now does just that. We know we need housing," said Sen. Susan Eggman, representing the 5th Senate District.
Currently, the state also has an over $22 billion deficit and data shows that people are leaving the state for better affordability. Voters will decide on this new measure in 2024.