Idaho murders: 5 key pieces of evidence against Bryan Kohberger
MOSCOW, Idaho - He is still only the accused – and must be considered innocent until proven guilty. But the case against Bryan Kohberger for the Idaho quadruple homicide appears strong.  
There remains much we don't know and there is much more investigation, and evidence, to come. But with the recent release of the arrest warrant affidavit, here's how the prosecution's evidence is stacking up.
The knife sheath DNA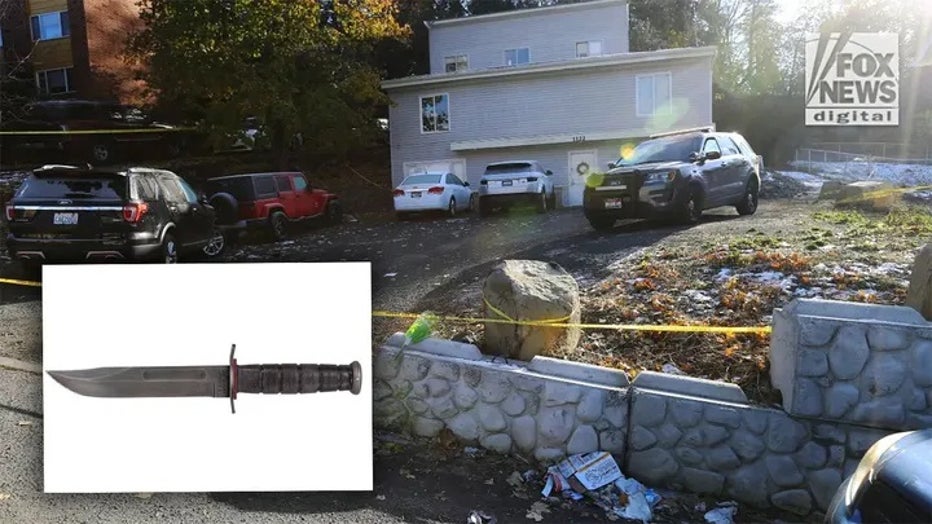 Police suspect a KaBar knife may have been used in slayings of four University Idaho students, inset. Caution tape surrounds the house near campus where the students were slaughtered. (Credit: Ka-Bar / Derek Shook for Fox News Digital)
Currently, this is the only evidence that is direct and not circumstantial. In the absence of the knife itself, having a sheath that matches to the same knife that caused the wounds (a fact which will need to be demonstrated), found literally beside the body of one of the victims, is going to be tough to refute.
Yes, as some have proposed, Kohberger could contend that someone stole or found his knife. Aside from being far-fetched, this is unlikely to persuade because this hypothetical person's handling of the Ka-Bar – through gripping, sweating, and perhaps even shedding his own blood – before and during the attacks would likely have obfuscated any DNA of Kohberger's. It is significant that the affidavit pointedly states that only "a single source of male DNA (Suspect Profile)" was found on the sheath.
And if the DNA on the knife was extracted from a splatter of Kohberger's own blood? Then even that weak defense goes out the window.
At this point, the DNA is the linchpin. It is no accident that the probable cause affidavit – which is written chronologically – concludes with the DNA match to Kohberger's father.  It was at that point that the investigators knew it was time to take the case down.
RELATED: The white sedan: How police tracked down the suspect in Idaho murders
The car videos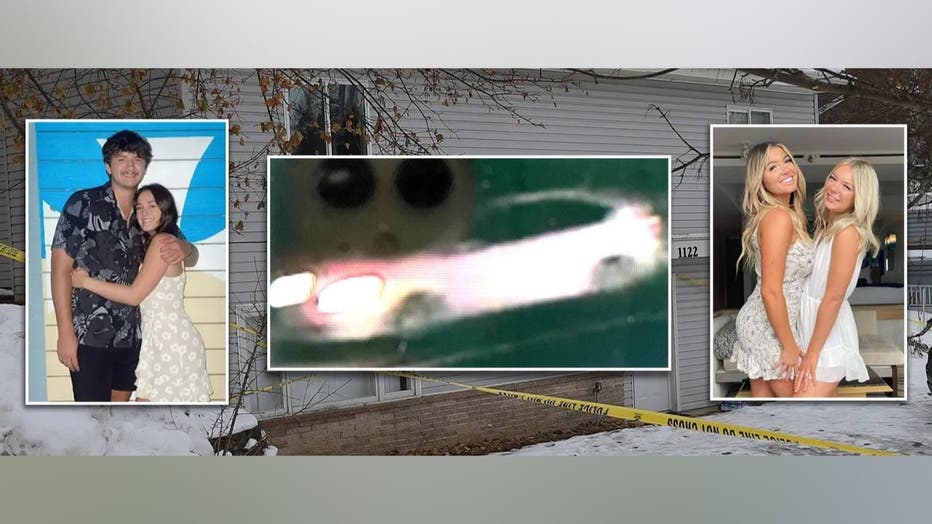 No license plate was obtained from the videos. Nonetheless, Kohberger's car not only matches the car make and model filmed near the scene, but it also coincides with the movement of his mobile phone before and after the murders. For instance, there is this sequence that occurs as the car is tracked leaving the scene, and after the Kohberger phone had apparently been turned off:
4:48 a.m.: Phone goes live again, on State Hwy 95, south of Moscow
4:50 – 5:26 a.m.: Phone travels south on Rt 95 to Genessee, ID, then west, then north back towards Pullman.
5:25 a.m.: Car on video at WSU, 1300 Johnson Rd, Pullman, in the vicinity of suspect's home
5:27 a.m.: Car on video at WSU along Stadium Way, vicinity of suspect's home
5:30 a.m.: Phone pings at the Kohberger home
Could Kohberger contend that it wasn't his car? Certainly. But why then would it exactly match the movements of his cell phone?
And now that the task force has the car, it may well yield further forensic evidence – no matter how hard he tried to clean it.
RELATED: Shocking court documents reveal police began suspecting Kohberger less than 2 weeks after Idaho murders
Digital phone forensics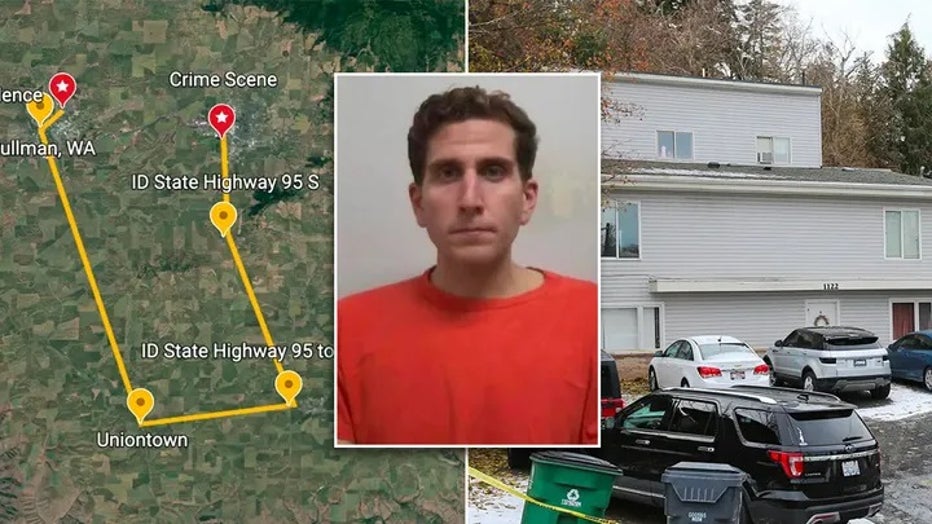 Map on left showing Idaho murder suspect Bryan Kohberger's movement on the morning of Nov. 13 after four University of Idaho students were stabbed in their home. Right is the crime scene at 1122 King Road. Inset is Kohberger's booking photo. (Latah C
Like the car, the pings Kohberger's phone sent to nearby cell towers are more circumstantial than direct. But taken with the movement of his car, this will be tough to refute.
Further, what possible reason could Kohberger give for his phone being in close proximity to the victims' house 12 times in the months leading up to the murders – 11 of those late at night?  
Could he contend someone else had his phone? That would require him to identify this person (unlikely). Could he contend he lost the phone, or that it was stolen?  Sure – but why didn't he report that and cancel it? And if so, how to explain that the phone's activity continued to fit the pattern of his own use (calling family, for instance)?
Or: Could he contend he was in that particular cell area, but not actually near the victims' house?  
Aside from the fact that he would have to explain why in the middle of the night he was regularly in an area 10 miles from his home, there is this: According to a recent interview of Steve Goncalves, the father of victim Kaylee Goncalves, Kohberger at times was so close to the victims' house, his phone was picked up by their WiFi.
RELATED: Bryan Kohberger case: Why didn't Idaho roommate call 911 after encountering masked madman?
The eyewitness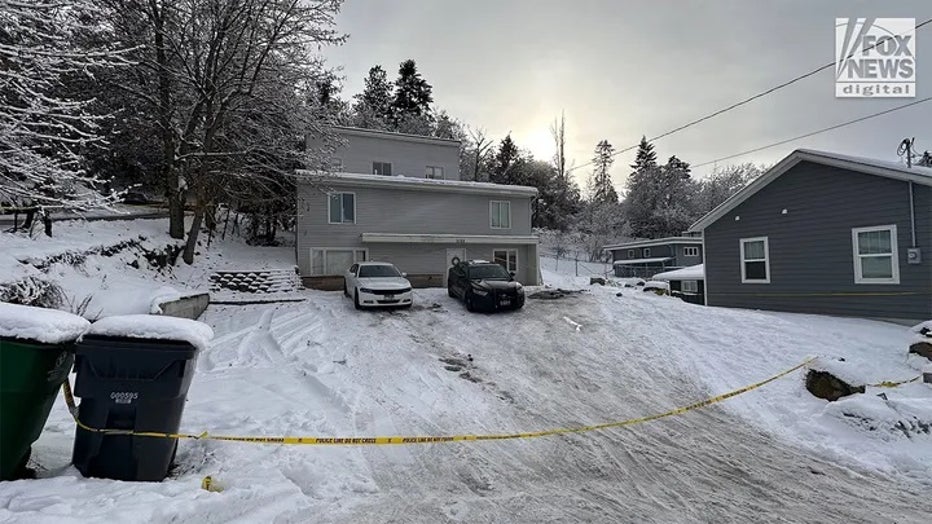 Front view of the house where four Idaho students were killed in November 2022. It is just steps away from the University of Idaho campus. (Adam Sabes/Fox News Digital)
Much has been made of Dylan Mortensen's delay in calling the police.  What has been somewhat overlooked, however, is that her descriptions of his height, physique, and "bushy eyebrows" were all confirmatory as Kohberger became a suspect.
If you doubt that, consider this: On November 29th, roughly two weeks after the murders, two separate Washington State University campus police officers discovered Kohberger's car as a match to the Hyundai Elantra the task force was seeking. They or a task force member would next have looked at the license photo of the car's owner. Now ask yourself: Would Kohberger be in custody if Dylan had described him as 5' 3" and heavily overweight? And even if so, would the case be anywhere near as strong?
Dylan's description of the suspect's path when leaving the house also matches a latent footprint discovered at the scene – important evidence, if it's matched to Kohberger.
RELATED: Idaho murders trial: Judge reveals Brian Kohberger's next court date
Kohberger's Internet postings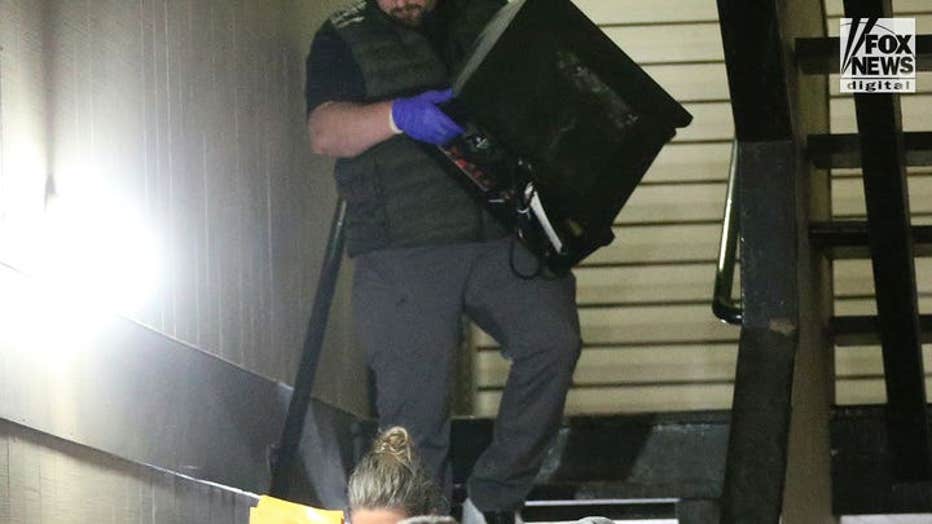 Investigators remove a desktop computer from Bryan Christopher Kohberger's home in Pullman, Washington, on Dec. 30, 2022. (Derek Shook for Fox News Digital)
Without a clear motive – which may never be learned – the prosecution can introduce Kohberger's previous Reddit postings, in which he attempted to query criminals on what it felt like to commit crimes, what steps they took to avoid capture, how they prepared, and so on – including the questions, "Why did you choose that victim or target over others?" and "How did you approach your victim or target?"
For their ending summation to a jury, prosecutors labor to construct a compelling narrative – a story that explains what the accused did and why he did it. Adding Kohberger's intense interest in criminality – and the creepy questions he had previously asked in his Reddit survey – suggests a possible motive in the possible absence of one come trial time. 
As noted, there is much more investigation, and likely more evidence, to come (for instance, the steps Kohberger took post-murder, like wearing surgical gloves and hiding his garbage).  There will also be a great deal of criminal procedure. And there is also the defense's case, glimpses of which may be gained during the discovery process (more on all that in a future article).  
But at this writing, the task force appears to have done its job. Now, over to the prosecution.
RELATED: Social media video sparks rumors that Idaho students slaying suspect attended victims' memorial
RELATED: Idaho murder victim's father wants Bryan Kohberger to know he won't 'be on the planet that long'