Redwood City man under evaluation after neighbors say he threatened them with a BB gun
REDWOOD CITY, Calif. - A man was taken into custody for a mental health evaluation after he allegedly threatened his neighbors with a BB gun on Sunday evening, the Redwood City Police Department said. 
Around 7:18 p.m., police were called to the Redwood Mobile Estates located on East Bayshore Avenue on a report that a man in the area had a rifle. The caller stated that a Hispanic man was on the roof of a trailer and might be firing a rifle. 
Police established a perimeter and drones were requested to get law enforcement a better view of what was happening. The Crisis Negotiations Unit arrived at the scene to attempt to communicate with the man on the roof.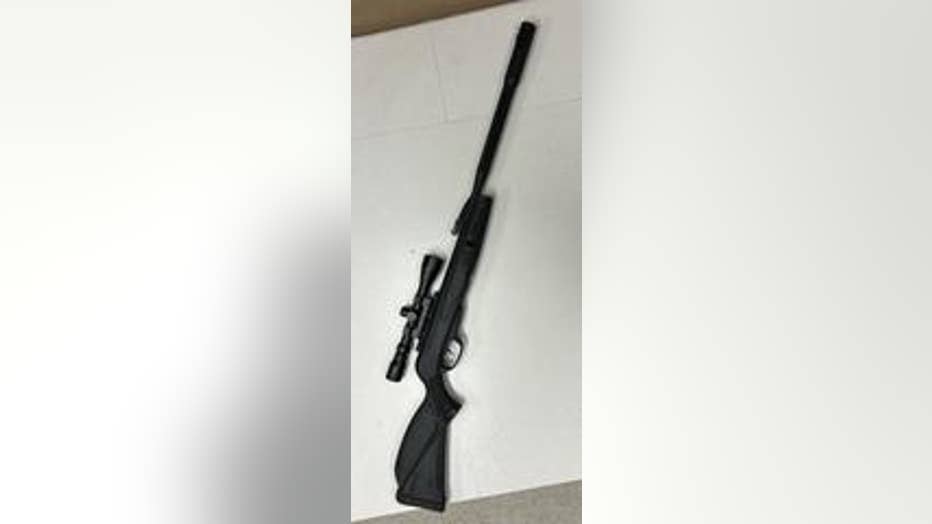 BB gun recovered by Redwood City Police Department  (Photo courtesy of Redwood City Police Department)
The man then moved inside the trailer with his wife and 7-year-old child. Officers were unsure if he was holding the two against their will, and negotiators continued to encourage the man to come out of the home. Police at the scene determined that the man had previously been arrested for a violent felony. 
A negotiator managed to coax the suspect out of the home where he was struck two times in "non-vital areas" with a 40MM "less lethal device," police said. The man was treated for minor injuries at the scene before he was taken to San Mateo County General Hospital for a mental-health evaluation. 
Police later determined that the suspect was holding a realistic-looking pellet gun. At this time, police say charges are still pending.