Boy Scout's mom killed by falling tree during hike in county park
CUPERTINO, Calif., - A South Bay family and a Boy Scout Troop are in shock and mourning after a falling tree killed a scout mother while on a troop hike.
"I witnessed an unfortunate incident, and I was trying to help," said witness Surya, last name withheld, who was running in the area at the time of the accident.
He said the loss of life happened in the blink of an eye. Around 10 a.m. Sunday, a Sunnyvale Boy Scout Troop was hiking on what's commonly referred to as the "PG&E Trail" in Rancho San Antonio Park, in Santa Clara County. 
Rescuers used ATVs to get to the woman because the trail is muddy and hard to access.  
It's one of 24 trails in the 165-acre county park, nestled in the hills between Cupertino and Sunnyvale.
Witnesses said a tree fell, without warning, landing on the mother of one of the scouts.
"We were trying to see if we could lift the log that was on her body. And see if we could lift it up a little bit, to see if she could breathe," said Surya. "We lifted it a little bit enough so that there was a clearance. And then we put a rock underneath so that it wasn't touching the body. That was the best we could do."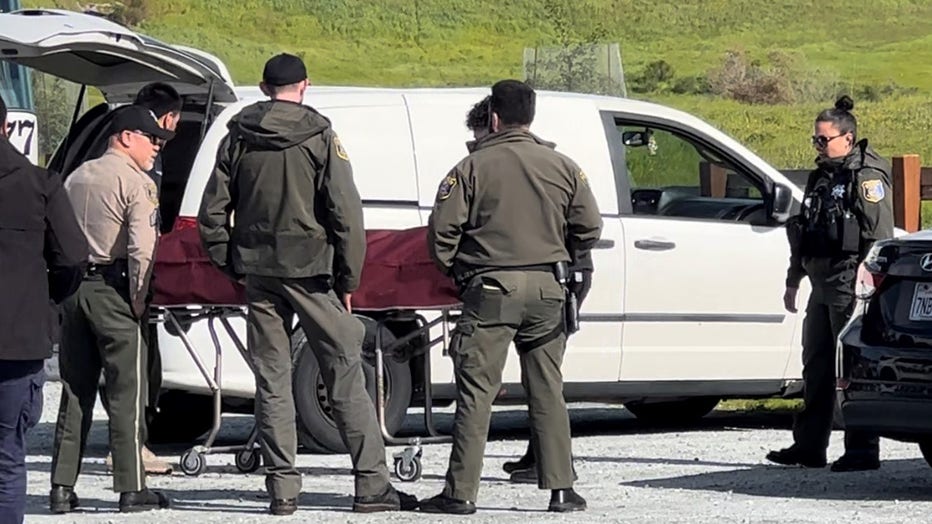 Death of hiker on PG&E trail in Santa Clara County
The unidentified victim, who witnesses said hesitated when the tree was falling to make sure her son was safe, was pronounced dead on the trail. Her 17-year-old son refused to leave his mother's side and instead stayed on scene as rescuers arrived.
"This time of year we have a lot of trees that are falling because of…saturated soils. And earlier this last week there was snow on Skyline. So, falling trees happen," said Mid-Peninsula Open Space Dist. Chief Ranger Matt Anderson.
The woman's body was eventually brought down from the trail mid-afternoon.
Fellow recreationists were stunned and saddened to learn of the death.
"It is shocking. It's shocking. Because so many people pass up this trail here. This is a very popular trail here, so at least a few hundred people going that way. And something like this shouldn't happen. So, very shocking," said hiker Girish Joshi.
The Silicon Valley-Monterey Bay Council of the Boy Scouts of America emailed a statement that read in part, "We are saddened to confirm one adult accidental fatality involving a tree. The deceased is the parent of a Scout and they were participating in a planned hike at the Rancho San Antonio Park…All Scouts are safe and there were no additional injuries."
"It's just really hard to imagine what happened," said Surya.
Park Rangers are investigating what caused the tree to come down. Anderson said the park remains open to the public, but the PG&E trail is closed. 
Jesse Gary is a reporter based in the station's South Bay bureau. Follow him on Twitter, @JesseKTVU and Instagram, @jessegontv