Rain, hail, and thunder hit the Bay Area
OAKLAND, Calif. - After more than a dozen atmospheric rivers rained down on the Bay Area this winter, Wednesday's weather will also be wet and dreary.
KTVU meteorologist Steve Paulson says rain and thunderstorms will permeate the forecast, with temperatures dipping into the 50s.  
As commuters drove into work in the morning, hail was pounding down in San Francisco. Meteorologists said the rain would last, off-and-on, throughout the day. 
Oakland got drenched at times with a combination of rain and hail. 
Streets in San Francisco were slick after accumulating hail in the early afternoon.
There were signs of trouble during the storm Wednesday.
A portion of southbound I-680 in Fairfield was closed due to flooding.
In the South Bay, an electrical line used by the Valley Transportation Authority's light rail system snapped, the transit agency said.
A powerful weather system from the Gulf of Alaska pushed into Northern California, on Tuesday bringing more wind, rain and snow to a state battered by months of storms.
In Hayward, a  leaky roof led to flooding and damage to apartment units.  In San Francisco, the wind shattered glass at the Salesforce East building in San Francisco. 
Forecasters warned of heavy snow in coastal mountains and the Sierra Nevada, where accumulations up to 4 feet were possible, highway chain requirements took effect and a backcountry avalanche warning was issued for the greater Lake Tahoe area.
After a dozen previous atmospheric rivers and blizzards fueled by arctic air, the water content of California's Sierra Nevada snowpack is more than double normal overall, and nearly triple in the southern Sierra.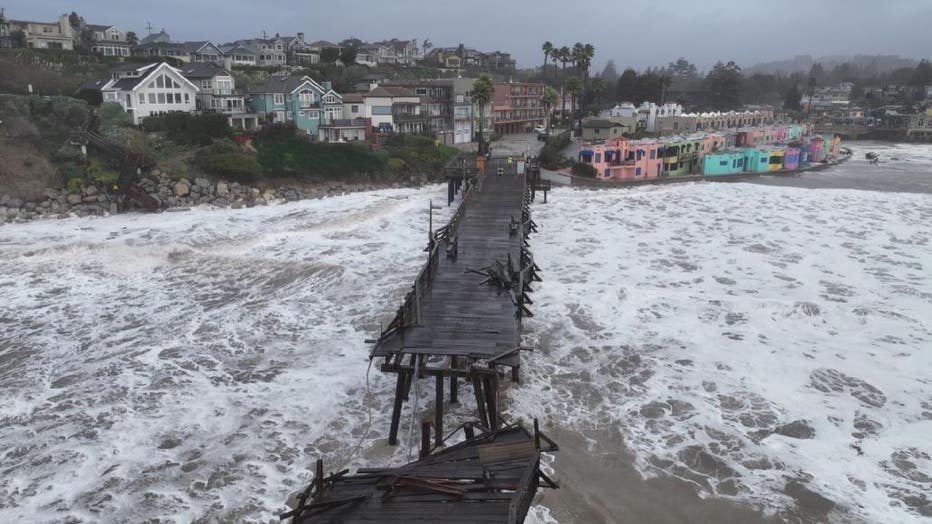 Damage to the pier in Capitola on Jan. 4, 2023. Photo: Santa Cruz County 
Crews on Monday tore down a historic pier in Santa Cruz County that was in danger of collapse. 
The 500-foot-long wooden pier at Seacliff State Beach was severely damaged by big surf in January. Built in 1930, the pier connected the beach to SS Palo Alto, a grounded Word War I-era steamship known as the "cement ship."
On the positive side, the storms have brought much-needed water. The state's two largest reservoirs, Shasta and Oroville, have risen above their historical averages to date after being significantly depleted. EBMUD said its reservoirs are 88% full. 
Cities and farmers that rely on the Central Valley Project, the federally managed water system, got a big boost in their allocations Tuesday.
More than 250 agencies — mostly irrigation districts — contract with the federal government for certain amounts of water each year, and the U.S. Bureau of Reclamation announces each February how much of those contracts can be filled, updating as conditions change.
The storm boost in supply means that many providers of irrigation water supplied by the CVP will see the amount they can draw jump from as little as 35% of their contracted total to 80%. Providers for city and industrial uses will be allowed 100% of their historic use instead of just 75%, the bureau said.
In Southern California, the Metropolitan Water District is bringing water from the north to fill its massive Diamond Valley Lake, a reservoir that had diminished to 60% of capacity after three years of drought. It's expected to be full again by year's end.
"Nature gave us a lifeline," MWD General Manager Adel Hagekhalil said Monday as officials watched water pour into the reservoir.