NAACP, community leaders blast Oakland mayor over missed deadline for public safety grant
OAKLAND, Calif. - Oakland city leaders may be investigated for missing a crucial deadline for millions of dollars in crime-fighting money.
The NAACP Oakland chapter blamed Mayor Sheng Thao Monday, demanding an independent investigation and questioning what led to the failure to meet the deadline to receive millions from the state to combat organized retail theft.
"Oakland got nothing," said Cynthia Adams, president of the Oakland NAACP. "The buck stops with the mayor. This is the mayor's fault."
Both Carl Chan, a Chinatown community leader and Acts Full Gospel Church Senior Pastor Bishop Bob Jackson demanded that Thao issue a public safety state of emergency because the city lacks the resources to properly address rising crime.
"It's not fair. They feel unsafe," Chan said. "Enough is enough. Things got to be done."
Chan threatened there would be a one-day strike among businesses in Oakland because "we are under siege." He expects to announce the temporary closures later this week.
A review of Oakland Police Department data found a roughly 30% spike in all crime this year, compared to 2022. From January through July, statistics show robberies are up 24%, burglaries have increased 43%, and car theft up 54% this year.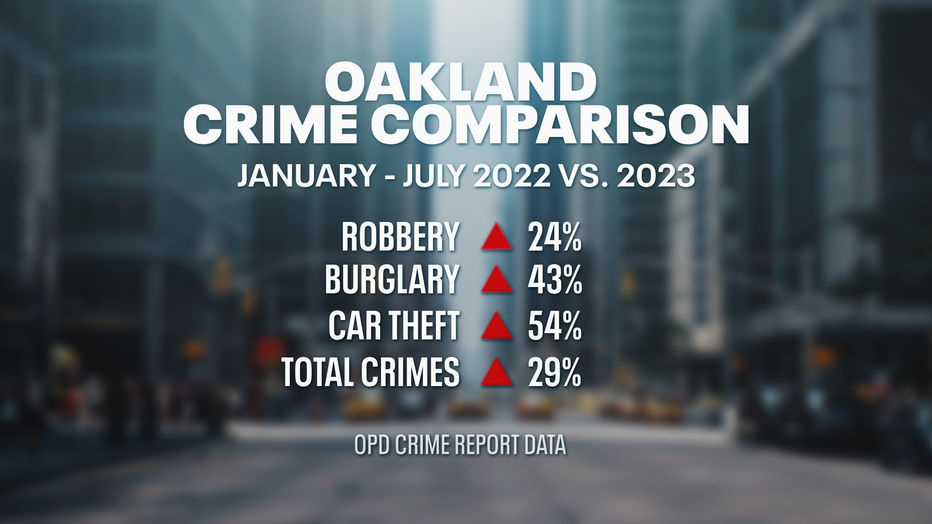 "The first thing you've got to do is you've got to stop that," said Greg McConnell, an NAACP lifetime member. "And you stop that with police."
If the city had applied for the grant, up to $15 million was up for grabs to provide more tools and resources to target thieves, former Alameda County Deputy District Attorney Terry Wiley said. The city has not confirmed that figure.
"It is crucial that we understand … who was responsible for preparing the grant application for submission and why wasn't the proper corrections made to the application when it was first rejected?" Wiley said. "How can we prevent this oversight in the future?" 
The community leaders demanded accountability and a thorough investigation by the city auditor. 
The auditor's office told KTVU it is awaiting the City Administration's analysis of the situation first and then will evaluate if an investigation is warranted.
Mayor Sheng Thao responded to questions over the missed deadline Monday and called the situation "a personnel issue" yet promised the person at fault will face consequences, but did not elaborate.
"I am completely frustrated," Mayor Thao said. "We are putting in parameters so that something like this never happens again."
 Thao defended her efforts to tackle crime, including six California Highway Patrol officers on Oakland streets and a plan to add 300 cameras citywide using $1.2 million in other state funds. She said if the grant deadline was not missed, the money could have covered the cost of new surveillance drones.
"We can send up the drones to the location and have it actually feed back footage of what's actually happening so that the suspect can't get away," said Thao.
Still, while crime calls and emergencies are up, department staffing is still down. Oakland Police data shows 696 sworn officers on staff this year in comparison to 690 last year – an increase of six officers.
"We want to increase the Oakland police force to a minimum of 1,000 officers to ensure there's adequate coverage to make Oakland safe," said Jackson.
He said the city has no plan for public safety so community leaders developed their own 10-point plan to addressing rising crime. In addition to adding officers, they want the 911 center fully staffed, an increase in community policing and more support from both the CHP and the Alameda County Sheriff's Office.
The group has bonded together before, calling for the recall of progressive Alameda County District Attorney Pamela Price and backing the ousted Oakland Police Chief LeRonne Armstrong. 
In fact, at the news conference, the NAACP leaders called for Armstrong to "return home" to his position. 
The state grant that Oakland missed out on could have been used for extra police patrols, squad cars, and automated license plate readers, to track down suspected perpetrators of crime.
Last week, state grants totaling more than $200 million were given to cities and counties to fight organized retail theft – to those municipalities who applied for the money. 
San Francisco received $17 million, for example, and the San Ramon Police Department has received a $5.6 million, which will be used for cameras, license plate readers and drones. 
Last week, Oakland city administrator Jestin Johnson said he and his department take full responsibility. 
"One thing I will commit to, we'll take appropriate action, whatever that may be," he said. "We'll explore all of our options and see where things land, but at the end of the day, the responsibility lands with me, so I will take full responsibility." 
Thao said that her office is working to somehow appeal with state leaders to see if there is still a chance to get some grant money.