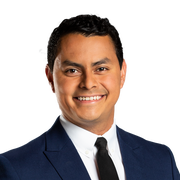 James Torrez is a general assignment reporter for KTVU's "Mornings on 2." 
James previously worked as a news reporter at WPEC (CBS) in West Palm Beach, FL. James was nominated for an EMMY award in 2020, after spending about 6 months covering Hurricane Dorian damage in the Bahamas He also closely followed the pursuit for felons voting rights. Prior to making the move to West Palm Beach, James worked at WTVC (ABC) in Chattanooga, TN as a reporter/anchor. In 2017, he was named Best TV News Reporter in the state of Tennessee by the Tennessee Associated Press.
A bilingual journalist, James is a West Palm Beach native, spending many days on a sunny beach. He graduated from the University of Florida with a Bachelor of Science in Telecommunications specializing in News. While at the University of Florida, James was Vice President of the Journalism & Communications Ambassadors Honor Society. He also studied abroad in Florence, Italy and won a professional Florida Associated Press award for a story on Italian overnight secret bakeries. When he's not working, you'll usually find James playing soccer, basketball, or volleyball, while throwing in a hike or two. Every Saturday in the fall, expect James to be watching and cheering on his beloved Florida Gators! 
James loves telling a good story. He's excited to join the Bay Area to inform, educate, and make a difference in the community.
Contact James here: James.Torrez@FOX.com
The latest from James Torrez