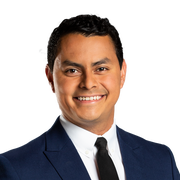 James joined KTVU in January 2021. Since his time, he's reported on the COVID-19 pandemic, mass shootings in San Jose and Sacramento, as well as playoff runs for the San Francisco Giants, San Francisco 49ers and Golden State Warriors.  
James began his career as a reporter/fill-in anchor at WTVC in Chattanooga Tennessee, where he was named Best TV News Reporter by Tennessee Associated Press in 2017. After 2.5 years, he moved back home to West Palm Beach where he became a multimedia journalist at WPEC. There, he earned an EMMY nomination for his work covering the aftermath of Hurricane Dorian striking the Bahamas.
James was born and raised in West Palm Beach, FL. He graduated with a Bachelor of Science in Telecommunications with a specialization in News and Producing at the University of Florida. In college, James won a professional Florida Associated Press award for a feature piece produced with a study abroad group in Florence, Italy.
Coming from South Florida, James was excited to escape the humidity and learn about the microclimates of the Bay Area. He also loves to explore the different cuisines in each district of San Francisco; you can easily find him looking for the next DIm Sum spot in Chinatown. James also enjoys all kinds of sports. He plays and coaches soccer and volleyball in the Bay Area. On Saturdays in the Fall, you can find James rooting on his beloved Gators on the college football field. 
The latest from James Torrez