Nazi treasure map available to public, reveals possible location of gold, diamond trove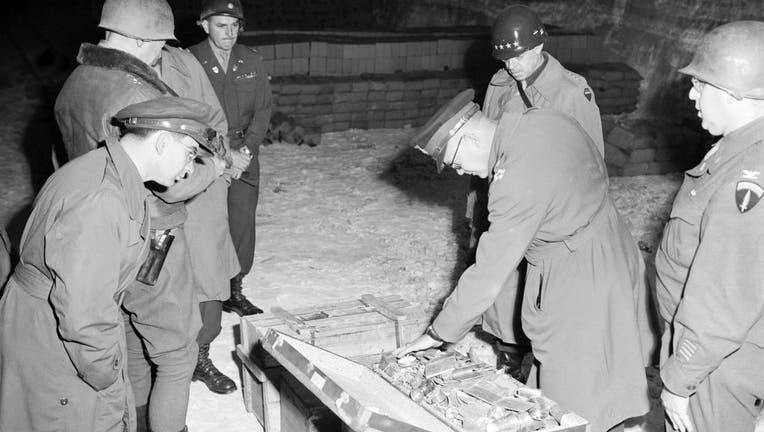 article
The public will have access to a map allegedly showing where Nazis hid their looted treasure after the map went on display at the National Archive in Holland. 
The map, which may point to where the Nazis hid a trove of stolen jewelry, watches, gold, diamonds and other valuables in the Betuwe region of Gelderland, a province in the Netherlands, Dutch News reported. The piece is just one of hundreds released to the public in the showing. 
German soldiers raided the Rotterdamsche Bank in Arnhem in 1944 after the building took a damaging strike in 1944. The soldier raided the bank's vault and smuggled the goods worth millions out in their clothes, later burying the haul in four munition boxes near the city of Ommen. 
The trove would remain a secret until shortly after the war, when a German soldier spilled the beans, saying he witnessed three soldiers burying the boxes. 
"They said they had picked up the things when a bank safe had taken a direct hit and the jewelry and so on was scattered all around," the Telegraaf had reported. His statement kicked off a search for the stolen goods in 1947 that proved fruitless. 
Further attempts likewise ended in failure, with some believing treasure hunters already found the trove, or that it had been found at random and never revealed to the public – or, even more likely, the soldiers retrieved the goods shortly after burying them, according to NL Times. 
The public showing in Holland will also include a range of documents, including minutes from ministerial meetings about internment camps and files from the Ministry of War's Intelligence Bureau. 
Joost Rosendaal, a historian, said that the map and its associated story "gets your juices going." 
"It is a very specific map and that is special, but a lot is unclear and there are a lot of questions," Rosendaal said.
The lure of "Nazi gold," which includes any goods stolen by German soldiers during the various operations across Europe during World War II, has caused a stir whenever a new discovery arises. 
In 2015, Poland saw an influx of treasure hunters after news broke that two men may have located a legendary "gold train" filled with weapons and gold in a secret tunnel. 
Additionally, a German cargo ship scuttled in waters near Iceland during the early days of World War II drew attention after the suggestion that it could contain as much as four tons of gold stolen by Nazis in the war. 
Fox News Digital's James Rogers and the Associated Press contributed to this report. 
GET UPDATES ON THIS STORY AT FOXNEWS.COM