New Facebook market research app to pay users to track app usage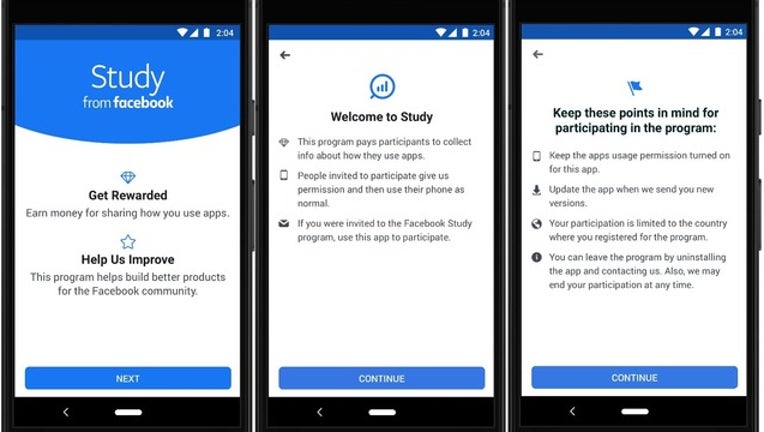 San Jose, Calif. (KTVU) - Facebook launched a new market research app Tuesday called Study from Facebook that will compensate users for tracking their app usage. 
The app will be available on Google Play Store, and will let people who are 18 and older to participate in the research program. Facebook says that it will track all the apps installed on a participant's phone, the time spent on those apps, country, device and network type, and app activity names, which may show Facebook the names of specific app features the participants are using.
In February 2019, Facebook had to pull down its mobile VPN app called Onavo Protect from Apple's App store, as it violated the App Store guidelines on data collection. An earlier investigation by Techcrunch had found that Facebook had been paying users up to $20 per month to sell their privacy by installing the app on iOS or Android.
At first, the app will only be available to people in the US and India. More countries will be added to the app later. It is unclear what the compensation will be, and whether it will differ for users based on their country. 
Facebook has partnered with Massachusetts–based Applause, which provides crowdtesting services and will manage registration, compensation, and customer support.  
The app does not collect user IDs, passwords, or any of the participant's content, such as photos, videos, or messages. Participants will be able to opt out at any time, Facebook said in a blog post announcing the feature. The data collected will not be sold to third parties, or for ad targeting, it added.