News conference addressing firing of police chief LeRonne Armstrong
OAKLAND, Calif. - A coalition of families of homicide victims and violence prevention organizations will lead a news conference Saturday at noon in Oakland addressing the firing of former Oakland Police Chief LeRonne Armstrong.   
Armstrong was fired in February without cause by Oakland Mayor Sheng Thao. In her announcement, Thao cited comments Armstrong allegedly made minimizing misconduct by an officer.  
However, the chief has the support from many in the community, and Armstrong maintains that his firing was retaliatory and wrongful. The chief has officially appealed his firing.   
"[Mayor Thao] never had a one-on-one conversation with the chief. She never actually spoke to him," said Brenda Grisham, executive director of the Christopher L. Jones Foundation, an advocacy organization for families of homicide victims. "We're here to protect our rights. We are citizens as well as anybody else."
PREVIOUS COVERAGE: Community members rally around fired Oakland Police Chief
For about 20 years, the police department has been under federal oversight caused by police misconduct. Armstrong nearly restored oversight of the Police Department to the city. Under his leadership, Oakland police met or exceeded 51 of 52 reforms necessary to be relieved of federal oversight.   
"We are going to continue to address the firing of the chief," said Grisham. "We want the mayor to revisit her decision. We need her to see what the community is going through and give us a reason. You have to say why you fired him." 
"Reinstate chief Armstrong. Because he cares about this community. He cares about us," said Angelique Paige, mother of a homicide victim.
"He is me and I am him," said Davoria Williams, another mother of a homicide victim.
READ ALSO: A look back at the Oakland Police Department scandals and revolvin
Thao said on the day she fired Armstrong that Federal Monitor Robert Warshaw was "profoundly disappointed in the evidence" brought to light in a report on alleged police misconduct and saw "significant cultural problems in the department."   
The evidence included allegations that a police sergeant crashed a police vehicle into a parked vehicle in 2021 and left the scene. The following year, the same officer is alleged to have accidentally discharged his gun in the freight elevator of police headquarters and waited a week to report it.  
Armstrong said Thao, "accepted the Monitor's conclusions at face value" and has ignored the community, which the mayor has said she wants to bring together.   
SUGGESTED: Former Oakland police chief LeRonne Armstrong appeals his termination
Organizations participating in Saturday's press conference include Family Support Advocates, Coalition of Million Mothers for Justice, Their Lives Matter, Oakland Community Chaplains and Pastors of Oakland.  
"We are outraged because our mayor has not spoken with us. She has not sat down and spoken with us," said Pastor Marty Peters with Victory Baptist Church in Oakland.
"There's no peace and closure because the Oakland Police Department does not have the leadership that it needs," said Mandisa Leachman, another mother of a homicide victim in attendance. 
RELATED: Mayor fires Oakland Police Chief LeRonne Armstrong
"That man was at crime scenes supporting victim's families and stuff because, he's family," Daryle Allums of Adamika Village, an advocacy group supporting Black neighborhoods and ridding violence, said.
In response to Saturday's rally on his behalf, Armstrong issued a statement that reads in part:
"I am deeply saddened by the violence that continues to inflict pain and heartache on Oakland's families. I thank them for their support of me and my policies as Chief to get justice for victims, reduce violence and improve public safety in Oakland."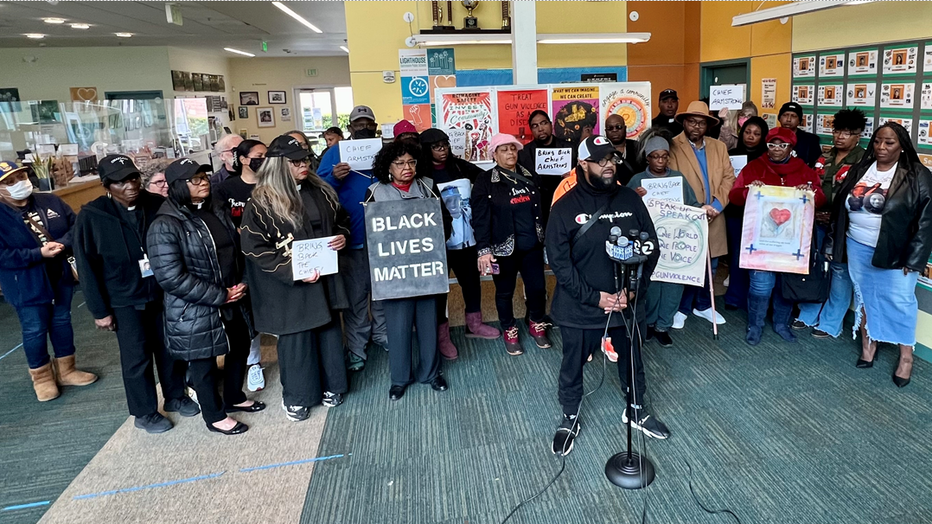 Community members of Oakland supporting ousted former Police Chief LeRonne Armstrong.
KTVU reached out to Thao but has not heard back. The organizers of this latest say they're scheduling a community Town Hall on this issue, and will invite the mayor to attend. 
FOR MORE: Fired Oakland police chief lashes out at mayor, independent monitor
KTVU reporter Jesse Gary contributed to this report.