Newsom demands federal gun safety laws in wake of back-to-back mass shootings
HALF MOON BAY, Calif. - California Gov. Gavin Newsom demanded federal action on gun safety while responding to the state's second mass shooting within 48 hours.
Newsom made the plea while standing with local, state, and federal elected officials in Half Moon Bay.
"I got no ideological opposition to someone owning a gun responsibly, but what the hell is wrong with us that we allow these weapons of war, high capacity magazines on the streets and sidewalks?" Newsom told a crowd of reporters.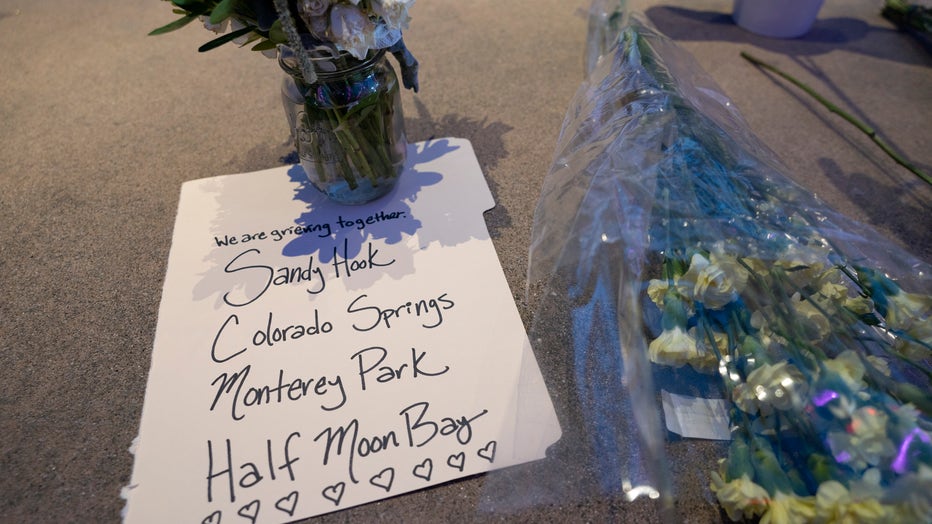 HALF MOON BAY, CA - JANUARY 24: Flowers and a card sit in a makeshift memorial to honor mass shooting victims on January 24, 2023 in Half Moon Bay, California. Seven people were killed and one critically wounded in shootings at two separate locations
Law enforcement is still working to determine the origin of the gun used in the Monterey Park mass shooting, while the San Mateo County sheriff says the gunman in Half Moon Bay obtained his gun legally.
As calls mount for new restrictions, California already has some of the strongest gun laws in the country.
"We led the nation on background checks, closing loopholes, led the nation on red flag warnings, on waiting, led the nation on a series of gun safety measures," said Newsom.
According to statistics from the Centers for Disease Control and Prevention, California has some of the lowest rates of gun deaths in the nation. But, experts say people can just buy guns in less-restrictive states and bring them into California or get them from the illegal market. In addition, strict laws and any new legislation face major challenges from the Supreme Court.
"Broad legal headwinds given the last several Supreme Court cases on the Second Amendment, all of which have expanded the right to bear arms and have struck down attempts at significant gun control," said Deep Gulasekaram, professor of law who studies the Second Amendment at Santa Clara University. 
Newsom called out Republicans including fellow California House Speaker Kevin McCarthy.
"Where's the Republican Party been on gun safety reform, they blocked it every step of the way," said Newsom. "One state can't do it alone, shame on them." 
Speaker McCarthy responded to the Half Moon Bay shooting and calls for action at a news conference.
DRAMATIC IMAGES: Photos paint a tragic picture of Half Moon Bay shooting
"Having lived in California my entire life, California has the strictest gun laws and apparently that did not work in this situation, I would always withhold to get all the information first," said McCarthy.
Sacramento Democrats have introduced a suite of new gun safety bills. Assembly Republican leader James Gallagher (R-Yuba City) tweeted, "Another gun safety law won't stop these mass shootings…we have to go deeper…policies that deter and prevent the individual behavior."
In Washington D.C., Senator Dianne Feinstein re-introduced a ban on assault weapons and high-capacity magazines, something the president has been calling for. Previous efforts have failed.
"Despite what it is the Supreme Court appears to have said, really everything is on the table and should be on the table," said Gulasekaram.