Nonprofit group partners with Turkish Airlines and embassy to get donated items to earthquake victims
EAST PALO ALTO, Calif. - Volunteers gathered in East Palo Alto Sunday to help prepare donations being flown to Turkiye. The items gathered were flown out of San Francisco International Airport and those who came out to help said this is the least they can do to help people struggling after the earthquake.  
"One of our friends in the Bay Area; he lost over a hundred relatives," said Nalan Ozisik, president of the Northern California chapter of the Turkish American Association of California. 
SEE ALSO: Turkey probes contractors as earthquake deaths pass 33,000
The group says volunteers packed 165 boxes of things like baby food, diapers, coats, and sleeping tents. The nonprofit group says they're working with the Turkish Embassy and Turkish Airlines to get donated items flown in from around the world.
"I'm Turkish. My family's all back in Turkiye. Thankfully they weren't in the affected regions but some of my friends and their relatives; they were affected," said Elif Cser, of San Jose.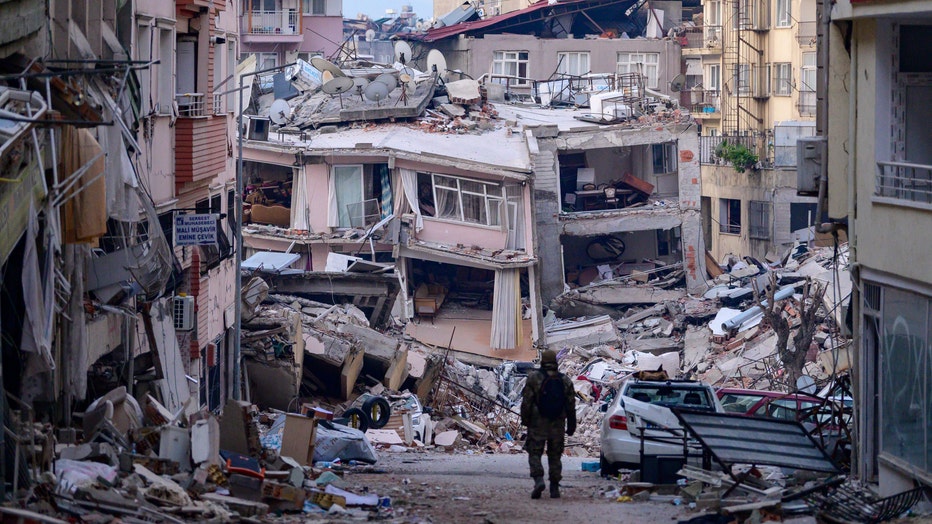 A Turkish soldier walks among destroyed buildings in Hatay, on February 12, 2023, after a 7.8-magnitude earthquake struck the country's south-east. (Photo by YASIN AKGUL/AFP via Getty Images)
"There's a lot of people that care, and they're willing to put their time in to help and donate. I've seen that and there are a lot of caring people here," said Michael Hopko, of Mountain View. 
The 7.8 magnitude earthquake which severely impacted areas near the Turkish and Syrian border, is said to be one of the deadliest quakes in over a decade.  
RELATED: Vigil for earthquake victims and pleas for relief
"A lot of rural areas, the villages, have not been reached yet. Imagine, we lost homes, schools, hospitals so everything needs to be rebuilt," Ozisik said. 
Ozisik says she came to the United States over 30 years ago and since then, has been involved with the Turkish American Association of California. As president of the Northern California chapter, she says they were preparing to celebrate the 100th anniversary of Turkiye's Republic. Now all of their efforts are focused on helping the nation recover.  
"It was supposed to be a year that we were going to celebrate our Republic of Turkiye, our founding of Turkiye. Now we can't. We have to mourn with our fellow citizens, and we have to continue this aid," Ozisik said. 
The Turkish American Association says because there is so much devastation in the country, they'll be raising money and donating items for as long as it takes to help people survive and rebuild.