Officer shoots teen in foot during attempted "Suicide By Cop'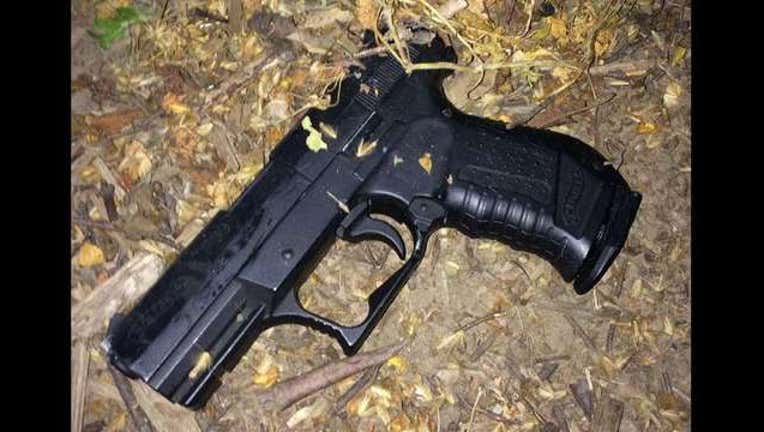 SANTA ROSA - A teenage boy was shot in the foot by a Santa Rosa police officer at a park in the northwest part of the city late Monday night in what police said was an attempted "suicide by cop."
The 15-year-old boy allegedly called police around 11:35 p.m. to report an armed man in dark clothing standing under a streetlight bordering Coffey Lane next to the park, Santa Rosa police Lt. Michael Lazzarini said.
Two patrol officers arrived on Coffey Lane from opposite directions at 11:43 p.m.. The first officer who arrived spotted someone holding a handgun on the east side of the park fronting Coffey Lane and tried to communicate with him, Lazzarini said.
The suspect got down on the ground, then stood up and pointed the gun at the officer. As the first officer on the scene retreated, he fired several rounds and the suspect fell to the ground, Lazzarini said. Both officers then took the suspect into custody.
The shooting happened within a minute of the officers' arrival and contact with the suspect, and only one officer fired at the teen.
There was one witness to the shooting, according to Lazzarini. The boy received a significant but non-lethal wound in the left foot and was taken to a hospital for treatment and a psychiatric evaluation, the lieutenant said.
The teen had a suicide note and told investigators he intended to commit suicide by having an officer shoot him. Investigators learned he was the person who called police, and the handgun he had was later determined to be a replica firearm, Lazzarini said.
The teen's father was notified about the shooting and is assisting with the investigation by the Santa Rosa Police Department, Rohnert Park Department of Public Safety and the Sonoma County District Attorney's Office, Lazzarini said.
Police have not released the names of the two male officers, who were placed on paid administrative leave.
The officers' body-worn cameras recorded the shooting, but the video will not be made public, Lazzarini said.
The officers' names will be released if investigators decide it is reasonable to do so, according to Lazzarini.