Police chief of troubled Vallejo Police Department resigns
VALLEJO, Calif. - Vallejo Police Chief Shawny Williams abruptly resigned Friday after three years on the job, following internal scandals and a no-confidence vote from the police union.
Williams but did not give a reason why he decided to step down. He came to Vallejo in November 2019, to manage and reform a department embroiled in controversy, after 27 years with the San Jose Police Department.
"My time with the city of Vallejo has been rewarding both professionally and personally," Williams said in a statement. "I arrived at the city during a challenging and controversial period in the city's history."
Some of those challenges include a significantly high number of use of force incidents and deadly shootings, and a "badge bending" scandal where officers bent their police badges when they killed someone in the line of duty.
Under his watch, the California Department of Justice stepped in to review the fatal shooting of unarmed, 22-year-old Sean Monterrosa, who was killed by Officer Jarrett Tonn in June 2020 during the George Floyd protests. Williams fired Tonn last month.
During his tenure, Williams was tasked with cleaning up the department by reforming policies, increasing training and accountability.
"I'm very pleased with the work he's done to change the culture in the department," Vallejo Mayor Robert McConnell said. "He was doing a good job."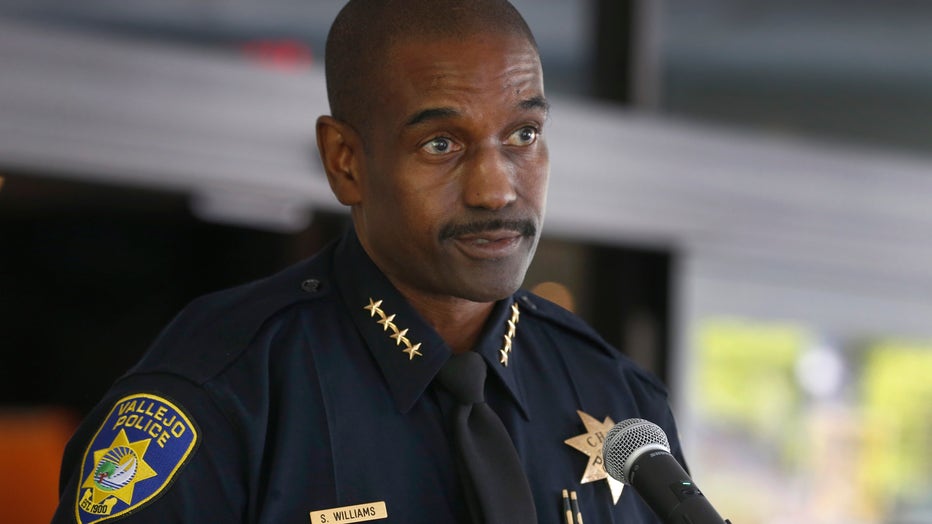 Police Chief Shawny Williams appears at a news conference in Vallejo, Calif. on Wednesday, June 3, 2020 to discuss the officer involved shooting death of Sean Monterrosa. Monterrosa died from gunshot wounds during an encounter with police outside a W
But William's harshest critic was the Vallejo Police Officer's Association. 
The union gave a vote of "no confidence" against the chief last December and accused him of unfairly disciplining officers and unethical behavior this summer. Additionally, the union blamed him for rising crime, attrition, and low morale. 
The VPOA said that a "mass exodus" occurred after Williams was hired, due to his "failed leadership."
"There was a rudderless ship behind all the empty rhetoric," said VPOA attorney Mike Rains. "There was nothing going on and this department was in a state of decay and disarray under this chief."
The Open Vallejo website also noted that throughout Williams' tenure, the union blamed him for a series of high-profile firings that separated more than 40 officers from the agency. 
That included the termination of Lt. Herman Robinson in the spring of 2021 for what Williams said was a breach of department policy regarding emails he sent from his private account. He was later reinstated by an arbitrator, who found no justification for the firing.
But the city said Williams has made progressive changes in policy leading to a significant decline in police use of force incidents and fatal shootings.
Vallejo police killed 19 people from 2010 to 2020, in cases where none of the officers were charged and rarely disciplined.
MORE: A look at the people killed by Vallejo police since 2010
While the union said the reduction of incidents was because of severe understaffing caused by Williams, some of the victims' family members and those in the community disagreed.
"We were starting to see progress on police reform, something that hasn't happened during my lifetime living here," civil rights attorney Melissa Nold said. "We're sad to see him go."
The city manager has appointed Deputy Chief Jason Ta to serve as interim police chief.
The police union said in a statement that it's optimistic about the new leadership and wants to repair relationships and rebuild internal trust.
Brooks Jarosz is an investigative reporter for KTVU. Email him at brooks.jarosz@fox.com and follow him on Facebook and Twitter @BrooksKTVU