Power restored after peculiar PG&E outage in Oakland
Oakland, California - At about 1 p.m. Sunday, 54,000 Pacific Gas & Electric customers, from the Oakland hills to the City of Alameda border, including Oakland Airport, found themselves without power. 
A day later, 8,500 were still without power, but it was fully restored Monday afternoon. The 26-and-a half-hour outage was a bit of a mystery since the outage is attributed to a single transformer that caught fire in a PG&E substation.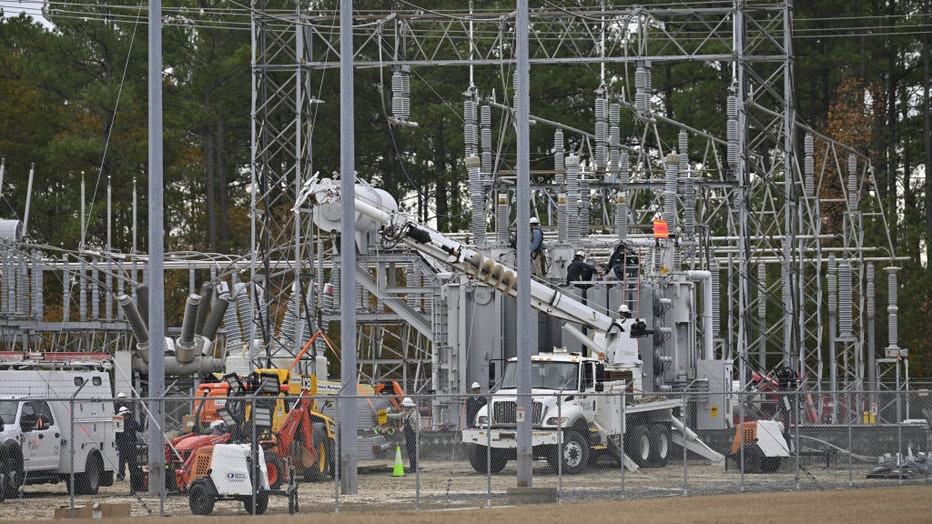 (Peter Zay/Anadolu Agency via Getty Images)
Remember, this is not mountains wild lands where repairs are always a challenged. This is the Oakland flatlands very close to the substation that failed.
Oakland's Bancroft Avenue between Fairfax and Vicksburg Avenues has been out of power for more than an entire day. Irma Enrique owns and operates the popular Cafe Roma. "Right now, I start putting everything in the garbage; the bread, the meat," said Enrique.
Enrique is far from alone, one of thousands of customers and hundreds of businesses still out of power as of noon on Monday. It's seriously affecting their businesses. "They're so mad because they lost a lot of customers, especially today because it's a holiday," said Enrique.
Two bad things are happening here; one: the people that rely on these services in the community, simply cannot get them. Number two, the people that provide these services are getting zero income. "I lost over six, seven-thousand dollars just in two days and I have a lot of stuff inside the store that's gonna go all bad," said Noufan Ayesh owner of a small grocery store and laundromat.
Ayesh's grocery store and laundromat are dead in the water even though PG&E advised him it would be on very soon, but that came and went plus, at least, four other misstatements. "Then they sent us another message at 3:30 and 3:30 didn't come on, Then they said 6:30 and 6:30 and 6:30 didn't come on. Then they sent us a message that said 2:25 AM and 6:25, no PG&E yet," said Ayesh.
SEE ALSO: 100-year-old man killed in Oakland hit-and-run
Yet another message said noon Monday. But by noon, there were still more than 8,500 customers, still powerless blaming it all on the last of one component in the sub-station.
PG&E sent out this statement: "We were able to safely isolate this component and reroute power to restore customers safely and as quickly as possible." So, if just one component fails and power was rerouted, why was the power off for more than a day? No answer to that. "And we still didn't have no, no PG&E service," said Ayesh.