Proposed affordable housing on DMV parking lot unanimously approved by San Francisco supes
SAN FRANCISCO - Moments after approving an expanded goal for affordable housing construction on Tuesday, the San Francisco Board of Supervisors called on the state to build housing on top of San Francisco's California Department of Motor Vehicles field office parking lot. 
Passed unanimously, the resolution urges state officials to contact the DMV about converting their 98,061-square-foot parking lot at 1377 Fell St. into a 100 percent affordable housing site.  
The legislation was initially introduced by Supervisor Dean Preston, whose district includes the site. Calling it a "perfect opportunity," Preston said the location was a prime spot for affordable housing, given that it is a state-owned, surface-level lot that does not compromise existing housing or businesses, and thus is cheaper to build on. 
He added that the location preserves the city's goal of geographic equity while building affordable housing, since it is easily accessible via public transportation. 
"No more excuses or petty politics," Preston said. "It's time to take action to meet our ambitious affordable housing goals." 
The DMV already had pre-existing, state-approved plans to demolish and renovate its Fell Street location while keeping its parking lot. But following a meeting with Preston and Assemblymember Phil Ting, the DMV and other state agencies said they were open to considering developers building housing on the property. 
On Jan. 6, the DMV issued a call for developers to share their interest in leasing, financing and constructing a housing site that includes a fully operational DMV Field Office, including at least 110 spaces of parking. The entire project would be the responsibility of the developer, with no first costs or subsidies from the state, beyond the available competitive funding sources. 
This is not the first time the lot has been proposed to be used for housing. In 2008, the DMV lot was previously awarded to private developer Build Inc. to build affordable units, but construction plans halted after the company was "unable to make the project work," according to Preston's resolution. 
Also on Tuesday, the Board approved a new Housing Element, which sets ambitious affordable housing development quotas for the next eight years. San Francisco is aiming to create 46,500 new affordable housing units by 2031.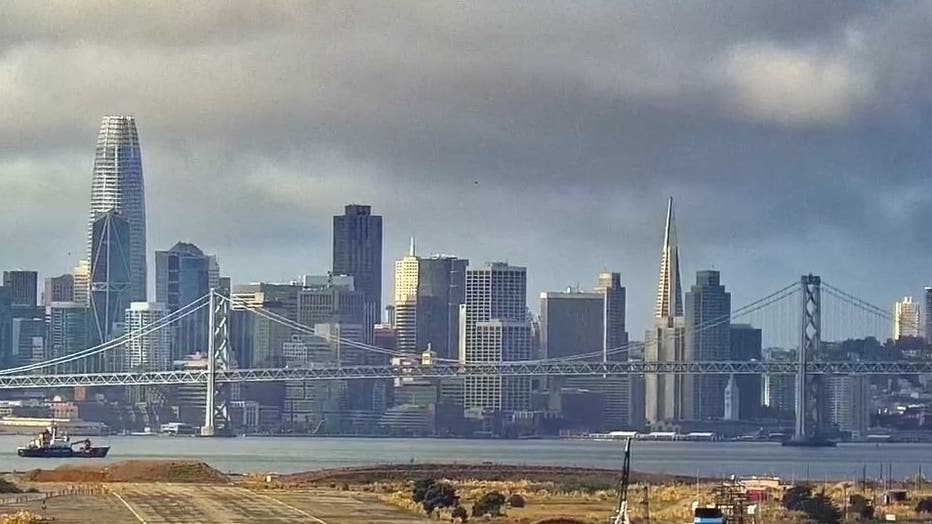 A view of downtown San Francisco after a storm was clearing out of the city on Oct. 22, 2021 (KTVU FOX 2)
State Sen. Scott Wiener, whose passed law requires cities to dedicate more land to housing than originally planned, said this passage is a "bold step" to resolving the severe shortage in San Francisco housing. 
"Much work remains to address the decades of neglect that created California's housing crisis, but today's vote shows how far we've come," Wiener said in a statement. "Thanks to our work at the state level, fantastic advocacy, and state and local officials committed to changing our broken housing system, cities across California are starting to make up for lost time this planning cycle -- even cities, like San Francisco, that have become synonymous with anti-housing policies. 
In light of the new Housing Element, Preston also introduced a new law that would permit courts to intervene if San Francisco fails to meet its housing target. 
If passed, the law would mirror the legal consequences the city would face if it does not produce adequate amounts of market-rate housing.  
Labeled the Affordable Housing Accountability Act, the law comes after San Francisco only reached roughly 50 percent of its goal to create 16,000 affordable housing units from 2015 to 2022. 
"The goal here is not to financially punish the city," Preston said. "The goal is to make good on our affordable housing commitments so working class people can afford to live here. This ordinance will allow a nonprofit whose mission is primarily to advocate for housing for low-income people to file suit, take this out of the political realm and into the legal realm, which unfortunately may be needed to make sure our city lives up to our promises on affordable housing."