Protesters clash as China's leader Xi Jinping arrives at SFO for APEC
SAN FRANCISCO - Chinese leader Xi Jinping's arrival at San Francisco International Airport on Tuesday for the Asia-Pacific Economic Cooperation summit was met with protests. It appears separate factions of protesters clashed with one another. 
Xi is set to meet with President Biden, who arrived in San Francisco earlier in the day. The two have not met in nearly a year and are expected to hold a face-to-face meeting in Woodside on Wednesday. Biden said his objective is to get relations between the two countries onto a "normal course." 
The protests at SFO were met with a heavy law-enforcement presence, including sheriff's deputies and police officers. Law enforcement officials could be seen removing protesters' banners and signs after the fights broke out. 
It was not immediately clear what precipitated the melee at the airport.
Diplomatic tensions between the two countries became further frayed when a Chinese spy balloon was shot down off the Carolina coast earlier this year. There are also reports of Beijing's rapid nuclear buildup.
More recently, China has been criticized and accused of interfering in politics in Taiwan.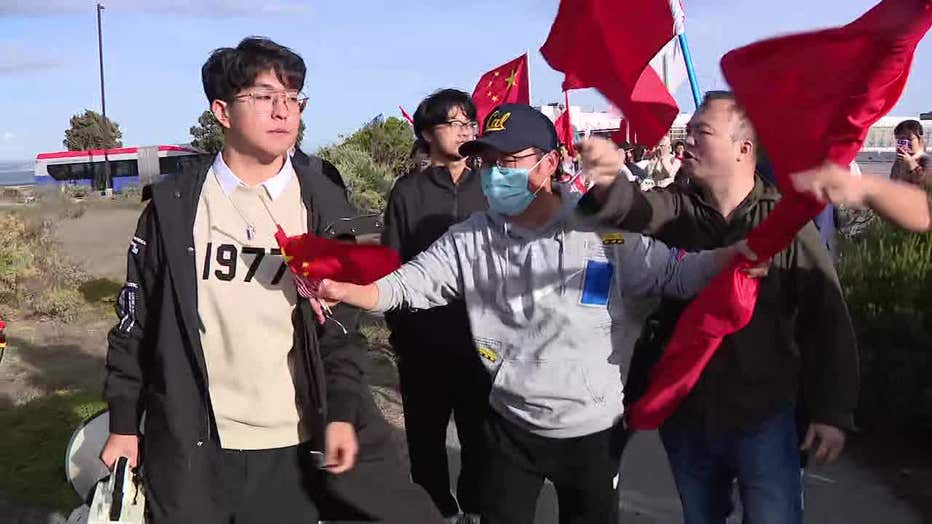 Protesters clash as Chinese President Xi Jinping arrives at SFO. Tuesday, Nov. 14, 2023. 
Earlier in San Francisco, there was a celebration in the South of Market neighborhood to welcome Xi Jinping. Members of the Chinese community from the East Bay and South Bay lined the streets to welcome the Chinese president. They were hoping to get a glimpse of the Chinese leader and to offer their welcome. People we spoke with said they would like to see the relationship between the two countries improve.