Biden planning to meet with Chinese leader Xi Jinping in San Francisco: Report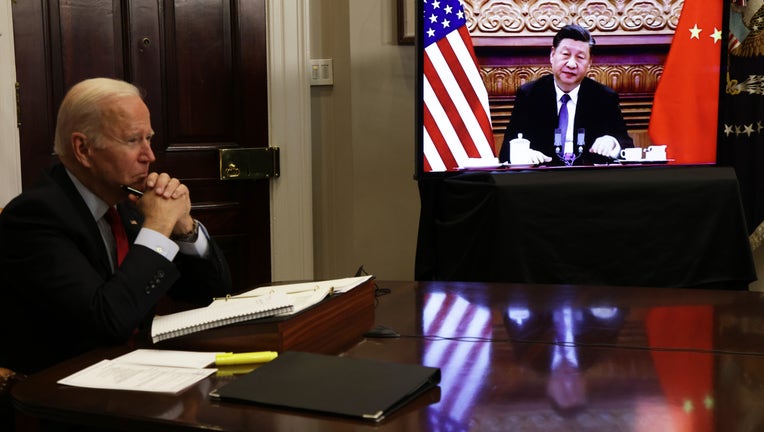 article
SAN FRANCISCO - President Biden reportedly has plans to meet Chinese leader Xi Jinping next month in California. 
The Washington Post on Thursday reported White House officials are planning the summit in San Francisco in an attempt to stabilize the relationship between the world's two most powerful countries. 
Specifics on where the meeting would be held in the city were not disclosed as the meeting is reportedly in its early planning stages. Although, those keeping an eye on these developments have said the Asia-Pacific Economic Cooperation summit could be the setting for the meeting. The APEC conference, a major geopolitical event, is Nov. 11 through 17. 
San Francisco was named the host city of the summit, to be held at the Moscone Center, back in November 2022. The conference's honorary host committee comprises dignitaries including; Gov. Gavin Newsom, SF Mayor London Breed, and Speaker Emerita Nancy Pelosi. The late-Sen. Dianne Feinstein was also listed as one of the committee's hosts. 
Nothing has been confirmed yet, but Biden is looking forward to meeting the Chinese leader, according to a senior administration official, the newspaper reported. 
Stream KTVU on your TV by downloading Fox Local on your Roku, Amazon Fire, AndroidTV or AppleTV device for free. More details here.
It would be the first meeting between the two since the G20 summit last November. Xi no-showed last month's G20 summit in New Delhi, to which Biden expressed disappointment. 
At the beginning of the year, diplomatic tensions became further frayed between the two countries when the U.S. shot down a Chinese spy balloon off the Carolina coast. At the time, it was characterized by U.S. officials as a clear violation of international law. That episode jeopardized future China-U.S. relations and caused the Secretary of State to postpone a planned trip to China. 
A former Obama-administration White House aide told the Post both leaders have an interest in stabilizing ties, but that neither is open to making substantial concessions. Items on the table for discussion could include; technological exports such as semiconductors, the opioid crisis and how fentanyl is made using chemicals from China, as well as the release of detained Americans.