Protesters decry deaths at Santa Rita Jail; sheriff counters with gradual but impactful change
DUBLIN, Calif. - A coalition of community members protested Saturday outside Santa Rita Jail over the rising number of in-custody deaths, while the sheriff emphasized that she is making changes that might take some time, but will be meaningful in the long run.
So far this year, four people in six weeks have died at the jail. Since 2014, there have been 66 people who have died at Santa Rita– the highest in-custody jail death rate in the Bay Area. 
At least two of the most recent deaths have been related to overdosing on drugs. Before that, the majority of jail deaths resulted from putting people with mental health issues into isolation for long periods of time. 
The roughly 75 protesters, organized by Care First Community Coalition, continued to advocate for the "Care First, Jails Resolution" that the Alameda County Board of Supervisors passed in 2021. The essence of that resolution is to end or limit the county's reliance on sending people to jail who have mental health issues and drug addiction problems.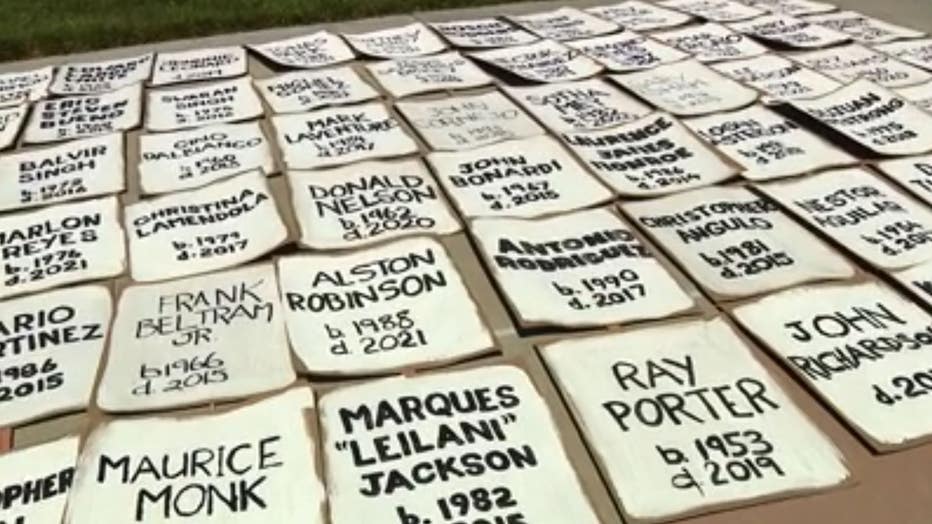 The names of those who have died at Santa Rita Jail. 
At the rally, the protesters read the names of those who died on the lawn of Santa Rita Jail in Dublin. They carried signs that read "Can't Get Well in a Cell." 
 "Today we're here for a number of things," said Joy George, healing justice campaigner for Restore: Oakland. The first is that there have been four deaths at Santa Rita Jail in the first two months of 2023. All these people died in the intake unit. We know they should not have been incarcerated in the first place. We wanted to call attention to the fact that we're angry and there are things that people could do about this."
MORE: A look at the people who have died at Santa Rita Jail
The name of Maurice Monk was among the list of names read at the rally. 
He was arrested for not wearing a mask on an AC Transit bus during COVID and suffered from bipolar disorder and schizophrenia. He also was a football standout in college and worked as a security guard. 
His sisters tried in vain to get him the right medication in jail – but their requests were denied until the day he was pronounced dead of heart and blood pressure complications on Nov. 15, 2021. His sisters have since filed a lawsuit against the sheriff's office. The suit alleges the jail's "outright refusal" to provide his medical care. 
The family of Maurice Monk says other options could have prevented his death.
One of Monk's sisters, Tiffany Monk of Oakland, said she felt heartened by the support at the rally.
"Hopefully it starts to make a change and hold people accountable," she said. "It's hard because he played a major part in my kids' lives. It's kind of hard not having him around to help me with my boys…it's hurtful. It shouldn't be that many deaths."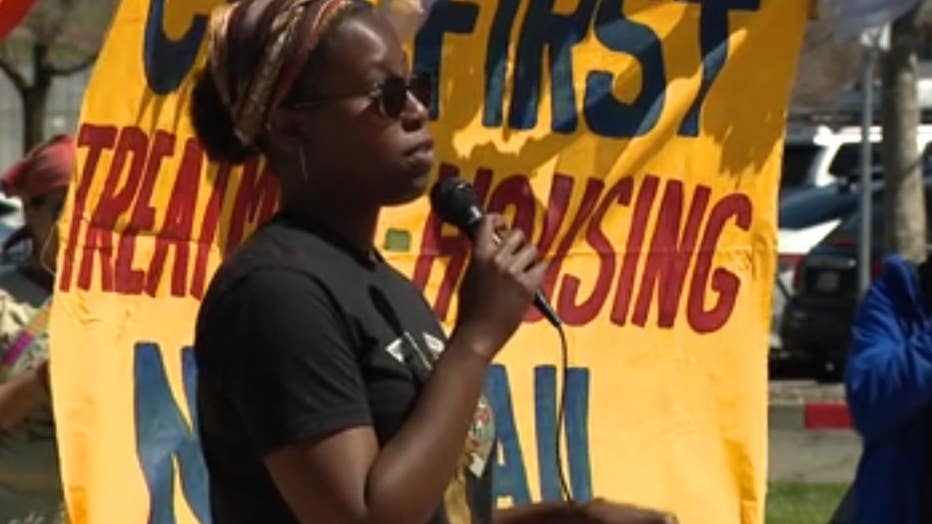 Joy George of Restore: Oakland read the names of those who died at Santa Rita Jail. April 1, 2023 
William Carbone, a professor and criminal justice expert at the University of New Haven said the failings are systemic and wide-raging reform is needed.
"The court should have at its disposal the ability to evaluate people. Have clinical experts that can evaluate and get to the bottom of the mental illness," he said. "And you put them into a prison system and what it does is it increases the trauma they've already had. It makes it worse…that would expand the choice so that people don't have to be put into the jail when they could be diverted into other opportunities."
The county has a new sheriff and Santa Rita Jail is under a federal consent decree, which is supposed to improve conditions for those with mental health problems at the jail.
The sheriff hasn't commented about their ongoing investigation into Monk's death.
Yet, the activists pointed out in a statement that the death rate and conditions at the jail are "going from bad to worse." 
Alameda County Sheriff's Lt. Tya Modeste said that the sheriff welcomed the "peaceful protestors who want to be heard."  
Before she was elected, Alameda County Sheriff Yesenia Sanchez promised to alert the public about in-custody deaths after she had a chance to notify the next of kin – a promise which so far she has kept.
"We have been extremely transparent about the four deaths that have occurred since the beginning of the year," Modeste wrote in an email. "Sheriff Sanchez is committed to improving the quality of care, custody, and control at the jail."
Sanchez has invited county-based organizations into the jail to discuss their concerns and jail management is looking to see where improvements can be made, Modeste said.
Focus groups have also been organized by outside consultants to provide formerly incarcerated community members and their families a platform to make their voices heard.
"We are committed to changing the culture of 'us versus them,' and restoring public trust between law enforcement and the communities we serve," Modeste wrote.
She added that jail management will continue to work with the federal monitors and the consent decree attorneys representing the incarcerated population to make "gradual, measurable, and impactful changes that are just and equitable."  
Advocates say Alameda County has earmarked $50 million for mental health services. They said they would like to see some of that money go towards housing and community-based resources.
KTVU's Jesse Gary contributed to this report.
Lisa Fernandez is a reporter for KTVU. Email Lisa at lisa.fernandez@fox.com or call her at 510-874-0139. Or follow her on Twitter @ljfernandez