Purina dog food recalled; could cause vomiting, kidney failure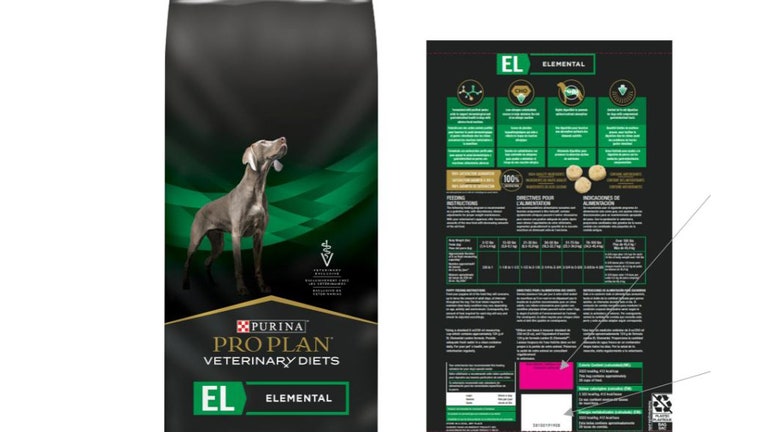 article
A voluntary recall has been issued for select brands of Purina dog food that may cause vomiting and kidney failure in dogs.
Nestlé Purina PetCare learned that two dogs got sick and showed signs of vitamin D toxicity after eating the recalled brands. The company said both dogs recovered once they stopped eating the dog food, according to their website. 
Vitamin D toxicity in dogs can cause vomiting, loss of appetite, increased thirst, increased urination, and excessive drooling to renal (kidney) dysfunction, according to Purina. 
RELATED: Dog food recalled due to elevated levels of vitamin D
Purina announced on their website that it is recalling select lots of Purina Pro Plan Veterinary Diets EL Elemental (PPVD EL) prescription dry dog food due to potentially elevated levels of vitamin D. The company lists the recalled brand details here. 
Purina explains that vitamin D is an important nutrient for dogs, but ingestion of high levels can cause health problems based on the amount of vitamin D and length of exposure.
"We apologize to pet owners and veterinarians for any concerns or inconvenience this situation has caused. As pet experts and pet owners ourselves, the health and well-being of pets is our top priority," Purina wrote on their website. 
RELATED: FDA: Recalled pet food linked to over 100 pet deaths
According to Purina, the recalled dog food was distributed in the United States by prescription only through veterinary clinics, Purina Vet Direct, Purina for Professionals, and other select retailers. 
The company is telling pet owners who bought the recalled brands to stop feeding it to their dogs and throw it away in a container where no other animals can get to it.
Customers who have questions about the recalled products and are seeking a refund can visit Purina's website.
This story was reported from Washington, D.C.