Road rage results in machete attack on San Jose food delivery driver: VIDEO
SAN JOSE, Calif. - A San Jose DoorDash driver was attacked by a driver with a machete in a bizarre episode of road rage.
Jerry Gonzales said he was making a delivery Monday night near Blossom Hill Road and Snell Avenue when he was approached from behind by a driver flashing his brights.
Gonzales said he tapped his brakes to say back off and the driver went around to the front of his car and cut him off. Then he allegedly stopped his car, opened the trunk, and smashed the passenger window of Gonzales's car.
"I couldn't see what it was. I thought it was a baseball bat or something. I said 'Oh shoot, you got to get out of here Jerry. You got to go," Gonzales said.   
Gonzales said that is when he called the cops and attempted to keep the driver within his sights.
"I chase him so he can't hurt anybody else," said Gonzales. "Then he gets out of his car again once I corner him and comes at me with the machete."
You can hear the intensity in his voice as he talks to the dispatcher in the video.
"I only saw him coming over towards my passenger side. As he was at my passenger side, I tried to drive off as fast as possible. Hoping that he was just trying to scare me or something like that. But unfortunately, he wasn't. He actually did damage and hit the side of my window," Gonzales said.   
Gonzales said he felt he got enough evidence at that point and waited patiently for cops to arrive. 
ALSO: Officer shot and wounded after suspect flees traffic stop: San Jose police
Because Gonzales had a camera on his car's dashboard, he says he was able to turn over the video of the incident to police, and hopefully they can find the guy who smashed his car window.    
"I didn't have to get his license plate number because I had a dash cam. I knew all the information I wanted would be on that video," Gonzales said. 
His car has significant damage, and he said he and the cops were baffled about how it all unfolded.
KTVU has reached out to SJPD to find out more about the incident and if the machete wielding suspect has been located.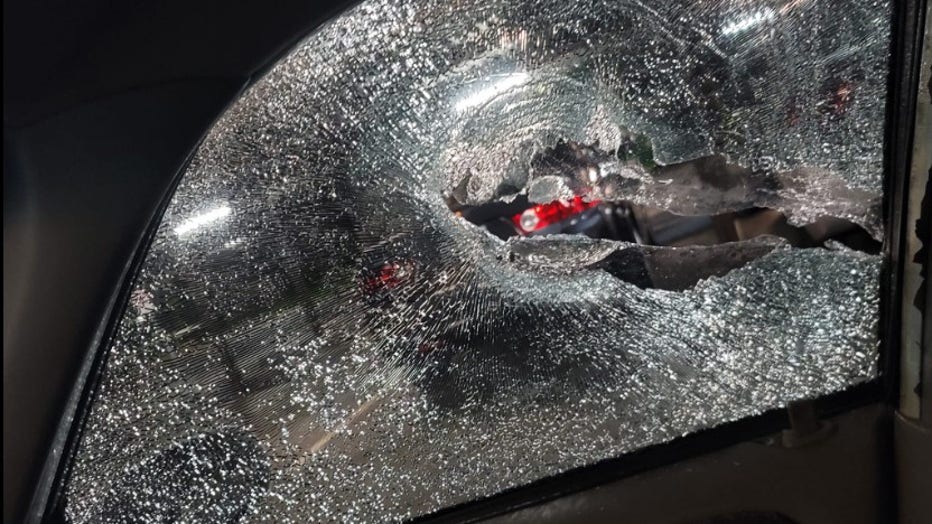 A food delivery driver was attacked by a driver wielding a machete Monday night in San Jose. His dashcam video caught footage of the road rage.