SamTrans buses dropping homeless off along SF's Embarcadero, report says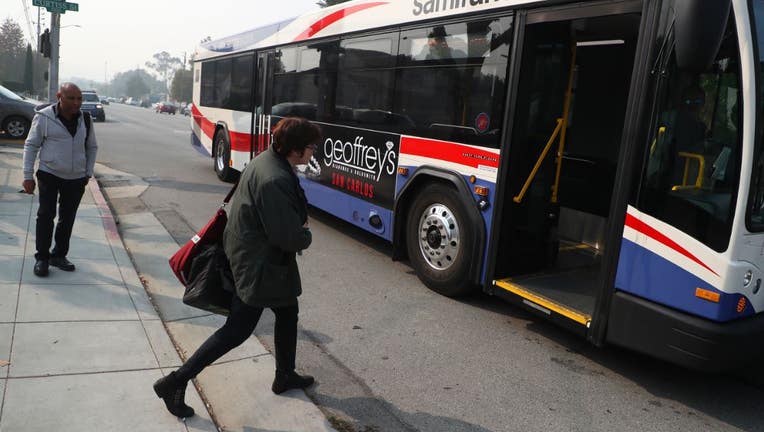 article
SAN FRANCISCO (KTVU) - SamTrans buses are reportedly dropping off homeless people along San Francisco's Embarcadero at the end of the night. 
According to the Chronicle, the newly expanded bus service from the Peninsula is resulting in groups of people wandering off the bus at the end of the line around 2 a.m. A widely-circulated video, recorded by a downtown San Francisco security guard, shows the transit system hauling presumably homeless people into the city from San Mateo County— allegedly a regular occurence.   
The transit agency provides homeless organizations in San Mateo County with free tokens for those in need. 
San Francisco International Airport also gives out bus tokens to around 20 to 25 homeless people a night during the winter months, half of which are SamTrans tokens. 
"Anyone who pays their fare gets on the bus unless you're causing trouble while you're there. The bus is for everybody," said SamTrans spokesman Dan Lieberman.
Mayor London Breed could not confirm the allegations. "I do hope that that's not the case. I don't have the information to confirm that," said Breed. 
Supervisor Aaron Peskin did not return a request for an interview with KTVU, but he told the Chronicle it was unreasonable that agencies would play "musical chairs" with the homeless.
KTVU has learned that homeless people arrived at SFO airport on a BART train coming from San Francisco. SFO then game them a free voucher, purchased for them by SFO. The homeless then rode SamTrans to the city. 
"If you're here between the hours of 10 p.m. and 6 a.m., you must demonstrate a legitimate business reason to be here," said SFO spokesman Doug Yakel. 
That includes passengers, employees, police, security personnel, contractors and others with real late night airport functions in SFO's 5.5 million square feet of terminal space. 
"It really comes back to the safety and security of this facility," said Yakel. 
Officials say the overwhelming majority of people that they have to issue vouchers to, come in on the very last BART train; meaning BART is no longer available to get them off the premises. 
As a result, the only transit service in operation at those hours in the area is SamTrans. 
"Typically, what we're seeing, is a lot of folks at SFO at the end of the night and they're sort of stranded there. They get that token and they'll get on a bus like a 292 or a 397 and hauled on back up to San Francisco," said Lieberman.
Security experts say, the reason they come on BART is that they can easily jump BART's fare gates and ride to the airport for free, where they hope to sleep, panhandle or both. 
"On an average day, especially during the winter months when we see more of this activity, we're probably making contact with 20 to 25 homeless people per day. And, again, this mostly happens at night time and about 12 to 15 of them, on average, are electing to accept the SamTrans token," said Yakel, who added, "We don't really view giving out tokens as a long term solution."
Homeless experts say building living spaces with support services is the answer.