Six rescued after choppy seas capsize outrigger on Bay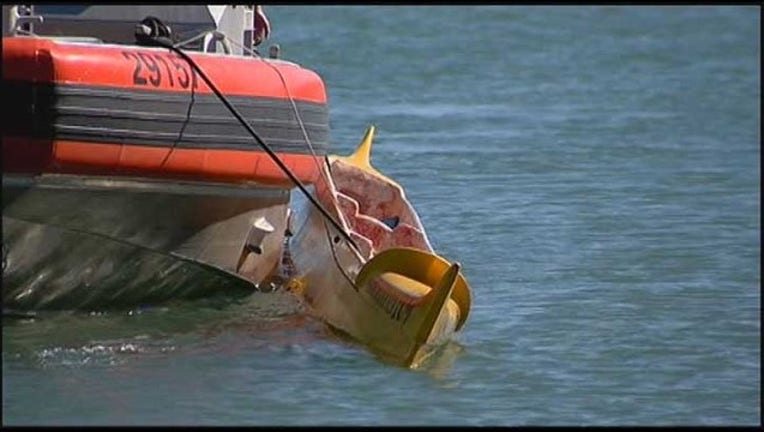 SAN FRANCISCO (KTVU and Wires ) – Wind-whipped waves flipped over an outrigger canoe on the San Francisco Bay Sunday, forcing its six occupants to cling to its side to stay afloat in the chilly waters until the Coast Guard was able to arrive on the scene.
The winds were the northern edge of a weather system that dumped a steady rain on the Oscar red carpet Sunday evening and dusted the Sierra with snow showers. However, drought stricken Northern California only got blustery conditions and no measurable rain.
The California Highway Patrol issued wind advisories for the San Mateo-Hayward Bridge, the San Francisco-Oakland Bay Bridge and the Richmond-San Rafael Bridge until further notice.
CHP advised motorists during the Monday morning commute to drive with caution, keeping both hands on the steering wheel.
A wind advisory was also in effect for the higher elevations of the North and East Bays, especially Napa and Contra Costa counties, until 10 a.m. today, National Weather Service officials said.
The advisory for the North Bay mountains, East Bay hills and the Diablo Range means north to northeast winds of 15 to 30 mph will continue this morning before subsiding this afternoon. Also, winds could gust to 50 mph.
On Sunday, the winds created white caps on the San Francisco Bay.
The 45-foot, 400-pound outrigger began taking on water in the choppy seas at 11:25 a.m. A passing boat saw the crew capsize and called the Coast Guard.
"They didn't have a means to communicate with shore," explained Coast Guard spokesman, Jake Urrutia. "They did an excellent job of staying together and holding onto the canoe."
The six crew members with the San Francisco Outrigger Canoe Club were in the water for about 20 minutes before being picked up by the Coast Guard vessel.
Sylvester Orosco said his crew trains for the unexpected, but the wind Sunday was just too much.
"As the day gets sunnier, the wind gets stronger," Orosco said. "Basically, we just had a lot of wind surf getting into the boat."
Vicky Chung was in the boat one minute and in the water the next.
"Good thing we had good teammates who kept us calm," she said. "We all knew what to do." What they didn't know, is there was a small craft advisory on San Francisco Bay because of the wind. "I think we missed that," Chung said laughing. "We know that now!"