SoCal man commutes to UC Berkeley twice a week to finish degree, graduates this week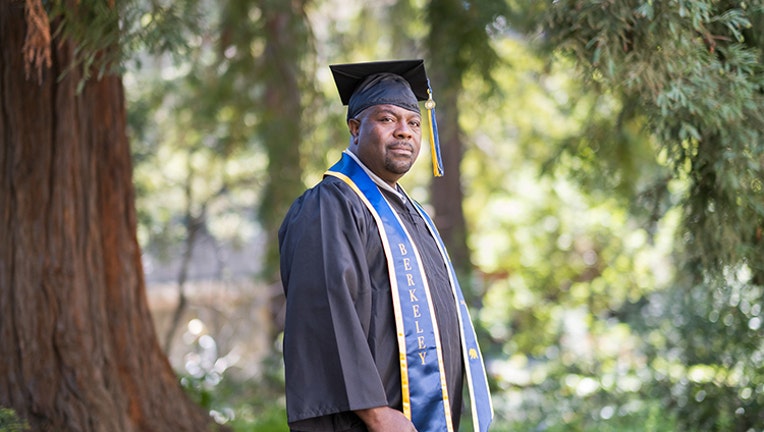 article
BERKELEY, Calif. - Since last August, Hatcher Parnell has been making the very long commute back and forth from his Southern California home to the UC Berkeley campus, twice a week, in his endeavor to start something that he began more than 30 years ago. And on Friday, the 50-year-old student will be celebrating a major accomplishment and the completion of unfinished business when he walks across the stage to receive his diploma.
Parnell first came to Cal as a student in 1991 as the first person in his family to go to college. He set out to earn his Bachelor of Arts degree with a major in Sociology. But in 1996, his plans got sidelined as the need to survive and work won out over the need to finish school. 
"You do what you need to do out of necessity," he told KTVU.
The soon-to-be graduate said that from day one, it was his sole responsibility to put himself through college. 
"There wasn't much financial support from home because my mom just could not afford it. And so you know, whatever I did at Cal it was pretty much me, from the financial side," Parnell explained, adding, "So every day, just trying to make sure I was able to eat, pay rent and do things that college students do."
As a student, he was always juggling work with academics.
"As time went on, I was working multiple jobs, and I found a job at Cal that actually paid me a little bit of money, you know, to live. And I just didn't have time to do both," Parnell said. "So unfortunately school took a back seat." 
With two semesters left, Parnell made the decision to abandon his life as a student and take up the job with Cal Athletics as an event manager. 
The position also allowed him to branch out to take on positions at the Oakland Coliseum, working with the Raiders, the Athletics and the Warriors.  
Then in 2005, Parnell's path led him to join the University of California Police Department, Berkeley (UCPD Berkeley), which required him to undergo training with the police academy through the Alameda County Sheriff's Office.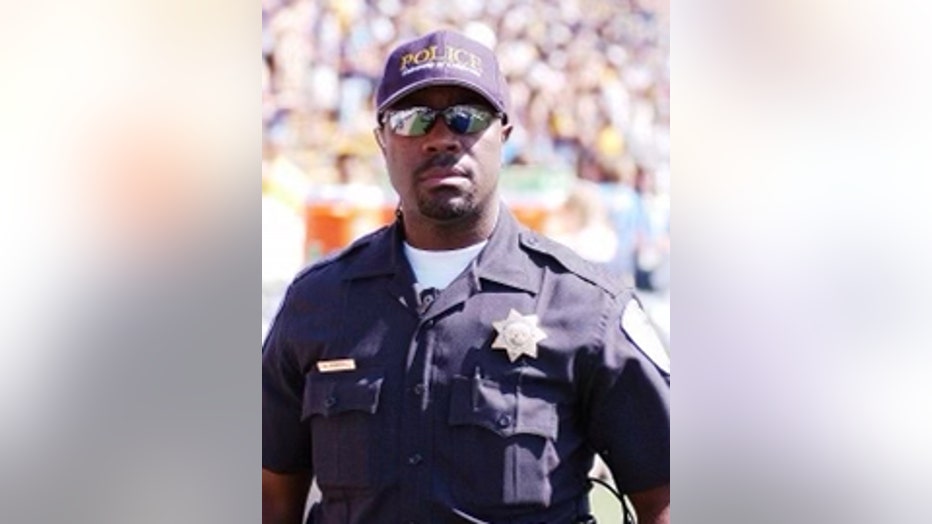 Hatcher Parnell formerly worked as an officer with the University of California Police Department, Berkeley. (Hatcher Parnell)
SEE ALSO: New Oakland police officers graduate at challenging time for department
SEE ALSO: 24 Bay Area high school students awarded scholarships as part of PG&E's financial education program
The job with law enforcement would later serve as a springboard to his career today as director of the Office of Executive Protection Services at the University of Southern California (USC) in Los Angeles.  
That move to USC came after five years with UCPD Berkeley. By that time, he was a married man, and he and his wife were raising their first child. So returning to Southern California where he was originally from and where his family was, seemed like a logical move.
He took up his first job at USC as an assistant athletic director.
His dedication as an employee and his work ethic would help him rise through the ranks at the university.
And when it was time to find someone to head up a first-of-its kind, new department that would be tasked with USC's security and risk mitigation measures for high profile individuals on campus, Parnell was the leading candidate. 
When he sat down to talk to his boss about the job, he couldn't help but turn the conversation to something that had been weighing on him for decades: the degree that he never completed.
And the response from Erroll G. Southers, USC's associate senior vice president for safety and risk assurance, was nothing short of encouraging and supportive.
"Dr. Southers made it clear that he would work with me in order to do it," Parnell recalled, and it was just what he needed to set him on the long-abandoned path. 
"Once that was known, I took that as a lighting bolt to get it done," he said, and without hesitation he put the wheels in motion to return to student life.
That returning to student life would not be easy. With his family firmly settled in Whittier, Calif. in Los Angeles County and with his new position at USC, it would mean commuting by plane to and from school every Tuesday and Thursday. But after three decades of feeling like he had unfinished business, that was not something that would deter him. 
"It's kind of one of those things, I would even go as far as to say, you're slightly embarrassed by it," Parnell shared. "My career and what I've done over the years speaks for itself, and the things that I've accomplished, but at the same time, it was something that was hanging out there… and it was something that now that I had the opportunity to do. I took it," he said. 
Taking it meant that for two semesters, fall and spring, the hours involved traveling, attending classes and studying would be grueling.
It would mean getting up at 5 a.m. to catch a plane out of Long Beach Airport for the roughly one hour flight to Oakland Airport. And then he'd hop on BART. If he was running late, he'd call an Uber or ask a friend to pick him up, so he could make it just in time on campus for his 10 o'clock class.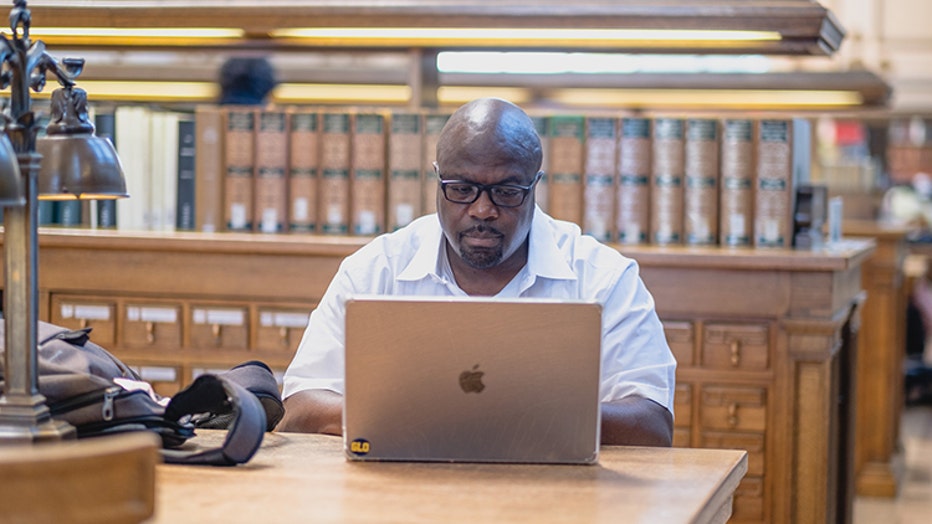 Hatcher Parnell, 50. returned to UC Berkeley in August 2022 to finish what he started 32 years ago. (Berkeley News/UC Berkeley photo by Julian Meyn)
After his last class, which ended at 5 p.m. he did the reverse commute, getting on another plane to race back home to his wife and two kids. When all was said and done, it was about a 15-hour day.
But with the support of not only his employer but his family, he got through it, knowing it was all worth.
He described his wife as "beyond patient and supportive." And the kids, at age 8 and 14, they understood the importance of what dad was doing. 
Those kids, he said, were also one of the driving forces behind his decision to return to school.
"It's very important not only for me, but even more so for the kids to see dad accomplish something he should have done a while ago, but situations didn't allow that at the time," Parnell said, adding, "They definitely had a big part of me going back to school." 
While his college schedule was demanding, he said he made sure he would come back home on time to try and make it to the kids' school and sporting events. And he was sure to make the most of the weekends, to be there for his family.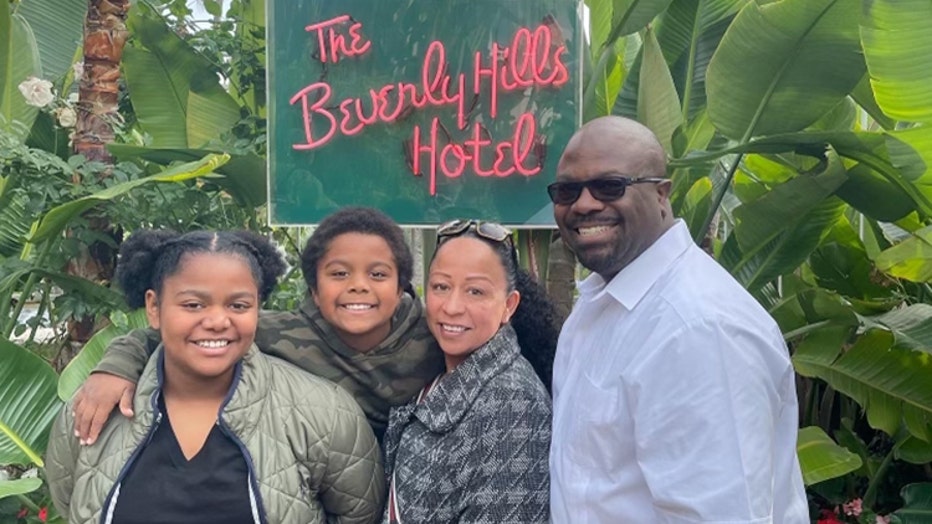 Hatcher Parnell with his wife and two kids.  (Hatcher Parnell)
The dad said he also found it to be a bonding experience with his kids to be a student alongside them.
"It was fun. I sat round the table with the kids, and they helped me do my homework. I helped them do their homework, and we're talking about stuff," Parnell shared. "I inspired them a little bit, hopefully, and that was the good part about it," he said.
That reciprocal feeling of inspiration extended to other relatives.
He said that as the first person in his family to go to college, he felt he provided an example for the next generation to follow.
"When I was in high school and college I had nieces and nephews that looked up to me. And the cool thing is that those nieces and nephews, based on that degree or not, just saw me in college and that inspired them," Parnell said, adding, "I've had nieces and nephews and cousin that have graduated since I started, and they inspired me, and they invigorated me a little bit to get this done."
Parnell said that the degree not only brought a sense of personal accomplishment and peace for him, but he knew that in the future, it could also open doors and clear the path for other potential academic endeavors.    
"That degree will allow me to move forward in that respect," he said. "Grad school's not off the table."
Word of this exceptional student's journey has spread, and he said, congratulations have been pouring in from family members, old friends, and his school community.  
There was also high praise from his supervisor, the man who helped initiate this achievement. 
"Hatcher's unyielding commitment and organizational skills required to complete his degree program exemplify how he is leading our groundbreaking university operations for executive protection services, which involve complex issues associated with campus safety and security," Southers told KTVU in a statement.
For those who may find themselves in a similar scenario, feeling burdened about not completing that degree, he offered this advice: "Don't give up, and don't be afraid to ask for help, because you never know where it might come from." 
Parnell said as graduation day nears, he's thought about the long-awaited moment nearly every day. On Friday, as he looks out into the crowd of faces, hoping to find the familiar ones who supported him on the long road here, he said it will be an emotional time for him. 
"I'll be thinking about all the trips. I'll be thinking about the people that helped me along this journey. I'll be thinking about what it took to actually get here. And to have the support of the Berkeley campus community is tremendous," he shared. "And so you may even see tears come to my eyes-- tears of joy, if it comes to it, because the statistics are that people just don't come back, and so I was lucky to be able to have a support structure around me that allowed me to do it."