Sonoma County, other local entities file lawsuit against PG&E for damages from 2019 Kincade Fire
SANTA ROSA, Calif. - Sonoma County along with a coalition of local agencies filed a lawsuit against PG&E on Tuesday for damages to public resources stemming from the Kincade Fire last year.
The fire broke out on Oct. 23, 2019, northeast of Geyserville. It raged for 13 days, scorching 77,758 Acres and destroying 374 homes and other structures. Cal Fire later determined a transmission line owned by PG&E ignited the blaze. 
The day after the Kincade Fire broke out, PG&E filed a report with the California Public Utilities Commission saying that about 10 minutes prior to the flames igniting, it discovered a broken "jumper cable" on a high-voltage tower in the area where the fire started.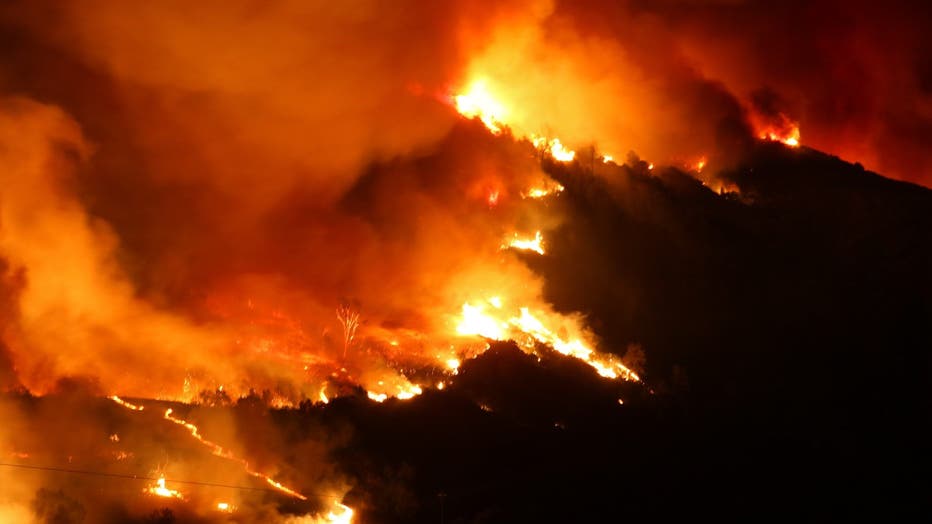 On the ridgeline of the Kincade Fire in Geyserville, Calif. Oct. 24, 2019 (Matthew Henderson)
The lawsuit filed on Tuesday alleged that PG&E negligently caused the fire and was legally responsible for the damage.
"The legal allegations include inverse condemnation and negligence, among others, and seek damages for injury to and loss of public resources, including but not limited to land, roads, and environmental resources," the plaintiffs said in a press release. 
SIGN UP FOR THE KTVU NEWSLETTER
In its own statement issued to KTVU, PG&E said it is conducting its own investigation into what caused the fire and said it does not have access to Cal Fire's report. The utility company said however, "The transmission tower in question was inspected multiple times in 2019 as part of our Wildfire Safety Inspection Program—inspectors both climbed the tower and performed an inspection by reviewing photographs taken by an aerial drone.  All issues that were identified on the tower in question were resolved prior to the Kincade Fire with the exception of one, which related to the painting of the tower."  
PG&E also stressed its commitment to the safety of its customers and the community it served and said it was grateful to the first responders who helped ensure no lives were lost in the Kincade fire.
In addition to Sonoma County, the other local entities filing the lawsuit included the cities of Santa Rosa, Cloverdale, Healdsburg, the town of Windsor, the Agricultural Preservation and Open Space District, Sonoma County Water Agency and the Community Development Commission.