Stanford professor, retired firefighter say they were wrongfully detained in Bay Bridge protest
SAN FRANCISCO - At least two people who were put in handcuffs on Thursday morning during a pro-Palestinian protest on the Bay Bridge -- a Stanford professor and a retired firefighter – who said they were wrongfully detained when they got out of their cars to see what the ruckus was about. 
And Masoud Barukzai, a retired firefighter from Pleasanton, added that he feels he was racially profiled, too. 
Barukzai said he should not have been detained by CHP officers after he spoke out to protect another woman, who was being approached by police to see what she was up to. 
"I had noticed that while stopping in traffic here [a woman] was concerned about her work," he told KTVU while cuffed and seated on the bridge. "She went to the trunk of her Prius. She opened it. It had architectural blueprints that she was working on. She had to get on the phone to maybe tell her employer she wasn't going to make it on time. She closed the trunk and sat back inside."
But apparently, CHP officers confused her architectural drawings for Palestinian flags.  
"Police officers were saying she had Palestinian flags in her trunk, and she should be arrested," he said. "I voiced that they were not. I told them I was a witness and I think because I chimed in, I was next to get arrested."
Barukzai said his truck with American flag decals on it was taken away by authorities. 
He said he was disappointed by how he was treated and said he was disgusted to be stripped of his rights.
"I was never told why I'm being arrested," Barukzai said. "I have not said a single thing. I wasn't aware of any protest taking place. I don't have a single banner, I don't have a single flag, I don't have anything that's related to any protest."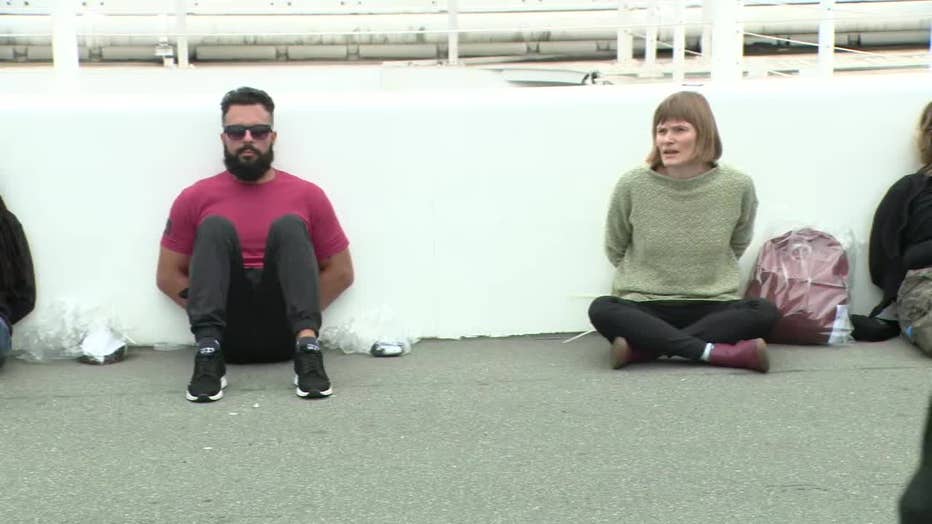 Masoud Barukzai, a retired firefighter and Lauren Tomkins, a Stanford professor, said they were wrongfully detained on the Bay Bridge. Nov. 15, 2023 
When asked by KTVU why he thought he was arrested, he said, "Because of how I look."
Barukzai was cuffed next to Lauren Tompkins, a physics professor at Stanford University, on the bridge. 
She told KTVU she was on her way to work to meet with students when she was caught behind the protest. 
Tompkins said she had exited her car several times to see the activity, and then spoke out when she watched officers put Barukzai in handcuffs.
"I heard a police officer say, 'Hey that person has a pro-Palestine banner,'" she said. "It's illegal. They appear to be arresting people based on what was on their cars and not any actual evidence that they were participating in the action. I was told to get back in my car and I did."
She then said an officer came to her car to detain her. 
She was told she was being put in handcuffs for "defying a lawful order," which she denied.
KTVU asked the CHP Golden Gate Division Chief Ezery Beauchamp how officers could determine the difference between protesters and people who were watching the activity. 
Beauchamp said they have cameras on the bridge and "know how to identify people."
In all, 70 people were arrested, and then cited and released stemming from the protest, organized by pro-Palestinian groups to gain the attention of President Joe Biden and world leaders during the APEC Summit.