Student assaulted while walking to Cornell Elementary School in Albany, police investigating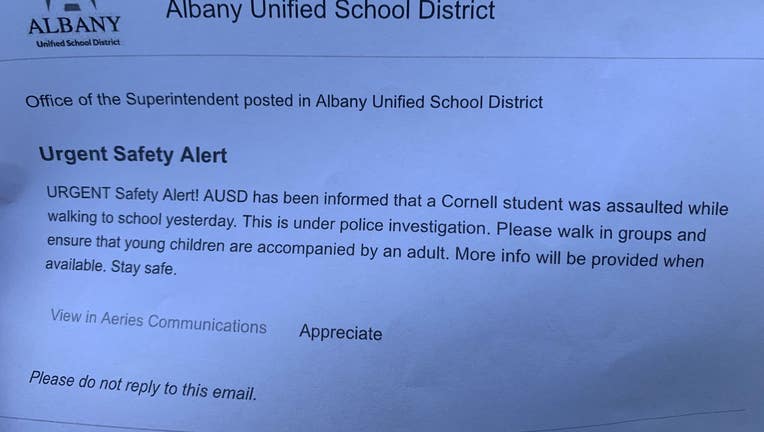 article
ALBANY, Calif. - Students in the Albany Unified School District are being told to walk in groups after a student at Cornell Elementary School was allegedly assaulted near campus.
"It's really creepy and scary," said parent Jen West. "I think it's really out of the ordinary in this neighborhood."
The Office of the Superintendent emailed the school community. It reads, "Urgent Safety Alert! AUSD has been informed that a Cornell student was assaulted while walking to school yesterday. This is under police investigation. Please walk in groups and ensure that young children are accompanied by an adult. More info will be provided when available."
The incident was reported to police Wednesday, March 30.
Parent Alex Mahonga said he was shocked to get the alert. "It's a little bit scary," he said. "I just feel we have to be here all the time to pick them up and drop them off."
Tsering Lhatso, the mother of a 5th grader said she's also worried. She said she has had many talks with her daughter about safety, and staying with other classmates when walking around the neighborhood. Lhatso said, "We always talk about personal boundaries, if strangers are crossing a personal boundary make sure you call for help."
In an email to KTVU, the City of Albany Public Information Officer, Brennan Brown wrote, "Albany Police received a report from a parent regarding a concerning assault on their child as they walked to school yesterday morning, March 30, 2022. Police are actively investigating this incident and will be conducting additional interviews to get further information in this case. Police are providing extra patrols for routes children may take when traveling to and from schools."
Police have not said where exactly that attack occurred or if they are searching for a suspect.