Sunken aircraft carrier located off Monterey Coast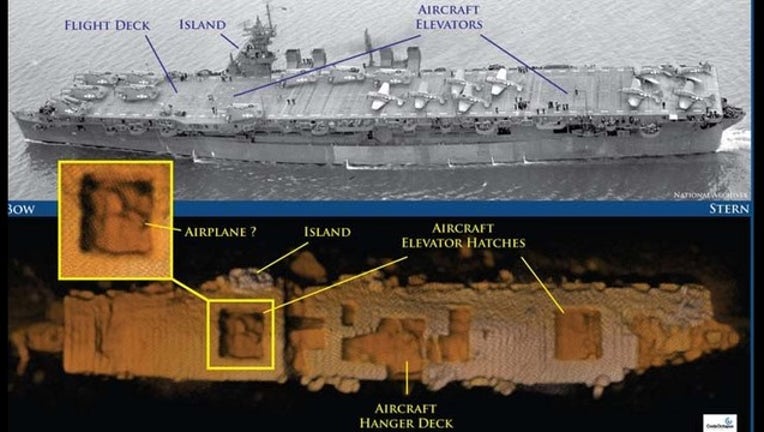 article
SAN FRANCISCO (AP) -- Scientists have rediscovered a mostly intact World War II aircraft carrier the U.S. Navy scuttled off the Monterey California coast decades ago.
The U.S.S. Independence was located and video recorded as part of a National Oceanic and Atmospheric mission to locate and map an estimated 300 historic shipwrecks in the waters outside San Francisco's Golden Gate Bridge.
Images captured by a remotely controlled miniature submarine showed the Independence sitting upright about 30 miles west of the coast and near the Farallon Islands. A plane is visible in a hangar.
"After 64 years on the seafloor, Independence sits on the bottom as if ready to launch its planes," said James Delgado, chief scientist on the Independence mission and maritime heritage director for NOAA's Office of National Marine Sanctuaries, in a prepared release.
The mission to locate the scuttled carrier was conducted last month using an 18.5-foot-long autonomous underwater vehicle (AUV), Echo Ranger, provided by The Boeing Company through a cooperative research and development agreement with NOAA's Office of Oceanic and Atmospheric Research.
The Independence operated in the Pacific during the war and served as a target ship for two Bikini Atoll atomic bomb tests in 1946. The Navy then used the ship to study nuclear decontamination before sinking it in 1951.