Teens, parents injured in brawl following soccer game in Irvine
IRVINE, Calif. - A teen soccer player is recovering from a broken nose after a large brawl broke out at an Irvine soccer game Saturday night. His coach believes his young players were attacked by their opponents' adult players after they lost.
"All of the sudden I saw punches being thrown," said Bryan Wallace, coach of the Irvine Zeta FC U23 team. "It was by far the most disgusting thing I've ever experienced and been a part of, to see adults assaulting minors." Wallace's team — made up of mostly teenagers — defeated the adults of Club Garrafones at Great Park in Irvine Saturday night.
"At the end of the game, emotions got high. A couple of players got in a little bit of a scuffle," he said, adding that he pulled his players away after the first fight. 
He thought it was over, but the situation only escalated from there.
"There's people that weren't a part of the game that weren't on the coaching staff, that came onto the field and started fighting not just our minors, but fighting our fans, our parents," Wallace said. He worried that someone might have a weapon.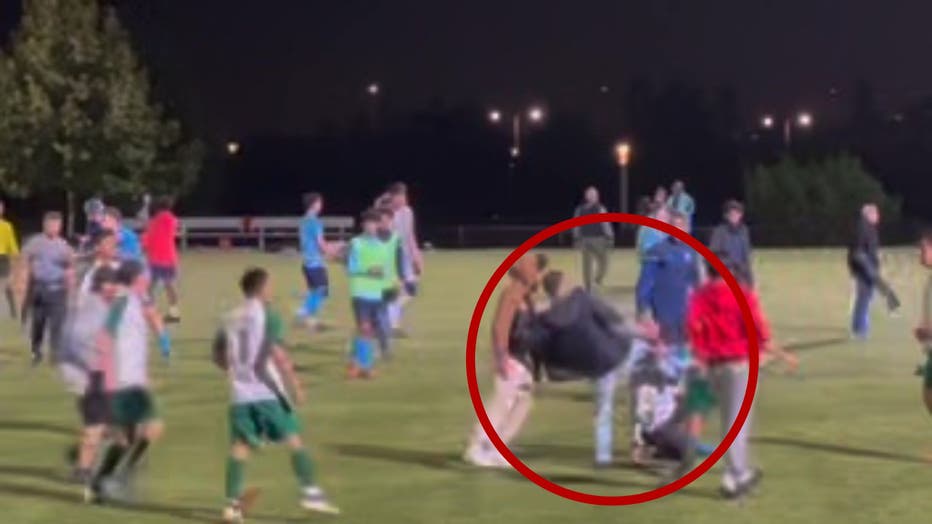 Video of the brawl showed multiple violent altercations, including a parent being kicked unconscious.
The video also showed 16-year-old Matthew Gonzales walking off the field with a badly broken nose. The high school senior plays for Strikers Elite Academy U19 and Zeta FC U23, and is in the middle of a busy college application and recruitment process. His Dad Robert Gonzales said the injury is a big blow.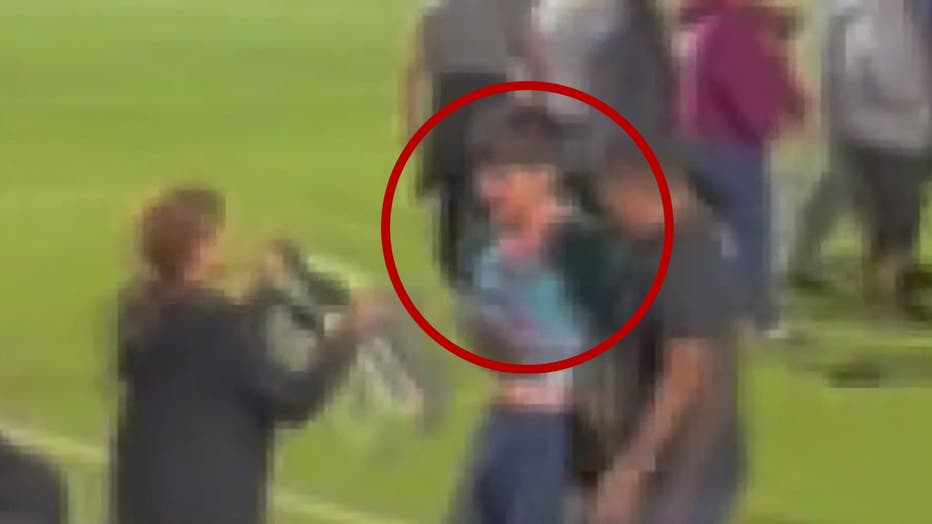 Matthew Gonzales, 16, walking off a soccer field with a bloody, badly broken nose after a brawl following a soccer match in Irvine
"It's putting his life on pause right now. He's a senior. So this was a critical, critical time in his athletic career," Robert Gonzales said, adding that the family is trying to stay positive as they move forward.
The United Premier Soccer League said it takes these matters very seriously and has already launched a full investigation into the altercation.
"The UPSL is committed to providing opportunities in soccer for players from all communities across the country," the league said in a statement to FOX 11. "It is shocking to witness such abhorrent behavior. While we are still gathering the facts, we will be issuing heavy penalties to those involved, including likely expulsion for the teams. There is no tolerance for such behavior in this league."
The United Premier Soccer League was formed in 2011 in Santa Ana, California. It is the largest Pro Development League in the country with more than 500 teams competing nationwide, across its Premier, Division 1, Women and Academy divisions.
Irvine police are also investigating the incident. 
FOX 11 has reached out to Club Garrafones for comment but has not heard back.