Almost 10,000 customers without power due to latest round of stormy weather
SAN FRANCISCO - Almost 10,000 PG&E customers were without power on Monday morning, due to storm-related outages around the region. 
Rain, hail, and strong winds returned to the Bay Area, leading to widespread outages.  
The South Bay was the most affected by the outages, with 4,118 customers without power as of 11 a.m., according to PG&E. The North Bay had 3,504 customers without power, and on the Peninsula, 1,143 customers were affected. In San Francisco, 849 lost power and in the East Bay that number was at 313.
"This new weather system, especially the strong winds, are knocking trees or limbs down and into powerlines – breaking power poles, transformers, wires and other electric components," PG&E said. 
SEE ALSO: Recent snow storms chip away at California drought
SEE ALSO: National Weather Service reports Bay Area snow totals from latest storm
On Sunday night, in anticipation of the powerful storm system, the utility company said that its crews were prepared for the likelihood of outages due to the weather and called on customers to also be ready to deal with possible outages. 
"More extreme weather is moving into PG&E's service area early Monday morning. Strong winds and snow in low areas is expected. All customers are urged to prepare for potential outages," the utility shared on Twitter, adding, "PG&E crews ready to restore customers in the face of more extreme storm activity."
PG&E said that since last Tuesday, more than 1,077,000 customers had been affected by weather-related outages, with roughly 400,000 in the Bay Area alone.
"We've restored power to close to a million customers already and are out in full force restoring power now to many customers impacted by new outages and lingering outages where weather-related damage is extensive due to the snow, rain and heavy winds," the utility said. 
With stormy weather to continue in the Bay Area, customers were advised to be prepared.
PG&E advised taking the following steps to stay safe and be ready: 
Keep a battery-operated flashlight and radio within easy reach. Ensure those items are always accessible and that your batteries are fresh. Listen for updates on storm conditions and power outages.
Use safer LED candles. Wax candles are not recommended.
Plan for another way to communicate. Don't depend on a phone that requires electricity to communicate. Keep a standard handset or mobile phone ready as a backup.
Store water-filled plastic containers in your freezer. You can use them as blocks of ice to prevent food from spoiling.
To report an outage or view outage details, customers can access PG&E's outage map here.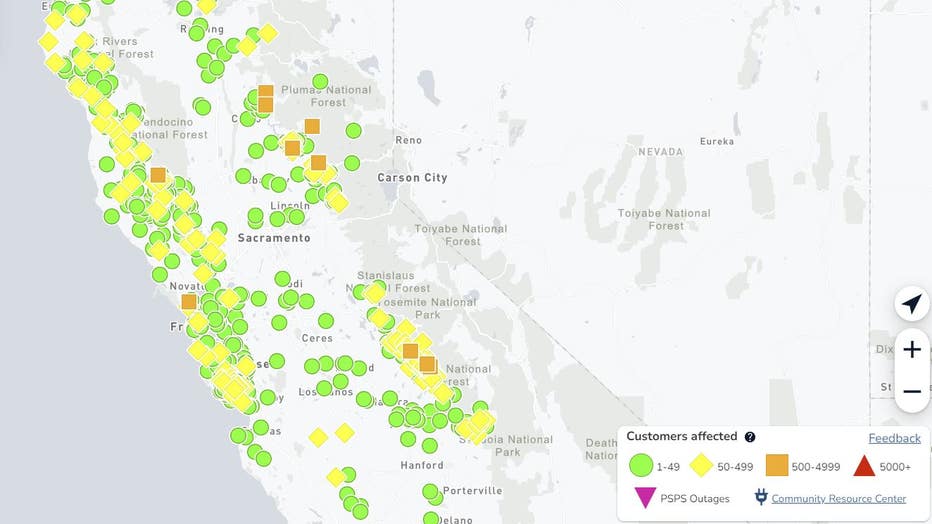 Screenshot of PG&E outage map on Monday morning, Feb. 27, 2023.