Tyre Nichols bodycam video shows police beating Memphis father for several minutes
MEMPHIS, Tenn. - Police bodycam footage released Friday night shows Tyre Nichols, a 29-year-old Black man from Memphis, being beaten by five police officers during a traffic stop back on January 7. He died three days later, leaving his 4-year-old son without a father and his family without many answers.
After investigators viewed the footage earlier this month, the five officers involved in the case — all of whom are also Black — were fired and later charged with second-degree murder. But the video was not made public until Friday — partially because of the ongoing investigation, but also because officials feared protests could grow violent.
Demonstrations and destructive protests erupted across the U.S. back in 2020 following the in-custody death of George Floyd, a Black man who died after a white police officer in Minneapolis knelt on his neck for over nine minutes.
What the Tyre Nichols video shows
On Friday, Jan. 27, at promptly 6 p.m. Central time, Memphis police released four videos that contained footage of the night Nichols was arrested — three from officers' body-worn cameras and one from a nearby surveillance camera. 
The interaction starts out as an attempted police stop, which immediately gets physical as Nichols asks repeatedly why he is being detained. 
"I'll knock your ass the [expletive] out," one officer screams as he drags Nichols from the car with weapon drawn.
"OK, OK, you guys are really doing a lot right now," Nichols replies, increasingly agitated. "I'm just trying to get home."
As officers pull out their stun guns, Nichols runs off. Minutes later, the officers catch up to him and begin striking him. 
In the police footage, as one officer strikes Tyre Nichols, another pepper-sprays him.
In the footage, the five Memphis officers can be seen beating the 29-year-old for at least three minutes. It appears, at times, that some officers hold Nichols while others kick or strike him. The officers can be seen pepper-spraying Nichols as he cries out, "Mom, Mom!" 
Nichols can then be seen struggling to catch his breath, saying "alright," while the officers continue kicking his head and pepper-spraying him. 
"I'm gonna baton the [expletive] out of you," one of the officers can be heard yelling.
Eventually, other officers and paramedics arrive and begin to give medical attention to Nichols, who by that time is slumped against a cruiser, his face bloody.
"He high as a [expletive]" one of the officers claims, as another complains about injuring his own leg during the pursuit.
GRAPHIC VIDEO WARNING: You can watch the footage on the city's Vimeo site
It was not immediately clear if Nichols was indeed intoxicated; police say he complained of shortness of breath and was taken to a hospital. He died three days later.
Live coverage on LiveNOW from FOX
What police say about the video
On Friday evening, The national president of the Fraternal Order of Police has issued a scathing statement over the actions of five former Memphis police officers involved in the arrest of Nichols.
Patrick Yoes says the officers' encounter with Nichols "does not constitute legitimate police work or a traffic stop gone wrong." Instead, Yoes called it a "criminal assault under the pretext of law."
RELATED: A timeline of events in the Tyre Nichols case
On Thursday, Memphis Police Director Cerelyn Davis described the officers' actions in the footage as "heinous, reckless and inhumane."
"This is not just a professional failing. This is a failing of basic humanity toward another individual," Davis said in a video statement released late Wednesday on social media.
"I expect you to feel what the Nichols family feels," she continued. "I expect you to feel outraged by the disregard for basic human rights as our police officers have taken an oath to do the opposite of what transpired on the video."
The five officers — Tadarrius Bean, Demetrius Haley, Desmond Mills Jr., Emmitt Martin III and Justin Smith — were fired and later arrested, but other officers are still being investigated for violating department policy. In addition, Davis said "a complete and independent review" will be conducted of the department's specialized units, without providing further details.
Two fire department workers were also removed from duty over Nichols' arrest.
As state and federal investigations continue, Davis promised the police department's "full and complete cooperation" to determine what contributed to Nichols' Jan. 10 death.
The Memphis Police Department wrote in a statement to FOX 5 that the "disturbing contents" of the footage do not "represent the values that any law enforcement officers are sworn to uphold."
FBI Director Christopher Wray said he was "appalled" by the video and that all FBI field officers have been alerted to work with state and local partners, including in Memphis, "in the event of something getting out of hand."
RELATED: Four of five Memphis police officers charged with killing Tyre Nichols released from jail after posting bail
What Tyre Nichols' family says
Nichols' family members and their lawyers likened the case to the infamous 1991 police beating of Los Angeles motorist Rodney King.
Nichols was described by family as a "good kid" who loved skateboarding, photography and his 4-year-old son. He was heading home from a suburban park after photographing the sunset when, according to police, he was stopped for reckless driving. 
Nichols' stepfather, Rodney Wells, told reporters that his stepson had good reason to run from the officers.
"Our son ran because he was scared for his life," Rodney Wells said. "And when you see the video, you'll see why he was scared for his life."
Relatives have accused the police of causing Nichols to have a heart attack and kidney failure. Authorities have only said Nichols experienced a medical emergency.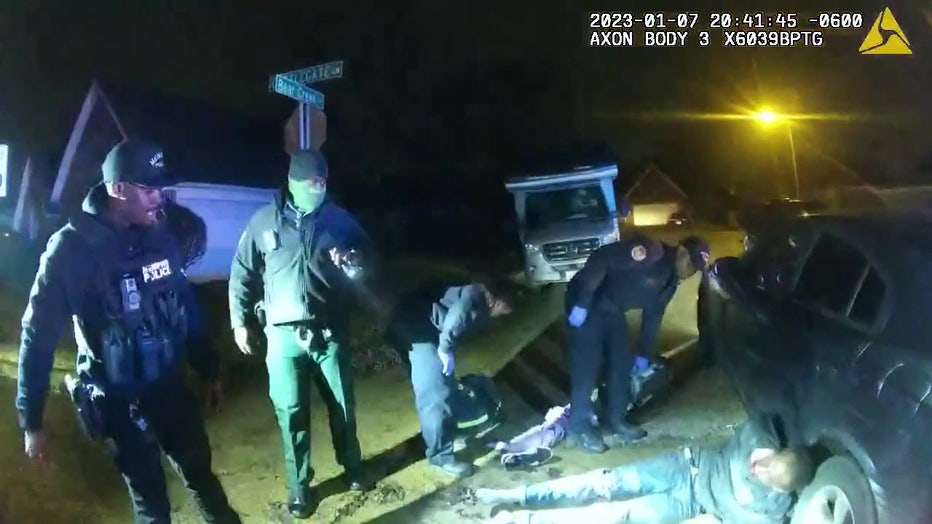 Medical staff arrive to attend to Nichols, visibly bloodied.
Nichols' mother, RowVaughn Wells, warned supporters of the "horrific" nature of the video but pleaded for peaceful protests.
"I don't want us burning up our city, tearing up the streets, because that's not what my son stood for," she said Thursday. "If you guys are here for me and Tyre, then you will protest peacefully."
Wells also told the press that on the day of the arrest, her son was looking forward to a chicken she was going to cook for dinner that night.
RELATED: Family, friends of Tyre Nichols react to his death: 'Everyone loved him'
Reaction to the Tyre Nichols video
Shortly after the release of the footage, President Joe Biden issued remarks on the incident calling the video "horrific."
"Like so many, I was outraged and deeply pained to see the horrific video of the beating that resulted in Tyre Nichols' death. It is yet another painful reminder of the profound fear and trauma, the pain, and the exhaustion that Black and Brown Americans experience every single day." Biden wrote. 
LINK: Read President Joe Biden's full statement here
Ahead of the release of the bodycam footage, cities across the nation including Memphis began preparing for possible violent protests that could escalate due to the impact of the bodycam footage. 
As a precaution, Memphis-area schools canceled all after-class activities and postponed an event scheduled for Saturday morning. Other early closures included the city power company's community offices and the University of Memphis.
Demonstrations were planned coast to coast, and federal buildings in Washington DC were emptied in case of any protests in the nation's capital.
The Associated Press and FOX 5 DC contributed to this story.