Young boy recovering after being shot in the spine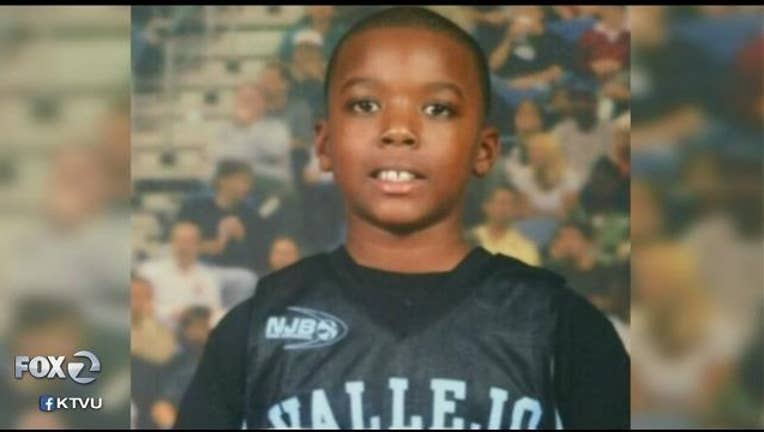 On the night of April 22, Kumar Polk was playing outside on 5th Street in Vallejo near a crowd that had gathered to mourn the death of a friend who had died in his sleep.
Someone drove by and fired several bullets at the crowd.
Polk was hit once in the abdomen and on one of his left fingers.
His family said doctors had to perform plastic surgery on his hand, but Polk may have permanent damage.
The bullet Polk took in the abdomen caused spinal cord injuries and confined the boy to a wheelchair.
U-Gene Jackson, Polk's uncle, said the boy loved to play basketball, baseball, and football.
"It's hard because he had such a promising future, not just with sports, but with anything in life," Jackson said.
Jackson said there is a possibility Polk may never walk again.
"He has sensation in his right thigh and left foot," Polk said. "It's sensation, but no movement."
Polk knows he was shot, but Jackson said it is still hard for him to comprehend why.
The only thing that keeps him in good spirits is watching the Warriors playoff run from his hospital bed.
"Steph Curry is his favorite player," Jackson said. "He's been watching faithfully… religiously."
Polk has told his parents he just wants to go outside and play, but one place he never wants to visit again is 5th Street.
Jackson said it is a place where senseless gun violence impacted an innocent child.
"I grew up here and it's sad, but we kind of adapt to it, but it's not right," Jackson said of gun violence. "It needs to stop. I don't know how or when it's going to stop, but it needs to stop."
The family has set up a GoFundMe account to help pay for medical expenses and to make Polk's home wheelchair accessible. For more information visit: http://www.gofundme.com/kumarpolk
On Friday, May 15, Polk celebrated his 8th birthday in the hospital with family and friends by his side.