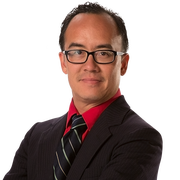 I've actually been chasing sirens ever since I was about 7 years old, when my best friend and I would pedal furiously on our BMX trick bikes after the cop cars and ambulances that careened through our neighborhood in Irvine, Orange County.
Fast forward to high school, when we split $60 for a police scanner that we picked up at Radio Shack. We would respond to crime scenes all over the place in our cars, sometimes getting into trouble because the officers would think WE were the suspects.
Growing up the only son of Chinese immigrant parents, I was pressured to go into medical school or study law. My dad was an electrical engineer, and my mother was a medical technologist. I certainly understood why they wanted me to be successful and I did not take their concerns lightly.
But I rebelled once I got to Cal, where I saw a Daily Cal table on Sproul Plaza and decided that chasing the cops (back on my trick bike) was infinitely more interesting than doing my organic chemistry or physics homework.
I quickly gained a reputation for arriving at crime scenes before the officers who were assigned to those calls. I befriended officers on my beats, recognizing their voices on the radio and even helped to catch a few bad guys while chatting with cops who had set up a perimeter to search for them.
But what to do academically? I went ahead with the pre-med track, studied hard and got A's and B's on all my science classes, but I ended up majoring in psychology.
I told my parents that it's half "-ology" to make it seem more palatable. In reality, I knew that studying how to get into people's heads would serve me well as a reporter.
But my parents still gave me guff and insisted that I should be doing something more in life. So I grabbed a Daily Cal grad who was interning at the Los Angeles Times that summer, and he was nice enough to tell my parents that, yes, Henry, enjoys being a journalist and has what it takes to go far.
I was actually taking an MCAT prep course at Cal when I got a letter from the Chronicle congratulating me that I had been selected as a summer intern in 1994.
I take pride in that I always encourage students I meet at the Daily Cal and other mentoring sessions to do what you want to do.
If you want to pursue a career in science because that's what excites you, by all means, pursue that. If it's something else, chase your dreams. I am lucky to have the full support of my parents as well as my wife and our two kids.
I've enjoyed every moment covering crime, even when sometimes you deal with unsavory characters and see people at their worst. I know my calling is to tell those stories, to speak on behalf of those who can't, to keep those in power honest and to provide a voice for everyone, no matter what their opinions may be.
In my line of work, I have no idea what I will be covering, sometimes from one hour to the next. And it's always thrilling. I've flown with the Blue Angels. I've gone undercover. There was the time I ended up chasing a murder suspect named Hans Reiser in downtown Oakland because the computer entrepreneur was acting suspiciously wouldn't answer questions about his missing wife.
That "foot chase" was caught on camera and was shown on a TV news broadcast - and ended up being an exhibit in a trial that I live-blogged, which helped me write a book on the case, "Presumed Dead: A True-Life Murder Mystery."
More recently, I was the recipient of a mysterious "proof of life" audio file and e-mails purportedly from the kidnappers of a Vallejo couple in what has been called the "Gone Girl" case.
My crime coverage even inspired a Berkeley musician couple to write and perform a folk song about me and put it on YouTube.
As a former print reporter, I'm excited to be able to continue reporting the news on KTVU Fox 2. And please send any tips my way: Henry.Lee@foxtv.com and follow me on Twitter and Facebook.
The latest from Henry Lee