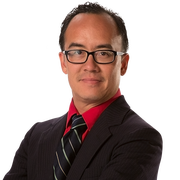 Henry has been at KTVU since 2015. Henry worked as a crime reporter at the San Francisco Chronicle before jumping to broadcast news. At KTVU, he has covered a number of high-profile cases, including the Ghost Ship fire trial, the Vallejo kidnapping case once deemed a hoax as well as deadly freeway shootings across the Bay Area.  
Henry grew up in Orange County, Southern California and studied psychology at UC Berkeley, where he also chased the cops while reporting for the student newspaper the Daily Californian. 
Henry loves being able to cover the news in the beautiful Bay Area where he went to school, cut his teeth as a reporter, met his wife and started a family. He believes there is no better place than here to cover the news and inform viewers. 
When he's not working, Henry enjoys spending time with his wife and children and occasionally doing tricks on his BMX bike. It was on BMX bikes that Henry began chasing cops and ambulances with his best friend when they were kids.
The latest from Henry Lee
A ceremony in San Francisco on Sunday honored those who made the ultimate sacrifice while serving in the military.
The co-owner of a Berkeley auto-repair shop said Thursday that he's rethinking security after thieves broke in and stole four cars belonging to customers as well as other equipment.
Oakland city and police officials said Wednesday that their crime crackdown will continue in the wake of a robbery spree that led to arrests, even as some community advocates urged the city to invest in more social service programs to help prevent crime.
A 10-year-old girl was fatally stabbed inside an apartment in East Oakland Monday afternoon, according to police. The suspect is the girl's mother and she is in custody, officials said.
9 underage suspects have been arrested after allegedly carrying out 35 robberies in Oakland, police said.
An arrest has been made in connection with the robbery and assault of a 63-year-old woman outside a marketplace in Oakland's Rockridge on Sunday afternoon, authorities said.
The wife of Sonoma County Sheriff Eddie Engram who was arrested over the weekend on suspicion of drunk driving after a crash home has prior DUI convictions.
A driver captured on viral video shouting racial slurs at another motorist before crashing his own vehicle on an East Bay highway was arrested Friday, according to the California Highway Patrol.
A former San Francisco police officer will not face criminal charges in the fatal shooting of Keita O'Neil six years ago. The State A.G. declined to press charges. KTVU spoke with the officer involved.