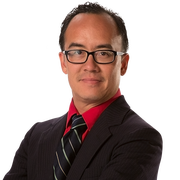 Henry has been at KTVU since 2015. Henry worked as a crime reporter at the San Francisco Chronicle before jumping to broadcast news. At KTVU, he has covered a number of high-profile cases, including the Ghost Ship fire trial, the Vallejo kidnapping case once deemed a hoax as well as deadly freeway shootings across the Bay Area.  
Henry grew up in Orange County, Southern California and studied psychology at UC Berkeley, where he also chased the cops while reporting for the student newspaper the Daily Californian. 
Henry loves being able to cover the news in the beautiful Bay Area where he went to school, cut his teeth as a reporter, met his wife and started a family. He believes there is no better place than here to cover the news and inform viewers. 
When he's not working, Henry enjoys spending time with his wife and children and occasionally doing tricks on his BMX bike. It was on BMX bikes that Henry began chasing cops and ambulances with his best friend when they were kids.
The latest from Henry Lee
Twelve of 47 Alameda County sheriff's deputies who had their peace-officer powers removed over poor psychological entrance examinations are now back on the job, sheriff's officials said Wednesday as protesters came to their headquarters in Oakland.
A man was shot and killed early Tuesday while confronting catalytic-converter thieves outside his home in Oakland's Glenview neighborhood.
The party where two teenage brothers were shot and killed was hosted at an Airbnb rental, according to police. 
A man dressed in a utility vest, who claimed to work for Pacific Gas and Electric, was among a group of home invaders who robbed a 70-year-old woman of her life savings, according to the victim's family. 
A shooting in East Oakland on Tuesday morning left one man dead and another wounded, police said.
Araceli Hernandez visits her son's grave in Oakland every day. He died in an Oakland car-chase shooting that ended in a crash.
Another shooting on an Oakland highway took an unusual twist after the victim was found dead miles away from where he was shot.
Surveillance video circulating on social media shows customers outside Layalina restaurant in Oakland's Pill Hill neighborhood.
Oakland police are investigating two Monday evening shootings where two men were killed in an area right around the corner from a mosque, where they had been praying just 45 minutes beforehand.