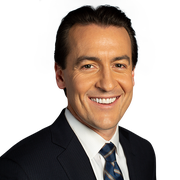 Alex has been at KTVU since 2011.  During that time he's worked as a reporter and anchor and has been on the scene covering a variety of major news stories including the Napa earthquake, the search for Sierra Lamar in the South Bay and countless wildfires including the destructive Tubbs Fire in Sonoma County.  
​Before working at KTVU, Alex worked at LA City View Channel 35 in Los Angeles, KESQ in Palm Springs, KVBC in Las Vegas and KSAZ in Phoenix.  
​Alex is from Berkeley and is a graduate of Berkeley High School.  He attended the University of Southern California in Los Angeles. 
Alex loves the Bay Area's incredible weather, the vibrant cities and natural beauty, the kind, compassionate and generous people, the beautiful diversity of people and cultures, the delicious food, his community of family and friends close by and the best professional sports teams around.
 Alex enjoys running, playing basketball, camping with his family and friends, cooking elaborate meals with his two boys, going to concerts with his wife and of course watching the Warriors.  
The latest from Alex Savidge
More than 7,800 people in the East Bay could lose their jobs, nearly 70,000 more could see their Social Security payments jeopardized, and 259,000 people could lose their health benefits if the federal government does not raise the debt ceiling, says East Bay Congresswoman Barbara Lee (D-Oakland).
The yet-to-be-named news site will be launched in spring 2020.
Amid the fire scarred landscape of Paradise, the seemingly endless rows of empty lots where homes once stood, life is slowly returning from the ashes.