49ers to play next two home games at Cardinals' stadium in Arizona
SANTA CLARA, Calif. - The San Francisco 49ers will play their next two home games in Arizona in response to Santa Clara County's new coronavirus restrictions that ban contact sports for the next three weeks, the team announced Monday.
An agreement was reached between the NFL and the Cardinals that allows the 49ers to host their weeks 13 and 14 home games against the Buffalo Bills and Washington Football Team at State Farm Stadium.  
"The Cardinals organization, State Farm Stadium and League officials have been supportive and accommodating as we work through the many logistical issues involved in relocating NFL games," the team said in a statement.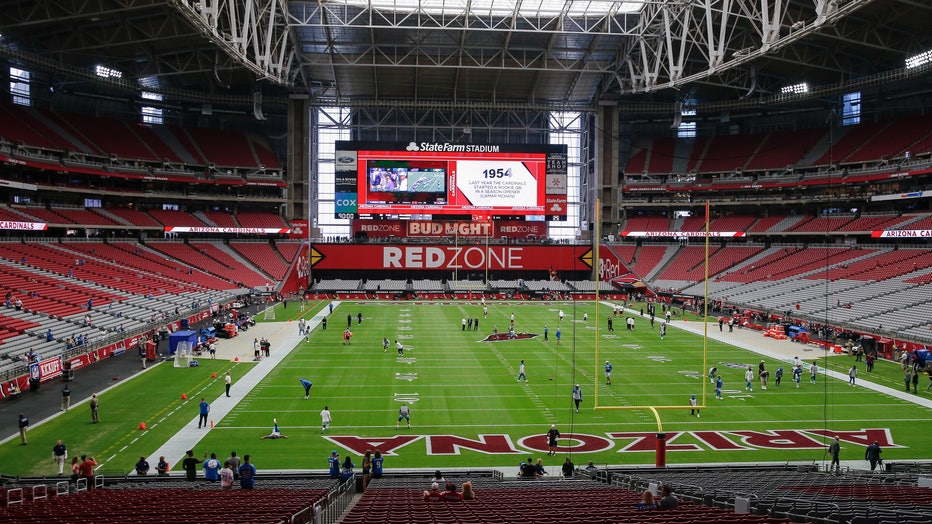 A wide view of State Farm Stadium's interior. (Photo by Kevin Abele/Icon Sportswire via Getty Images)
Over the weekend, Santa Clara County officials reported more than 760 new COVID-19 cases, which is double the number during the county's summer surge. Health officials said drastic measures need to be taken during these drastic times.
"This pandemic is like a high-speed train, and our projections tell us that we are on target to derail around the third week of December if we don't apply brakes right now," county Public Health Officer Dr. Sara Cody said Saturday afternoon.
After beating the Rams in Los Angeles Sunday, 49ers coach Kyle Shanahan expressed disappointment with the county's decision, noting how the team has worked to be as safe as possible. 
"We understand how big of a deal this virus is," said Shanahan. "We feel so committed. We feel we've done it as good as we can. Not only we've protected ourselves but we've protected the community."
The new restrictions will also impact college teams at Stanford and San Jose State. Stanford Women's head basketball coach Tara VanDerveer was poised to become the all-time women's wins leader December 11. That game is another casualty of the resurgent COVID-19 virus.
Shaun Fletcher, a professor of public relations & sport communications at San Jose State University, said the fickle nature of the coronavirus pandemic is not just up-ending the 49ers, but it's also impacting college sports. The Stanford Cardinal beat Cal last weekend, but could lose the rest of its season. And the San Jose State Spartans' breakthrough season could end up being for naught, because of COVID-19.
"Well, it's a shock to me that there seems to be no contingency plans that were put in place, understanding that we've always been in a state of uncertainty," said Fletcher.
As for the San Jose Sharks, who already have a limited number of players doing social-distanced rehab and workouts, their preseason training is now impacted, too. 
"…Those activities will have to be modified to comply with the health order," said team public relations manager Jim Sparaco. "We are reviewing what options may be available locally to allow these players to receive rehabilitation treatment and continue their training…"
In addition to banning contact sports, the new rules require anyone who has traveled more than 150 miles from the county to quarantine for 14 days. Team sources said the 49ers will stay away from the county and remain in Arizona for practice. With road games scheduled for weeks 15 and 16, the 49ers won't be seen around the South Bay until they face the Seattle Seahawks at Levi's Stadium on Jan. 3.
Keep up with the news by downloading KTVU's news app and subscribing to our newsletter.